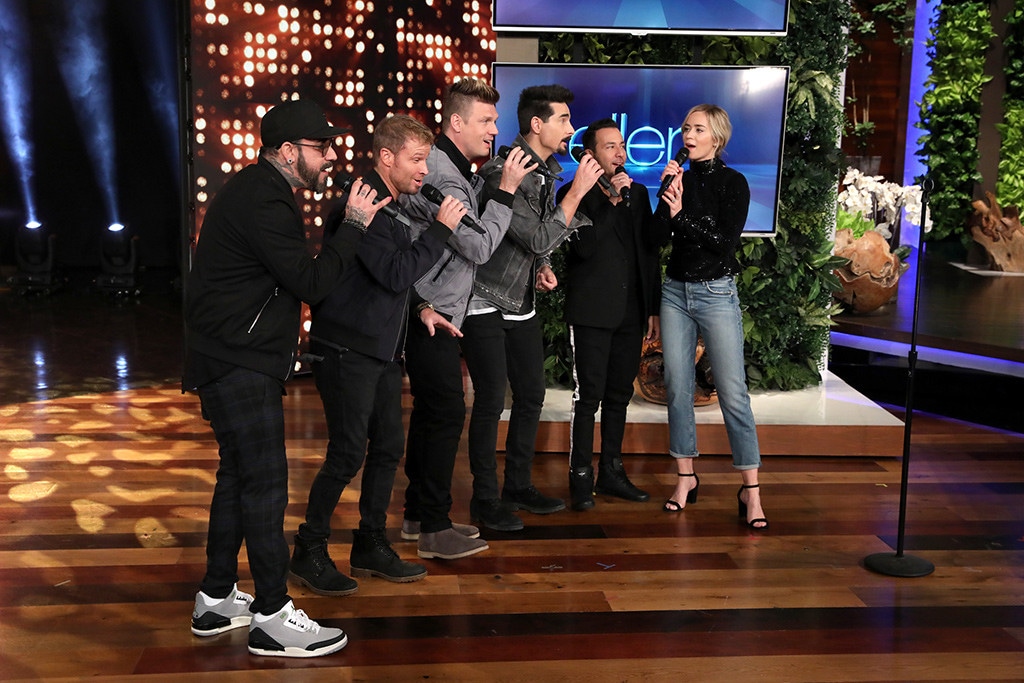 Michael Rozman/Warner Bros.
The Backstreet Boys just recruited its newest member—and it's Emily Blunt.
The boyband helped the actress conquer her fear of singing in public on Monday's episode of The Ellen DeGeneres Show by having her join them for a surprise performance.
It all started when Blunt told Ellen DeGeneres she gets stage fright when she has to sing in front of audiences. 
"I think it's still not a natural thing for me," The Devil Wears Prada star admitted. "I find it very nerve-wracking to sing in front of people."
After a little coaxing from the host, Blunt agreed to sing a few bars. As she nervously approached the microphone, the stage doors opened up and Nick Carter, Kevin Richardson, Brian Littrell, AJ McClean and Howie Dorough appeared.
"Now I can do it," Blunt said confidently after giving each member a hug.
The newly formed group decided to sing "I Want It That Way." Of course, Blunt and the artists totally nailed the performance. However, she was a bit taken aback when the group gave her a surprise solo. Still, she didn't harbor any hard feelings.
"I love you guys," she said. 
Watch the video to see the surprise performance.
Want to hear Blunt sing even more? Fans can hear the actress sing her heart out in her new film Mary Poppins Returns.