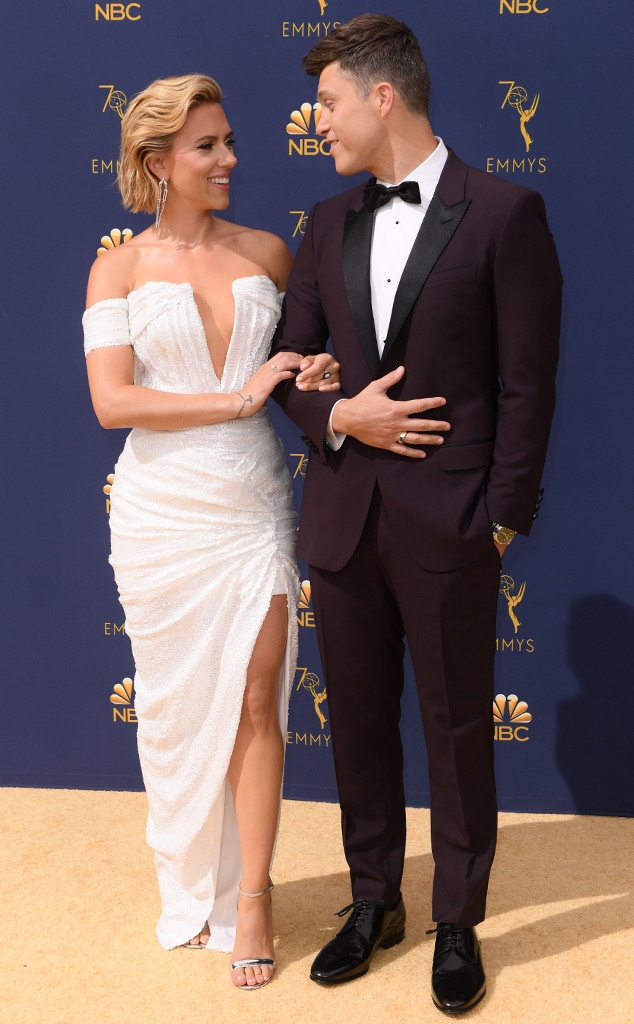 David Fisher/REX/Shutterstock
At this time last year, Scarlett Johansson's romance with Colin Jost had reached the carefully dissect every ring she dares wear on her left hand levels of seriousness. 
Such was the case when the couple made their second annual appearance at the American Museum of Natural History Gala last November. As the pair posed together at the same NYC event they used to debut their relationship a year prior, the actress chatted with People about her love of the institution's old gem room: "I know they are redoing it now, but I just have such vivid childhood memories of crawling around the carpeted floors and watching how gold is made for the millionth time." 
But it was the black-and-gold gem on the fourth finger of her left hand that was pulling focus. 
As it turns out, the art deco-style stunner was more of an accessory, because when Jost presented her actual engagement ring this May it was unmistakable: an 11-carat oval diamond as breathtaking as the proposal itself. 
Watch:
Scarlett Johansson Overjoyed By 2019 E! PCAs Nomination
"He killed it," Johansson raved to Ellen DeGeneres in October. "He did, like, a whole James Bond situation...it was surprising. He's got a lot behind that news desk that he's hiding."
His elaborate scheme, she continued, "was very personal. It was a very special moment. And I think, more than anything, when someone tells you they want to share the rest of their life with you, it's a lovely, special thing."
Those are the words of a woman madly in love.
Because it wasn't all that long ago, that the world's highest paid address was giving her take on monogamy and admitting she felt decidedly iffy on the subject. She'd experienced the upside of it herself, having been married to fellow actor Ryan Reynolds followed by French ad manager Romain Dauriac. 
But then, of course, each of those unions had ended after roughly two years. 
"Well, with every gain there's a loss, right? So that's a loss," she opined to Playboy in 2017. "You have to choose a path. I think the idea of marriage is very romantic; it's a beautiful idea, and the practice of it can be a very beautiful thing."
However, isn't her experience alone proof enough that committing to just one person doesn't work for everyone? 
"I don't think it's natural to be a monogamous person," she admitted. "I might be skewered for that, but I think it's work. It's a lot of work." It's a line many a married couple before her has repeated, citing the hours of therapy, tricky conversations and endless compromise that it can take to travel through life with a partner. And it's a truth many people use to explain why, despite their best efforts, their union has run its course.  
"And the fact that it is such work for so many people—for everyone—the fact of that proves that it is not a natural thing," Johansson noted to the mag. "It's something I have a lot of respect for and have participated in, but I think it definitely goes against some instinct to look beyond." 
Yet, sometimes, despite everything her brain is telling her, the Golden Globe nominee, 35, lets her heart take over. That's what happened when she connected with Jost last spring. Though it admittedly took some time to get there. 
Still healing from what was her second major split in six years, the mom to 5-year-old Rose Dauriac wasn't looking to make a love connection with anyone, a point a source made clear as eager Marvel fans were trying to pair the Black Widow star off to Captain America himself, Chris Evans. "Scarlett just got separated from Romain and is still dealing with the fact that now she's had two failed serious relationships," the source told E! News in March 2017. "She's not trying to rush into anything and is just chilling." 
So while she was game to listen to Howard Stern rattle off a list of potential paramours for her to pursue in her March 2017 appearance on his SiriusXM radio show and even add a few of her own (she dubbed the very much married Gordon Ramsay "the hottest guy right now in the world," and cited Anthony Bourdain as a crush), she wasn't actually looking to cook up something with any of them. 
"I'm on guard," she offered as reason for her hesitance, "because I have a young daughter. That's something I'm more concerned about." 
But when she encountered Jost while rehearsing for her Mar. 11, 2017 Saturday Night Live hosting gig to promote her sci-fi flick Ghost in the Shell, she wasn't not intrigued. The pair had "kind of known each other," as Jost later put it since 2010. It was on the actress' third go-round hosting (she'll take the stage for the sixth time tonight) that she finally took notice of the 37-year-old Staten Island native, who earned his star-making gig on the sketch comedy staple in 2005, mere months after graduating from Harvard. 
He had pitched a sketch that poked fun at MTV hits 16 and Pregnant and My Super Sweet 16 that she was to take part in. "It was some dumb parody that he had written, and he was in there partly directing this segment we had to do," she recalled to The Hollywood Reporter in September. "That's my first memory of him. He seemed very confident at the time. I don't know if he felt that way, but in that environment, if you're not confident as a writer, your stuff just never gets produced."
At the time, she was still wed to Reynolds, but when she returned seven years later, Jost was still serving as a head writer and still confident, having claimed a spot behind the Weekend Update desk with costar Michael Che. 
His clean-cut looks and quick wit had already charmed the likes of Rashida Jones and the editors at People who named him their Sexiest Joke Writer and he checked off more than a few items on Johansson's suitor wish list.  
Andrew H. Walker/WWD/REX/Shutterstock
A onetime junior Olympian and graduate in Russian and British literature, he had the requisite intelligence. And his childhood home—just a few miles from where she grew up in Manhattan—gave them shared city roots. "Being a New Yorker is part of your personality," she's told Cosmpolitan, adding, "It seems wonderful to be raised in a natural setting, but I wouldn't know how to do it. A big city would always draw me back." 
And while at first glance, the wholesome Ivy Leaguer, who participated in both debate and speech at Regis High School, may not have the same rebellious streak as, say, Sean Penn, who Johansson dated in 2011, or Jared Leto, her partner for a brief period in 2004, his job as SNL head writer and Weekend Update co-anchor gives him the general air of disobedience as he pokes fun at political figures and other bold-faced names. 
"I'm attracted to the quality of being adventurous and perhaps a bit mischievous," Johansson told Cosmopolitan in 2011, "and also questioning authority and being proactive." 
Matt Winkelmeyer/Getty Images for Disney
Plus Jost has the added benefit of not being an actor, the issue of two competing thespians in a relationship having tripped Johansson up in the past. "The logistics of being with another actor are challenging," she told Cosmopolitan in 2016. "There has to be a real understanding of how you share your time, especially when two people's careers are going at the same rate. Or even if one person is more successful than the other, that also proves challenging. There may be a competitive thing."
So, really, if it's all the same, it'd be easier for her to choose someone without an IMDB profile. But at least Jost's is heavy on the writing credits with just two bit parts in 2015's Staten Island Summer and 2016's How to Be Single. 
"Acting is a very strange world to be co-existing in. It's very volatile," she described to Parade in 2015. "There's always going to be the more successful person. It's related to rejection. Because actors, if they're not having success, connect it directly to unpopularity—to the fact that nobody wants them. It's not necessarily true. I'm constantly rejected." But that means that any marriage between two stars requires even more work: "It takes a man who's not only confident in the love that you have for one another, but confident in what he has going on in his own career."  
And Jost, as we've established, has every reason to feel confident. 
By the time he caught Johansson's eye, he had more than a decade at SNL under his belt. And while the pair were initially determined to keeping their romance "fun and casual", an insider told E! News, by May 2017 she was making an appearance on the season finale, reprising her take on Ivanka Trump, and a cameo at the wrap party, in the role of Jost's make out partner. 
"They're not in a relationship, but they have fun together," a source told E! News. "They like each other, but it's not exclusive—at least not at this point." 
So Jost gave nothing away while chatting with E! News at Hilarity for Charity's Third Annual New York City Variety Show that June. Asked to share his summer plans, he spoke about hitting the comedy circuit ("I went to Alabama for the first time in my life, which is pretty cool. I'd never been and thought why not do some shows there?"), touring Europe and spending some time a few hours outside the city in Montauk to "surf and relax a bit." 
Watch:
Will Colin Jost Play Coy About Scarlett Johansson Romance Rumors?
And also make out with his girlfriend.
The pair were spotted in nearby East Hampton over the Fourth of July and then closing out the summer by kissing in the rain at a Labor Day party in the seaside town. By the time the weather cooled, a source reported, the budding couple were "more on the exclusive level" and thus done with hiding the romance that was clearly growing between them. 
So when Jost was asked about flying solo at September's Emmy Awards, he revealed his go-to date was otherwise entangled. "She's wonderful. She's working, so otherwise, she'd be here," he told ET. As for what about the star made her the girl for him, he responded, "She's pretty cool...it's hard to have a lot of complaints, she's pretty awesome." 
As the months wore on, the twosome grew ever more at ease with making the transition from open secret to acknowledged and established Hollywood pair. By October, Johansson was mingling with the likes of Emma Stone, Dakota Johnson, host Ryan Gosling, Eva Mendes, musical guest Jay-Z and Beyoncé at the SNL after party. 
In November they made their official debut at the museum gala and by the holidays, Che was calling out their love, sharing a snap of Johansson and Jost ice skating hand-in-hand at Rockefeller Center to his Instagram stories. 
So it wasn't all that surprising when Jost turned up at the April 2018 premiere of her film Avengers: Infinity War. But their decision to attend the Met Gala together last year—the Hollywood equivalent of prom night—was certainly a big statement. 
By then, Jost was telling pals he would like to marry her one day and the admittedly choosy Johansson was confessing to her crew that just maybe she'd met her ideal match in the comic. "She seems like she found a good guy," a source shares. "She's picky when it comes to men; she can get any guy she wants." But in Jost she has a guy that makes life just a bit more fun. "Scarlett is more into personality than anything when it comes to men. Colin makes her laugh," the source says. "She seems really into Colin."
Really, really into him. 
As another insider reported, "Scarlett says he is different than many of the men she has been with. They share many similarities together."
Now wholly confident in their bond, the pair have grown so comfortable that they trot out anecdotes about their relationship during talk show appearances. 
While on The Tonight Show Starring Jimmy Fallon last August, Jost recounted how Che sent a party clown to break up his intimate June birthday dinner with Johansson. "I was at a restaurant, and a woman approached me and said, 'Would you like me to make you a balloon animal?' And I just thought it was sort of part of the restaurant," he said. "I was like, 'Yeah, sure that's fine.' And then she's like, 'And would you friends like some balloon animals as well?' And I was like, 'Sure, yeah, that's good.' And she was like, 'And what about face paint?' And I was like, 'Well, yeah, maybe.'" 
Eventually, he said, it was Johansson who stepped in. "Next thing, my girlfriend was like, 'Oh, that's what Che sent.' Realizing that that's what he had set up. Cause she thought it was gonna be a stripper." 
Which explains why she's set one boundary for Jost's upcoming bachelor party. "I don't think that's a good idea," she responded when Jimmy Fallon asked if Che would play host. "I feel like if he throws it, it's going to be, like, by the Port Authority. And it's gonna be very local. I don't think that's a good idea."
As Fallon responded that didn't seem like the worst party, she doubled down. "Michael's not throwing it. He's not," she insisted. "Michael, I know where you work, Michael."
Though if we were Che, we'd probably start putting something together just in case. If anything, these past few years have proven that Johansson always reserves the right to change her mind.