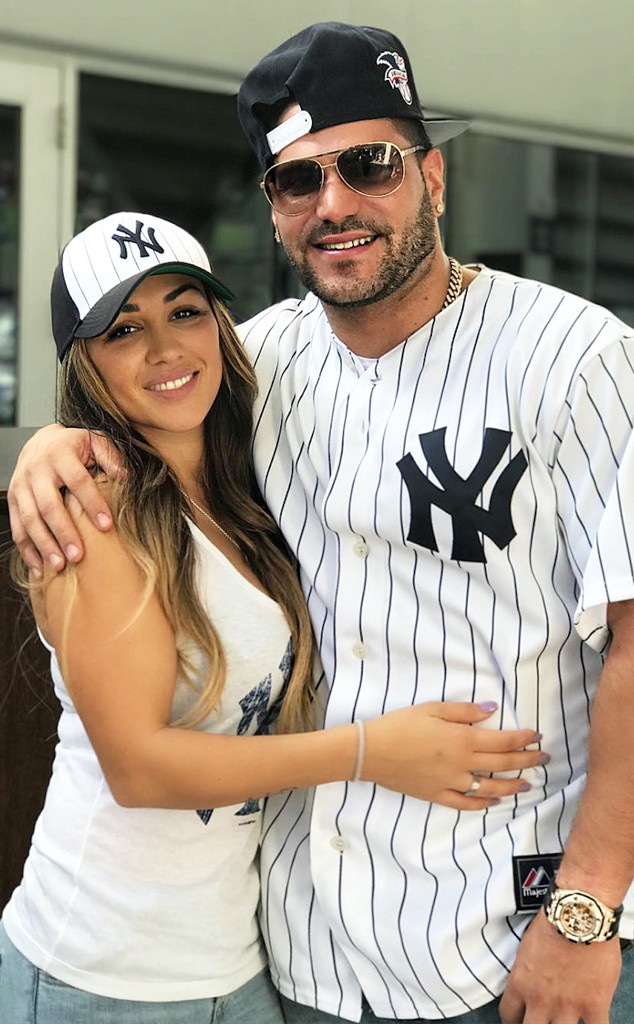 Instagram
Ronnie Ortiz-Magro issued a public apology to his on-again-off-again girlfriend Jen Harley as well as Jersey Shore fans.
On Sunday, Ronnie rationalized his actions that were seen in a previous episode of Jersey Shore: Family Vacation. In it, Ronnie hit it off with Angelina Pivarnick's friend Lindsay, who apparently likes to be referred to as "Jewish Barbie." While that was going on, Jen was texting Ronnie and the two of them got into a bit of a tiff. Ronnie and Lindsay ended up spending some time in a hot tub together in the wee hours of the morning and she was then seen getting into his bed at the end of the show.
Ronnie wrote a lengthy note and posted in on his Instagram story in which he apologized for his actions and to Jen and their daughter, Ariana Sky Magro. He wrote that the episode was cut in a way that perhaps exaggerated his encounter with Lindsay. "It's edited to make it look worse," he wrote. "I was in a bad place in my life and my relationship and I acted out of anger & immature resentment."
Ronnie also explained that he has matured since the episode was filmed. "Since than [sic] I've grown & wouldn't want to hurt my girlfriend or my daughter, everyone makes mistakes and you'll see next week that I learned from mine," he continued. "I wouldn't never put myself in that position again to hurt the two people I love the most in my life."
The reality TV star concluded, "I want to lead my example for my daughter and how to be a real man and I need to lead how to be a good boyfriend/husband. I'm sorry."
Ronnie and Jen have engaged in some vicious social media spats over the past few months, but from the looks of it, Ronnie and Jen seem to be in a decent place now. They both have posted pictures with each other and with Ariana. Last month, however, their relationship took a bit of a nasty turn. 
On Oct. 24, Ronnie shared a picture on his Instagram story of himself with a black eye. He captioned it, "Sorry for lying to my friends and family, sometimes u love people so much your [sic] willing to lie and hurt the people that u love the most to protect."
Jen retorted in a private message to one user, "I don't post my s--t on IG lol. He's lying." But there may have been a bit of a detente because a few days after the black eye picture surfaced, the two of them were spotted lounging on a yacht in Miami over Jen's birthday weekend.