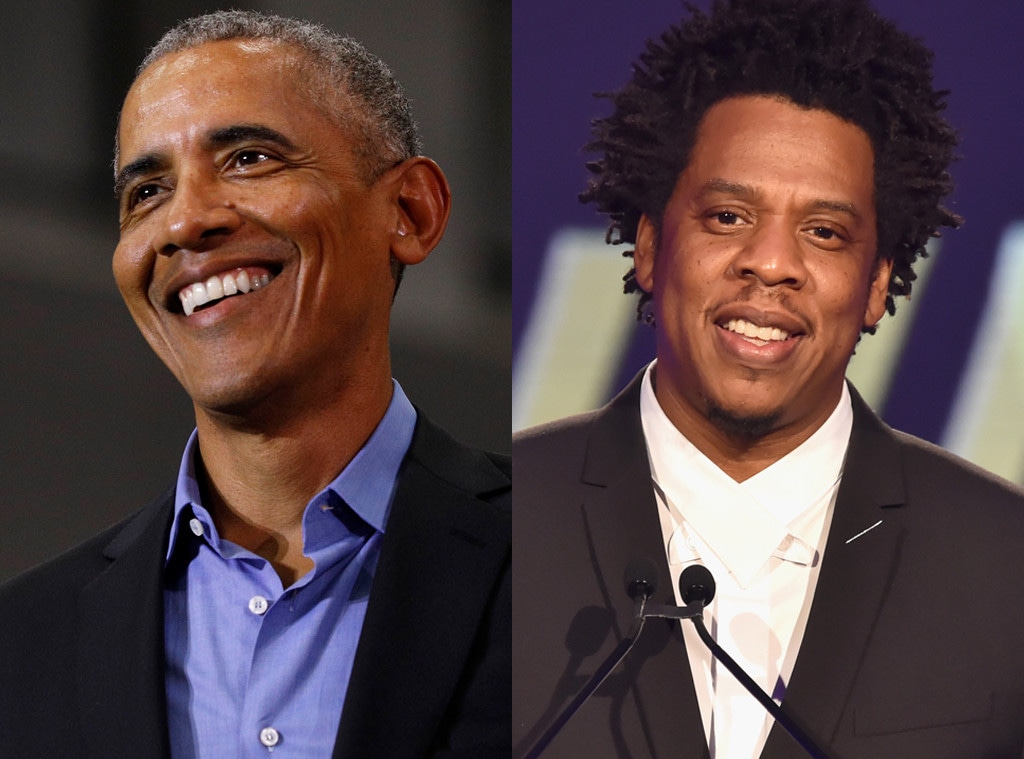 Bill Pugliano/Getty Images; Kevin Mazur/Getty Images for City of Hope
Yes he can make quite the entrance.
On Saturday, former President Barack Obama surprised his wife Michelle Obama in Washington, D.C. at her book tour event for her new memoir, Becoming. Valerie Jarrett, who served as a senior adviser to President Obama, interviewed Michelle for the discussion. 
At one moment in the event, cheers erupted when the 44th president walked onstage holding a gorgeous bouquet of flowers. The married couple embraced after Obama gave Jarrett a hug and remained by Michelle's side for some time.
According to CNN, Obama compared himself to another very famous married couple who also happen to be their friends: Jay-Z and Beyoncé. "This is like - you know when Jay-Z comes out during the Beyoncé concert? ... Like, Crazy in Love?" he said. "It's the same thing. It's just a little sample to enhance the concert."
No, chivalry is not dead.
Beyoncé also happened to sing at the first inaugural ball in 2009.
Michelle shared some photos and videos on her Instagram story of her husband surprising her and then twirling her around in a fancy dance move.
Since Becoming hit shelves last week, Michelle has been opening up about her relationship with Barack—both the happy parts and the struggles. The former First Lady revealed that she had a miscarriage and used IVF to conceive their two daughters Malia, 20, and Sasha, 17. "I felt lost and alone and I felt like I failed because I didn't know how common miscarriages were because we don't talk about them," she said in an interview with Robin Roberts.
Barack and Michelle Obama met when Barack was a summer associate at a Chicago law firm, where he was told on the first day to check in with Michelle Robinson (her maiden name). He apparently arrived late and soaking wet thanks to a rain storm and no umbrella, but Michelle revealed in her memoir that meeting him that summer was "the luckiest break of my life." 
Although Michelle tried to pawn Barack off to her friends because she wanted to concentrate on her career, fate had other plans. On their first date, they went out to Baskin-Robbins for some ice cream, and the rest is pretty much history. "As soon as I allowed myself to feel anything for Barack, the feelings came rushing—a toppling blast of lust, gratitude, fulfillment, wonder," she wrote in Becoming. 
Talk about "Crazy in Love!"