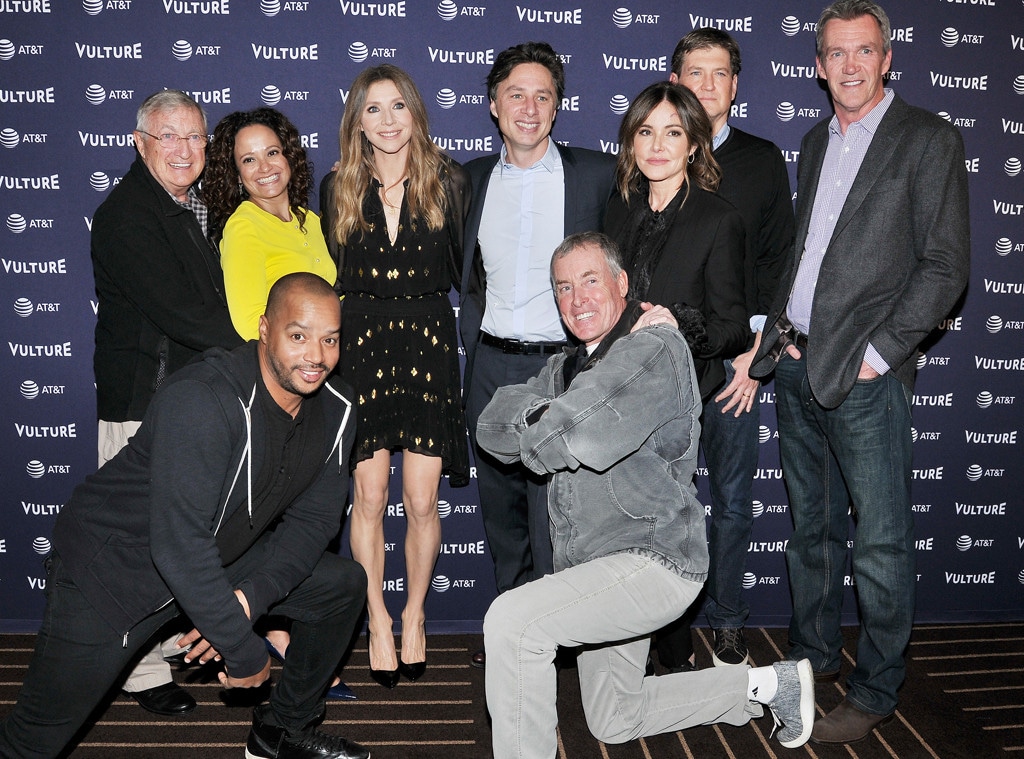 Sthanlee B. Mirador/Sipa via AP Images
It's the ultimate Scrubs reunion!
A few members of the cast, namely BFFs Zach Braff and Donald Faison, have reunited privately over the years since the hit medical comedy series ended its nine-season run in 2010. On Saturday, all the main stars got together publicly for the first time since the finale, at the 2018 Vulture Festival in Los Angeles.
The guests included Braff (J.D.), Faison (Turk), Sarah Chalke (Elliott), John C. McGinley (Dr. Perry Cox), Ken Jenkins (Dr. Bob Kelso), Neil Flynn (Janitor), Judy Reyes (Carla) and Christa Miller (Jordan) as well as series creator Bill Lawrence.
So...what about a Scrubs reboot?
"I would do anything to get to work with not only this group [but the entire crew]…it was the best time in my life," Lawrence said during a panel discussion, according to The Hollywood Reporter.
"If we ever do it, we'll do it as a short little movie or something else," he said. "I think the problem from me is I would just want to see where everyone is. I would want to see where their marriages are [as opposed to a huge event]."
On The Late Late Show With James Corden in May, Braff said it seems "everybody wants" a Scrubs reunion. He also talked about the possibility of doing a reboot.
"Maybe if it was a TV movie, or something, in some incarnation, I'd be interested," he said, adding, "I'm still best friends with Donald Faison."
Meanwhile, the spirit of Scrubs lives on, especially for teens and young adults; Turk's famous "Poison" dance, which Faison had actually improvised on the set, was recently added to the video game Fortnite.
Lawrence told the crowd that someone actually had to reach out on behalf of Fortnite to inquire about use of the "choreography," Vulture reported.
When audience members shouted out for Faison to do the dance, he stood up and yelled, "If you want to see it, you can play Fortnite, because they jacked that s--t!"