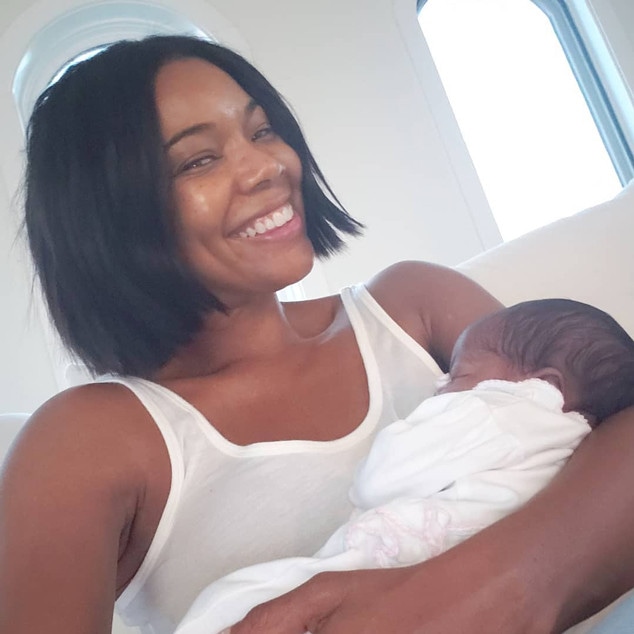 Instagram
Gabrielle Union wants to make sure you pronounce her daughter's name correctly. 
Union and her husband Dwyane Wade revealed their new baby's name on Thursday, who was born on Nov 7. via surrogate: Kaavia James Union Wade. Since welcoming Kaavia into the Wade family, the parents simply could not be happier.
On Saturday, the Being Mary Jane star posted a photo of herself holding her baby and looking extremely elated. "Just greazzzy and happy. That is all," she captioned it. She continued to explain that Kaavia (who already has her own Instagram account) is "pronounced Kah-Vee-Uh James."
According to her caption, baby Kaavia already has "102 nicknames including but not limited to Kaav, Kaavi, Kaavi Baby, Kaavi J, Jamie, KJ, Nugget, Nug, Pooters."
When she and Wade first revealed Kaavia's name, Union explained why she had two middle names. "We wanted my family represented in her name. My godfather is my uncle James Glass. She is named after him.. and then Union...thats... ya know...me," she said on Instagram last week.
Photo by Chelsea Lauren/Variety/REX/Shutterstock
She added one more tidbit as to why she wanted her last name included, too. "I've waited this long so fo sho I was gonna get in there," Union wrote.
The parents announced Kaavia's arrival on Nov. 8 in an Instagram photo of the two of them holding her in a hospital bed. "We are sleepless and delirious but so excited to share that our miracle baby arrived last night via surrogate and 11/7 will forever be etched in our hearts as the most loveliest of all the lovely days. Welcome to the party sweet girl!" she captioned the photo. 
Kaavia is Union and Wade's first child together, but she isn't an only child! Wade has three other children: Zaire, Xavier and Zion, whom he had with his ex-wife Siohvaughn Funches. 
The Bring It On actress has been open about her fertility struggles in the past. She revealed in her memoir that she had eight miscarriages in three years.
With Kaavia now in her life, Union is one adoring mama. You can bet Wade is a doting daddy, too. She has shared a number of pictures of herself with Kaavia as well as her Miami Heat basketball player husband snuggling with her. On Thursday, Wade posted a throwback photo from "that one night in China when i decided to get my daughters name tattooed on me." He has Kaavia written on one shoulder and James on the other.
Congratulations to the new parents!