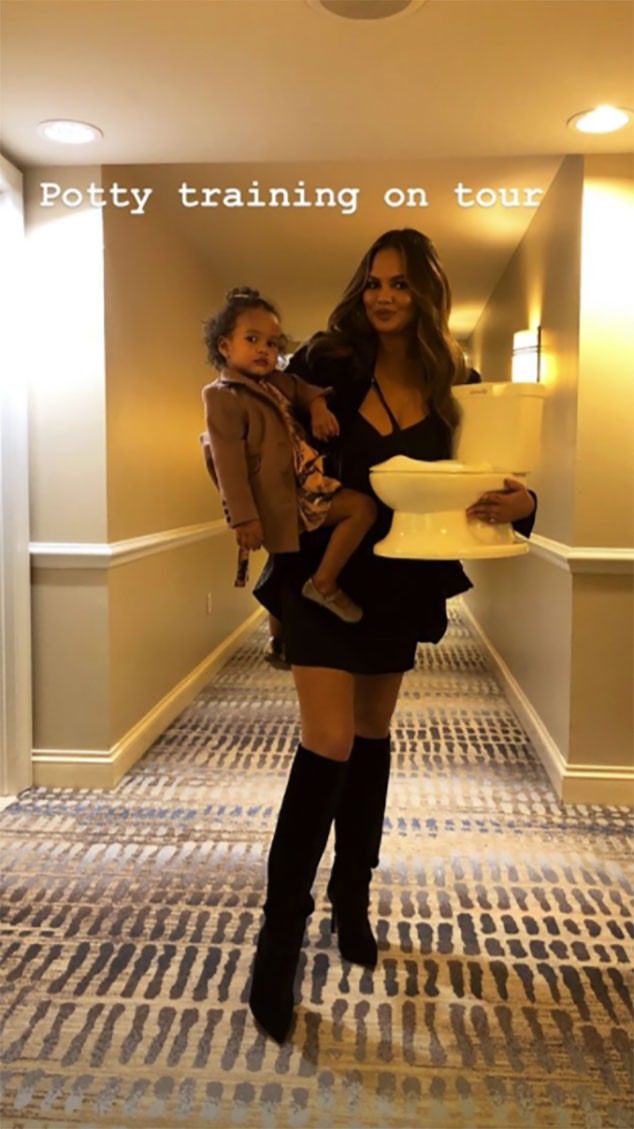 Instagram
Luna Simone Stephens is going to learn to use the potty. 
Everyone's favorite social media mama Chrissy Teigen has reached the potty-training stage of parenting her firstborn daughter. Since husband John Legend is now traveling the country as part of his A Legendary Christmas tour, Teigen and the rest of the family are on the move. But, that doesn't mean the training is on hiatus.
Instead, Teigen and team have a new accessory—the Summer Infant My Size Potty. The potty training system (flush sound included!) has a special place in the family's lives right now as they cart the tool around. Ever the good sport, the star shared a snap of the newest member of the family in one arm while she posed with Luna in the other. 
The potty even got its own seat in the back of the car alongside Teigen's mom, Vilailuck Teigen. With two years of parenthood under her belt, Teigen totally gets the trials and tribulations of raising kids—whether that means carrying around a miniature potty or listening to a song a thousand times a day. 
In the Stephens household, the Lip Sync Battle co-host has also been experiencing the latter as of late. Luna's song of choice? Frozen's infamous "Let It Go."
"This song haunts my dreams," she captioned a clip of the toddler sweetly singing along. 
It looks like there's another singer in the family! But, first, potty training.