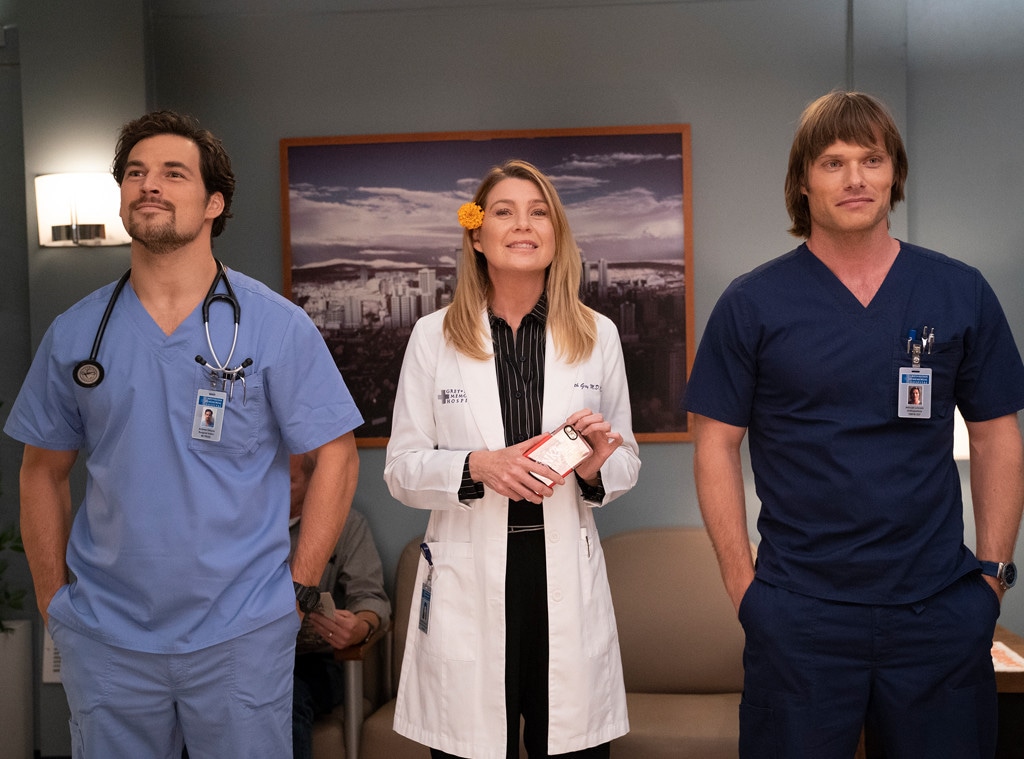 ABC
Meredith and DeLuca, sitting in an elevator…eventually K-I-S-S-I-N-G? Grey's Anatomy's wind storm may have blown these two together and not just in a dream.
In "Blowin' in the Wind," Grey Sloan Memorial Hospital weathered many storms, from an actual wind storm to the growing love triangle between Meredith (Ellen Pompeo), DeLuca (Giacomo Gianniotti) and Link (Chris Carmack). The episode featured DeLuca not throwing away his shot with Mer and really going for it, laying his feelings on the line.
"I'm not sorry I kissed you at the wedding 'cause it's all I've been able to think about ever since," DeLuca told Meredith. He said he thinks Meredith feels "it," the spark between them too. Dr. Grey didn't give in, but said she'd think about it…and then the two got stuck in the elevator together. But DeLuca isn't the only man who's pursuing Meredith, there's also Link.
"Having someone vie for the same person you like might force you to accelerate your declaration [of affection] to that person. But I don't necessarily think that's what is happening here. I think it's just a coincidence that, as DeLuca is figuring out that he has feelings for her, that somebody else also is figuring out he has feelings for her," Gianniotti told EW. "I think it just adds a challenging and comical layer. It's fun for Meredith, having these two guys falling at her feet. But we are also exploring a friendship between DeLuca and Link. They like playing guitar together. I don't think there is disdain or hatred between these two men. They're just in the situation they are in — they both like the same girl."
Writers have been layering moments to show Meredith new sides of Dr. DeLuca, Gianniotti said. They've shown him being empathetic and kid, attractive qualities other than looks and heroism.
"DeLuca is done tiptoeing around [his feelings]. He's done playing games. He's feeling good and brave. It sets us up in a nice place so, when we come back in mid-January, fans will be very hungry about wanting to see where it goes. I think Meredith is conflicted for a lot of reasons," he teased.
Gianniotti won't reveal what happens in that elevator, but said "the train is definitely moving forward," for both DeLuca and Link.
"It's like a chess game between Link and DeLuca. He might have a move where he beats me and is ahead of me but then I take him later," he said. "It's like a push and pull. It will be interesting to watch."
Gianniotti will be on Daily Pop on Friday, Nov. 16 at 12 p.m. and E! News tonight at 7 p.m. to discuss the episode.
Grey's Anatomy airs Thursdays, 8 p.m. on ABC.