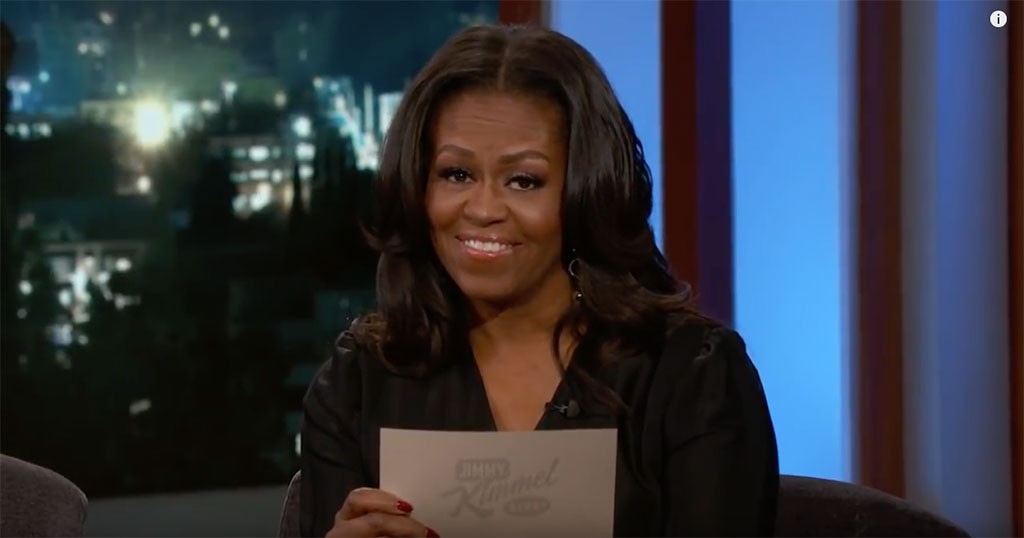 YouTube
Michelle Obama and Barack Obama are going 26-years strong, but that doesn't mean the former first lady doesn't get a "freebie."
Ok, well, that's actually exactly what it means, but during an appearance on Jimmy Kimmel Live!, the late-night host casually tricked the Becoming author into saying otherwise. 
"You're not first lady anymore and as far as I'm concerned you can cut loose and really say anything now, right?" Kimmel asked the famous former White House resident. So, Kimmel took it upon himself to write up some things Obama could say out loud and gave them to her on cards. 
"Don't even look at them—just read what I wrote," he instructed. Oh boy. 
The cards included laugh-out-loud phrases like, "I've never eaten a vegetable" (a reference to Obama's former Let's Move campaign); "The whole eight years we were in the White House, we used Laura Bush's password; and "I'm not sure which one's Sasha and which one's Malia."
Then came the grand finale: "[George] Clooney is my freebie." Hey, we totally get it.  
Ever the good sport, the former first lady laughed off Kimmel's antics as they chatted about everything from her life today to the lesser-known elements of living at 1600 Pennsylvania Avenue. For one, did you know that the occupants have to pay for the food?
"Rent is free, staff is free—we shouldn't be mooching off of the taxpayers," Obama said, agreeing that they should be responsible for their meals. However, it's a slippery slope. "They let you get whatever you want, like if you say you want some exotic fruit...and then you get the bill for a peach and its like that was a $500 peach!"
$500 peaches don't fly with the family budget. As she quipped, "I would tell Barack, 'Barack, do not express pleasure for anything unless I know how much it costs.'"