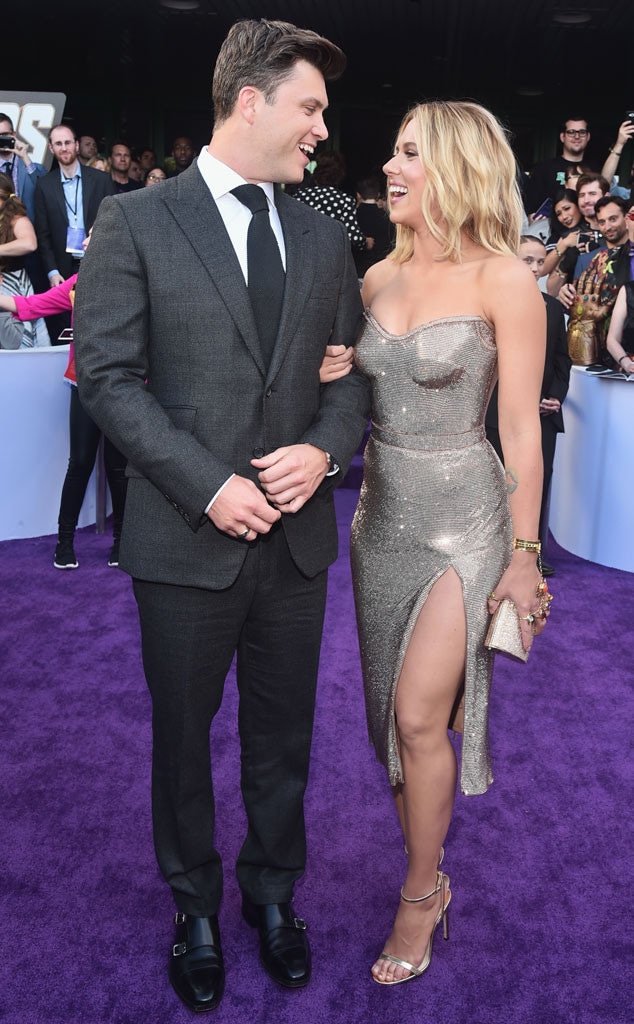 Alberto E. Rodriguez/Getty Images for Disney
Congratulations are in order for Scarlett Johansson.
E! News can confirm that the Hollywood actress is engaged to Saturday Night Live star and Weekend Update co-anchor Colin Jost after two years together. The news comes one day after the famous sketch show ended its 44th season.
According to Washington Post, they don't have a date set just yet for their wedding.
Ever since E! News learned that the couple was dating back in July 2017, the pair has tried to keep their romance on the down-low. However, it was hard to hide their love for one another as they walked the red carpet together at the Avengers: Endgame premiere and were all smiles.
But as pop culture fans know, it's hard to hide your happiness when you're living under the Hollywood spotlight.
"Scarlett says he is different than many of the men she has been with," one source previously shared with E! News. "She is pretty picky who she goes out with even if it's just dating. They share many similarities together."
Dimitrios Kambouris/MG18/Getty Images for The Met Museum/Vogue
A separate insider added that the pair has "a good time together." Perhaps that included their first public appearance together that just so happened to be at a Saturday Night Life party.
Another occasion was when they made their official debut as a couple at the 2017 American Museum of Natural History Museum Gala.
Ultimately, friends couldn't help but notice how the romance affected both Scarlett and Colin for the better.
"He's changed a lot since, I feel like, you've changed, you don't invite me places," Michael Che previously joked to Colin on The Ellen DeGeneres Show. "If you're with like Scarlett Johansson I don't want to tell you to come to this dive bar with me and watch a Yankees game. I feel like maybe you have better things to do."
But there's a good chance Che will still score an invite to the wedding. After all, this couple has a ceremony to plan even if their careers are busier than ever.
"The logistics of being with another actor are challenging," Scarlett once told Cosmopolitan in 2016. "There has to be a real understanding of how you share your time, especially when two people's careers are going at the same rate. Or even if one person is more successful than the other, that also proves challenging. There may be a competitive thing."
Before Jost, Scarlett was previously married to Ryan Reynolds and Romain Dauriac. She and Dauriac have a daughter named Rose together.
In this case, we'd say both are winners and making it work! Congratulations again to the happy couple.