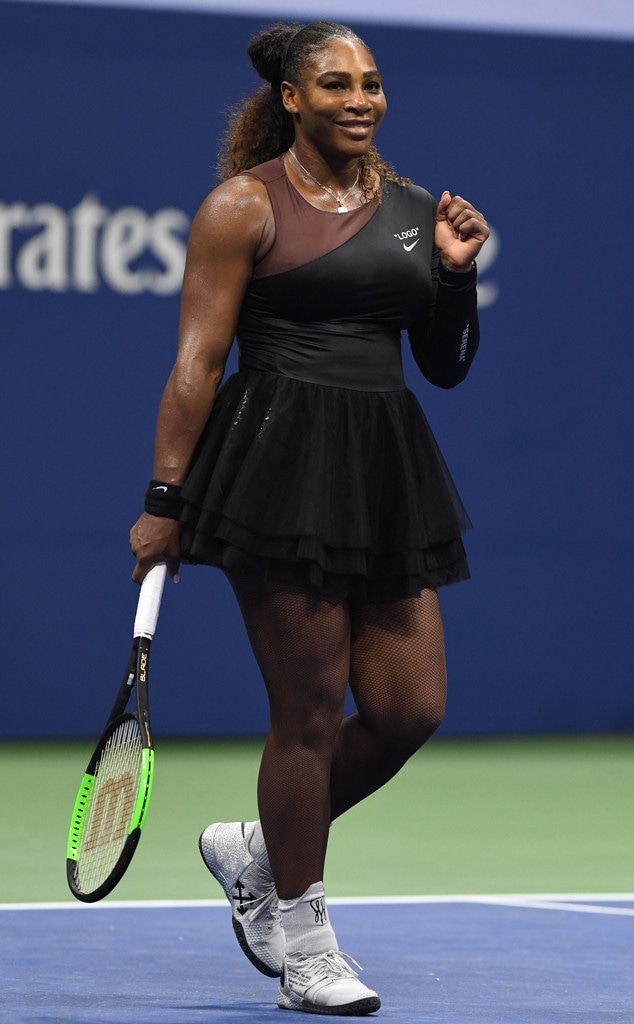 Larry Marano/REX/Shutterstock
Over the years Serena Williams has sported some "controversial" looks on the tennis court, but it was never just a fashion statement.
As it turns out, the personal turmoil she went through as a teen turned her into the fashion icon she is now.
Surprisingly, the Woman of the Year always felt insecure, because, from a young age, she compared herself to her sister Venus Williams. "I felt weird, like, my boobs were bigger than Venus's, and my body was thicker. I was curvier," she explains in an interview with GQ. "I was like, 'Why am I not Venus?'"
So, when her late half-sister Yetunde shared some sage wisdom with her, Serena learned to embrace the things that made her feel insecure. She says, "I was really struggling, and she's [Yetunde] like, 'You know, everyone is different. You're not Venus, and you're never going to be Venus. You're never going to be as thin as her, and that's okay. And you're never going to be as tall as her, and that's okay. Nothing is wrong with that. You have a beautiful body on your own. You have a beautiful face.' And that's when I first started being more comfortable with who I was."
Since having that discussion with her sister over a decade ago, Serena learned her insecurities actually "had nothing to do with Venus."
"It wasn't about her at all. Tennis players in general didn't look like me. Especially the top players or anyone that ever won Grand Slams. Nothing like me. So it was, 'Can I win looking like this? Can I perform looking like this?'" Serena shares.
This realization led Serena to embrace the dramatic fashions she has come to be known for, including the skintight catsuit she wore at the 2018 French Open. And one by one she proved to herself that she could do whatever she put her mind to. 
At the time of the Open, she was fresh off her maternity leave and told the press she felt like a "warrior princess" in it. It was meant to be a display of the strength that women display every day. However, the notion apparently wasn't appreciated by the French Tennis Federation, who then banned catsuits. 
So, in a show of defiance, the Olympian wore the now-iconic black tutu and fishnet tights at the 2018 U.S. Open at Arthur Ashe Stadium. With the help of Virgil Abloh and her friends at Nike, she pulled off a feminine, yet sporty, look to wear to the match. But still, she received backlash. 
But, as Serena puts it, she is "bearing the burden for the next generation." Not to mention providing fashion goals to aspire to.