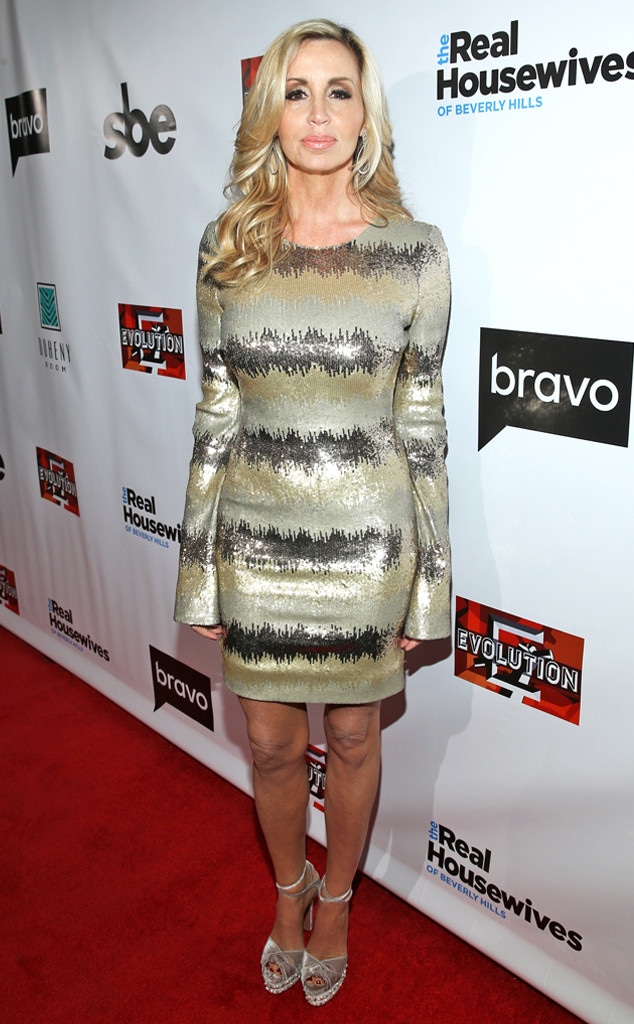 Jesse Grant/Bravo
Camille Grammer is grieving but feeling thankful after she and her family survived a deadly wildfire that destroyed her home.
The Woolsey fire erupted last week and has killed three people, destroyed more than 435 homes and other structures and burned more than 98,000 acres of land across parts of northwestern Los Angeles County and southeastern Ventura County. More than 250,000 people were placed under mandatory evacuation and many, including celebrities, returned to their properties after a few days to find nothing left. One of the burned houses was one of two Malibu properties Grammer owns, which she bought in 2015 for $3.28 million.
"This is what's left of my home," Grammer wrote on Instagram on Thursday, alongside a photo of rubble and past pics of her two and ex-husband Kelsey Grammer's daughter Mason Grammer, 16, and son Jude Grammer, 14, and dog inside the house.
"We can replace/ rebuild our home but we can't replace people we have lost," she wrote. "I lost my assist of 20 plus years Scott two days before the fires. I'm still grieving and will continues to do so. He was family to me."
Camille still owns another property in Malibu that survived the fire, a smaller beach house she bought in 2016 for $6.55 million.
Many displaced residents of the beachfront city, the area hit hardest by the wildfire, have complained that firefighters were not able to save their homes, many of which were located in remote hilltops filled with dry brush. Officials have said people who were trapped by the flames, which spread rapidly thanks to excessive winds and low humidity, were prioritized.
"So, to those out there that are yelling at officials and firemen why their houses weren't saved let's put things in perspective here," Grammer wrote. "You are alive. You are safe. Let's thank the firefighters for saving as many lives during this terrible disaster. We are here to help others and gather to rebuild what has been lost."
"Here are some pics of what is left of my house and memories from the past," she wrote. "I will keep these memories and hold them in my heart forever. Thanksgiving dinners, Christmas, Halloween, and charity events I hosted at my house. My family home will remain in my heart as I start to rebuild anew wherever that will be. My heart is with my family and friends. #malibustrong #woolseyfire I [heart emoji] Malibu!! My home always!!"
Earlier this week, Grammer posted on Instagram what appeared to be a screenshot of an aerial video of her home in flames. Many property owners who lost homes in the fire found out by watching TV footage of the burn areas.
"Sadly my house couldn't be saved," Grammer wrote at the time. "The courageous firefighters were able to save my cars and personal items recovered from my home. I thanked the fire chief and his team of firemen for all of their hard work. He took the time to explain what happened and I'm grateful for all of their hard work trying to save my home. Sad we lost our home but grateful that my family is safe. Luckily we quickly evacuated our house yesterday after a patrol car drove up the street announcing mandatory evacuations."
Members of the affected communities have come together in wake of the tragedy.
"I'm grateful for my lovely neighbors and friends who kept me informed and for their help this evening," Grammer wrote. "Thank you all for caring [purple heart emoji] #woolseyfire #malibu. Special thanks to Fire Chief Rash and his brave team of firefighters."
The fire erupted almost a month after Grammer married David C. Meyer in Hawaii in front of family and friends, including several Real Housewives of Beverly Hills co-stars.
The hundreds of people who lost their homes to the Woolsey Fire also include Miley Cyrus and Liam Hemsworth, Robin Thicke and girlfriend April Love Geary, Gerard Butler and Neil Young.
In addition to the Woolsey Fire, believed to be one of Los Angeles County's worst, firefighting units from all over the state and even those from out of state have this week been battling the nearby Hill Fire and the northern Camp Fire—California's deadliest wildfire in history, which has killed 56 people and destroyed more than 10,000 structures.