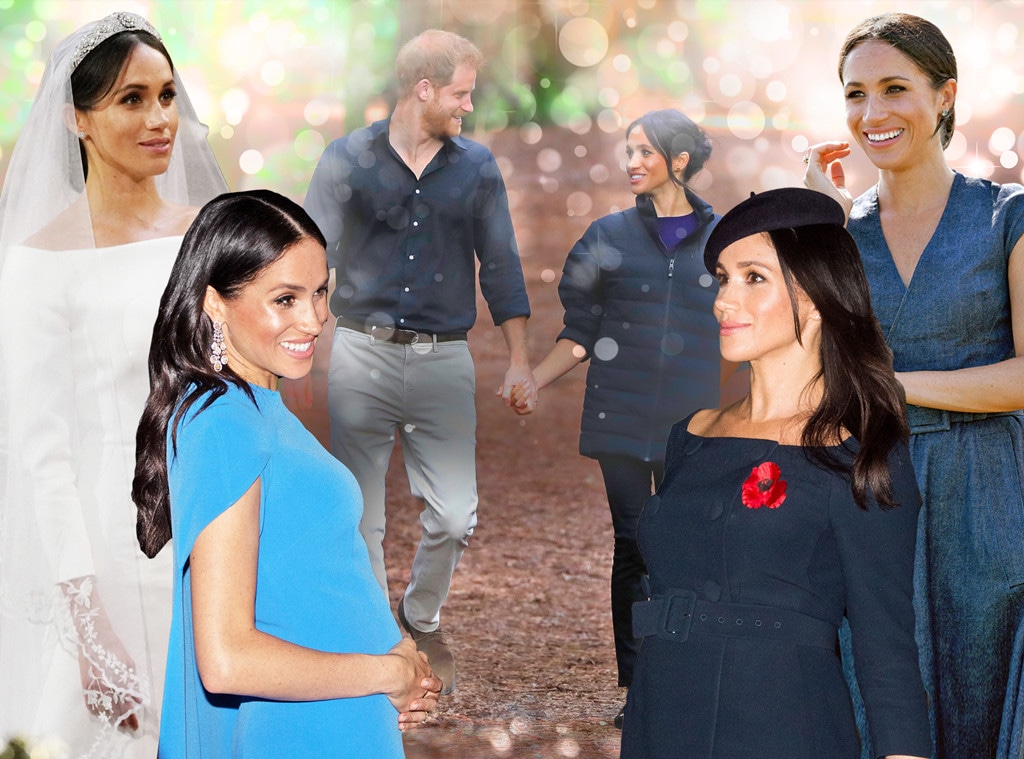 E! Illustration
Much has been written about the obvious perks of enlisting in The Firm. 
Since adding Prince Harry's bride to her growing list of achievements May 19, Meghan Markle has unlocked the door to an entirely lust-worthy wardrobe (while accessible brands such as Club Monaco and Asos are still in the mix, they're generally overshadowed by the likes of Givenchy, Oscar de la Renta and Dior), gets to live in an actual palace and has a job description that essentially boils down to change the world. Also, she sometimes gets to wear tiaras and vacation with the Clooneys. 
But while speaking to Yahoo! UK's The Royal Box in August, Princess Diana's former butler Paul Burrell kept it all the way real about the downsides of a life spent in the fishbowl that is Kensington Palace. "It's interesting that Meghan has just joined the biggest soap opera in the world and she has just landed the biggest role of her life as an actress," he said. "I think, yes, she did want to be famous, she's got everything that she wanted, but I [also] think 'be careful what you wish for,' because sometimes it's not all that it seems."
And sometimes obtaining everything you ever hoped for means also taking on a lot you wish you could throw back. The 37-year-old's seemingly never-ending one-sided feud with father Thomas Markle and half-sister Samantha Markle dominated the headlines for much of her first six months of royalty. While Samantha flung insults from her Twitter perch—likening her estranged sibling to Cruella de Vill and her prince to, of all things, a hamster—the elder Markle offered up his ill-informed take on the royals to any news outlet that was so inclined to listen. 
When he wasn't calling the palace a breeding ground for Stepford Wives and Scientologists, he was opining about just how miserable he felt his little girl was. "I think she is terrified," Markle told The Sun. "I see it in her eyes, I see it in her face and I see it in her smile. I've seen her smile for years. I know her smile. I don't like the one I'm seeing now. This one isn't even a stage smile—this is a pained smile."
Despite, you know, all evidence to the contrary. 
Tim Rooke/REX/Shutterstock
And yet it was Meghan and Harry that were put on the defense. Some in the public felt the royal family could have done more to welcome the Rosarita, Mexico-based former lighting director into their fold as they had with Meghan's mom Doria Ragland. The sole relative at the Windsor Castle nuptials, Ragland stood proudly as she watched her daughter become the Duchess of Sussex and was later escorted back down the aisle by Prince Charles and Duchess Camilla, who she had met during an afternoon tea days earlier. 
"There is no protocol for people like Thomas Markle, or in-laws, and people who marry into the royal family are lost at sea," Burrell said on The Royal Box. "They have embraced Meghan, they are keeping Meghan safe, but how about all the people in her world? I think they need to think about this, it's a problem."
Meghan's nephew—making the most of his blue blood associations by accepting a role on MTV International's The Royal World—has alternatively blamed the former Suits star ("Since Hollywood and being on that show—being a celebrity has changed her. Maybe she feels she is above everybody, maybe even more now," he told The Daily Mail) and the whole of the monarchy.
"My family has been torn apart," the Oregon-based marijuana dealer (he concocted a special Markle Sparkle strain in honor of the wedding) griped on the show. "Had we had some guidance and assistance, perhaps from the royal family, we could have avoided a lot of this stuff." 
Harry, who, aside from a few incidents in his rapscallion youth, was accustomed to being generally beloved and suddenly found himself taking heat for how the situation had been managed. No doubt it pained him to see his bride suffer, but he'd also learned all too well from Queen Elizabeth II that acknowledging the problem publicly would just give it more life.  
Meghan, meanwhile, was caught in a lose-lose situation. By continuing to freeze out her father, she risked appearing every bit the ice queen her sister was labeling her, but to give in was to risk handing him a fresh batch of material that was likely to find its way onto the pages of The Sun or TMZ.
There were certainly times when she wanted to defend herself in the press, a source noted to Us Weekly, but "Harry would never let her." Having lived and learned, the 34-year-old knows "It only makes things worse." 
Still, it weighed on Meghan, even more heavily when she had to worry that she would be turning up at her front gate during her trip to London. "She knows these tactics won't stop," a source told the mag. "It's sad that this will continue—and it's making Meghan very uneasy."
No wonder the pair found themselves seeking out a bit of an escape. After a honeymoon in Africa kept so private Harry would only reveal that they didn't visit Namibia as some had thought, they spent some time in August with Charles and Camilla at the Castle of Mey, the family's coastal Scottish estate.
Harry's parents in many ways have been the exact opposite of Meghan's problematic kin. When Thomas dropped out of his role in the wedding, Charles was quick to step up. "I asked him to and I think he knew it was coming, and he immediately said, 'Yes, of course, I'll do whatever Meghan needs and I'm here to support you,'" Harry revealed in BBC One's documentary Prince, Son and Heir: Charles at 70. "For him that's a fantastic opportunity to step up and be that support, and you know he's our father so of course he's going to be there for us." 
That's continued as Thomas ramped up his antagonizing efforts against the royal family. A source told The Daily Mail that Meghan's drama "endeared her to Charles even more," the Prince of Wales being quite familiar with the types of antics problematic relatives can get up to. "He's got a real soft spot for her," another insider informed Vanity Fair, "and thinks she's the best thing to have happened to Harry." 
And there was their August getaway to Casa Clooney in Lake Como, a natural next step in the bond Meghan had formed with Amal Clooney, the lawyer no doubt understanding of what it was like to transition from professional notoriety to worldwide recognition based on a dating decision. 
Their most frequent getaway, though, has been to their Cotswold's country cottage on the bucolic 4,000-acre Great Tew Estate that they signed a two-year lease on not long after their nuptials. "They spend a lot of time in the Cotswolds, more than people realize," one pal told Vanity Fair. "They are in the country way more than they are in London and they are enjoying a low-key and very domesticated start to married life."
Some 90 minutes outside London they aren't exactly dropping in for tea with their neighbors, nor do they have to worry much about errant photographers. "It's very clear they want to be private and left alone," a local told Vanity Fair. "The property is in the middle of woodland and you wouldn't know it was there. It is very remote which is why they like it. It's like a fortress. There's a huge security presence, you can't get close."
The couple had all the more reason to desire a bit of privacy this fall, thanks to the tiny secret growing between them. 
On the eve of their much anticipated tour of Australia, New Zealand, Fiji and Tonga, they finally let the world in, doubtlessly envisioning 16 days of attempting to cover Meghan's ever-so-slightly rounder midsection and craft excuses should she need to miss one of the dozens of events for a bit of a lie down. 
As expected, the announcement flipped the script, with even Samantha declaring to The Sun, "It must makes everything that happened over the last year disappear." Aside from Thomas' one interview revealing that he learned of the news when it went public (over the radio, actually) just like everyone else, the focus shifted to Meghan's lower half, with the duchess instinctually giving the public what they want, embracing her teeny baby bump at every turn. 
Kirsty Wigglesworth/PA Wire
With just a half year on duty, Meghan has barely grazed the surface of what she hopes to accomplish. After collaborating on a cookbook to benefit the Hubb Community Kitchen, which has helped the survivors of the devastating 2017 Grenfell Tower fire, she has pledged to do more. "The Duchess has made regular private visits to the kitchen and to the women of Hubb and will continue to do so," a palace source told UK paper The Mirror. "She has said how moved she has been by their courage and togetherness, and hopes by working together and collaborating on projects like the book they can find strength moving forward." 
Echoed another inside, "Behind closed doors, she has taken it to heart and sees it as her personal duty to help the survivors after being so deeply moved by their stories. She has promised to stand by them for as long as it takes." 
And Royal Foundation CEO Lorraine Heggessey predicts she'll key in on more causes that focus on female empowerment, telling People: "She's a very smart woman, and I think she will find her royal voice in a way that suits her personality." 
Ian Vogler - Pool/Getty Images
First, though, she has some administrative tasks to see to. The Daily Mail recently revealed that Meghan's personal assistant "quit suddenly" a move that left palace officials flabbergasted. "It's a real shock," said the unnamed Kensington Palace source, "why would she want to leave such a prestigious job so soon?" 
That the exit comes not long after Harry's private secretary Edward Lane Fox announced he was ending his years-long term has complicated things with the British paper insinuating how tough it could be for staffers to deal with both Meghan's family drama and what her former agent Gina Nelthorpe-Cowne described as a demanding and particular attention to detail. "To lose one member of the household could happen to anyone," admits the source. "To lose three in a few months is starting to look like a stampede." 
The third, though, was the Queen's former assistant private secretary Samantha Cohen, who was filling in for Lane Fox on an interim basis. And she isn't out the door just yet with Vanity Fair reporting the couple are hoping to convince the Australian former publicist to stay on.
John Stillwell/PA Wire/AP Images
Tasked with helping guide Meghan into her new life as a royal, the duchess has grown quite fond of her, says the outlet, while Harry has gotten to know her throughout the 17 years she worked at Buckingham Palace. "They are aware that they have lost some key staff members in recent months," says an insider, "but they really like Sam and want her to stay on." 
Another source notes they needn't worry: "She is working on long-term projects and is staying put for the time being." 
Which is good with the couple working on a long-term project of their own. While they haven't yet made the expected move into Kensington Palace's much roomier and family-friendly Apartment 1 and names are still a work-in-progress, the parents to be have begun the arduous task of preparing for their little Lady or Earl. (For the record, Harry is hoping for a Lady, ginger hair optional.) 
Royal contributor Omid Scobie told Us Weekly the duo are determined to "bring up children who know the values of normal things in life." Though Prince William and Kate Middleton have taken pains to give Prince George, 5, Princess Charlotte, 3, and Prince Louis, 7 months, the most average lives they possibly can, Harry and Meghan have a plan to push that even further. 
"Meghan will take her kids on a subway. They'll have chores, and jobs one day," Scobie told the mag. "They won't be spoiled."
After all, Meghan knows first hand that the trappings of royal life all come with caveats. But fortunately she has the best asset of her new world by her side and in her corner, with Harry never wavering in his belief that their love, their bond was always meant to be. 
"So you know, the fact that I fell, the fact that I fell in love with Meghan so incredibly quickly was a sort of confirmation to me that everything, all the stars were aligned," he shared in their engagement interview, nearly one year ago today. "I know that the fact that she'll be really unbelievably good at the job part of it as well is almost is a huge relief to me because she'll be able to deal with everything else that comes with it. But, no, we're a fantastic team. We know we are. And, we hope to over time try and have as much impact for all the things that we care about as much as possible."