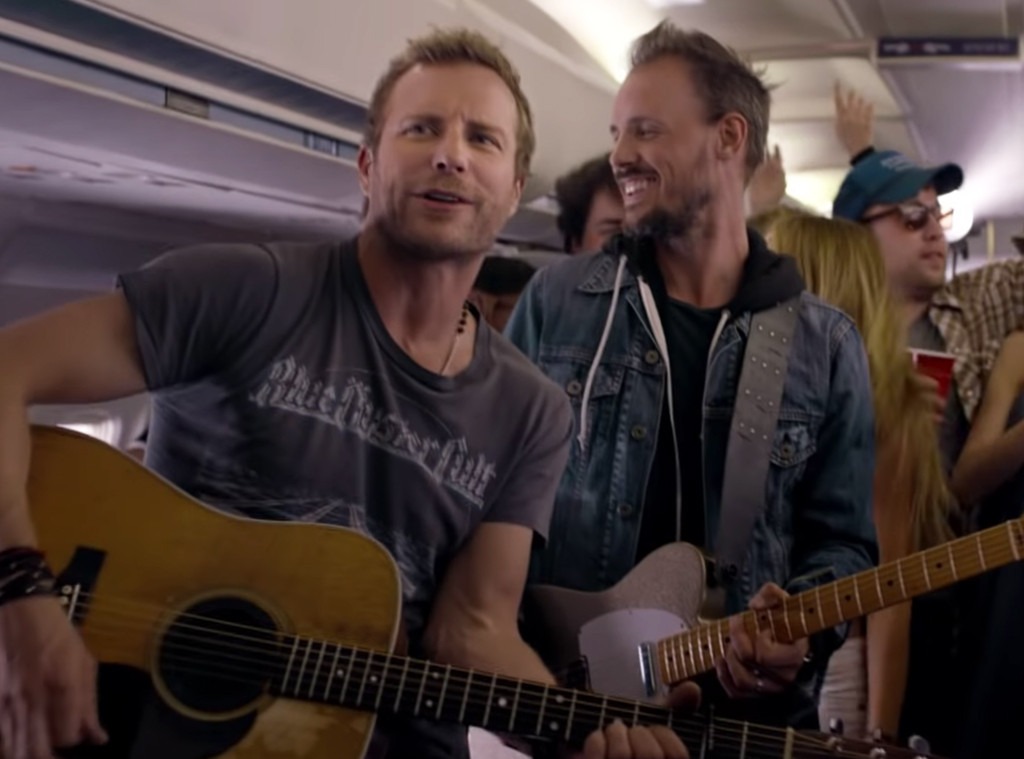 YouTube
It's time to get drunk on a plane!
OK, maybe that's not what you should be doing on a Tuesday morning, but it does sound like something birthday boy Dierks Bentley would approve of, so we can't really blame anyone for wanting to party on a Tuesday in honor of the country singer.
Since the Arizona native turns 43 years old today, what better way to celebrate him—besides toasting to his big day—than reliving some of his best music video moments over the years? The father of three has had a lot of success in the music industry over the past few decades and his music videos prove it.
They show his evolution in style, song choice and of course, hairdos. The best part however is that each video shows off Bentley's vocal chops and instantly makes us feel more connected to him with each and every line he sings.
So, like we said, what better way to celebrate Bentley's 43rd birthday than by listening and watching our top 10 video picks by the man himself? 
We know you are totally on board with this plan, so we have a task for you once you've let your inner country lover out and watched all of the videos below...vote.
Yes, vote for your favorite video by the birthday boy and then perhaps have a drink with your besties to honor Bentley and his tailgate-party ways.
Happy birthday Dierks! We know you'll either be having a tailgate party or an airplane party wherever you're at today and we're totally there with you in spirit!
"Drunk on a Plane"
The 43-year-old singer made the Mile High Club more of a group thing with this video. In the clip, you see the artist on a plane as himself and playing the pilot, as a young man who was just left at the alter starts to drink his pain away. The solo pity party ends up being a plane party full of keg stands, red cups, shots, whiskey sips and more shenanigans. After the pilots get in on the fun, Bentley takes over the plane and saves the passengers from crashing and ruining their in-flight party.
"Bourbon in Kentucky"
This 2014 song is pretty powerful and so is its video. Throughout the clip you see images of drowning, Bentley floating in a pool of water, and him sitting in a car filling up with water that he can't escape. You also see him singing on his bed trying without much success to get over someone. It's a simple video, yet gets the point across that sometimes when you breakup with someone it can feel like you're drowning trying to escape them. It's super intense.
"Am I the Only One"
In this classic Bentley tune, the country crooner gets shot down by all of his friends when he wants to go out for a night on the town. He is calling and calling, but has no luck. It's just Bentley and his adorable dog. He goes all over town trying to have fun and ends up at a bar by himself. Luckily, an attractive girl shows up and drags him along for a fun night on the town. They end up at a house party where the singer takes the mic and begins to rock out for the perfect evening.
"Say You Do"
Lakeside Dierks? Sign us up! In "Say You Do" fans see the singer playing guitar out by the lake in between clips of him flying a plane, landing it on the lake and then trekking out to a cabin. He then rides a motorcycle through the woods and instantly makes us wish we were hanging out with him at this remote location. He's definitely lonely up at that cabin and we volunteer as tribute to keep him company!
"5-1-5-0"
Love mud, off-roading and Dierks Bentley? Then this video is for you! In "5-1-5-0" there is a four-wheeler chase, mud runs, mud diving and dirt flying everywhere as Bentley sings on the tailgate of his truck. He eventually drives the truck into the mud and gets stuck, but that's part of the fun, duh. 
"Burning Man" feat. Brothers Osborne
"Burning Man" is off of Bentley's newest album, The Mountain, and it is a very deep and beautiful video. It shows the artist singing in a desert, by the water and in numerous other gorgeous and naturally beautiful places. Those singing portions are cut up by scenes from the singer's past. Pictures of his childhood, memories from his evolution as an artist on tour and snapshots of his home life are spread throughout. The video shows that even though he might be a different man now, he still knows where he came from and he appreciates it all.
"Somewhere on the Beach"
Not only is this one of Bentley's more popular tracks, but the video for it is a fan favorite. It kicks off with a man arriving somewhere in Mexico and his day is not going well. He stumbles his way through the streets trying to find his way and eventually stops at a bar where Bentley and his band mates buy him a drink. As he drinks up his fate begins to change as an attractive woman buys him a shot and then another. The next morning he wakes up in her room and she's still there. They begin a romance somewhere on a beach and all Bentley and his band can do is watch in awe as he turns a disastrous first day into the perfect trip.
"I Hold On"
In this video, we follow the story of a man who loves his guitar and wants to hold onto it through everything. We see him buy it, get a record deal, go on the road with it and become a star. We also see him fall in love and his journey through Nashville. Eventually, you learn that it's not about that guitar, it's about his love, who he holds onto no matter what music success he gets. He comes back to her and his beat up car and that guitar every time, until one day he's married and they have a baby that he's also returning home to. It's Bentley's story and it's perfect.
"Black"
"Black" is one the sexiest videos from the Arizona native. It starts with Bentley walking out of a crashed plane into a gorgeous mountainous region that is deserted until he looks around and spots a gorgeous woman walking alone in a beautiful black gown. He follows her across the desert and through numerous natural wonders. In between his trek you see scenes of the two lovers in the shower, waves crashing and a passionate romance between the two. To make this video even more steamy, the woman who plays Bentley's love interest is his actual wife, Cassidy Black, and together they create magic.
"Women, Amen"
This video is beyond inspirational. Bentley uses the video for his song, "Women, Amen" to tell the story of a young girl named Sydnee Flyod, who was born with a condition that makes her different (she has fever soars, sore throats and more), but doesn't let that affect her. Instead, she helps the homeless and provides school supplies to children in need all while being bullied in her own environment. In between Bentley singing in the desert, we learn more and more about Sydnee and it's just so touching.
OK, now's the time for you to sound off and vote for your favorite music video from Bentley below. Don't forget to give the country singer a birthday shout out today too.
Happy birthday Dierks, cheers to another year around the sun!
Dierks Bentley Music Videos