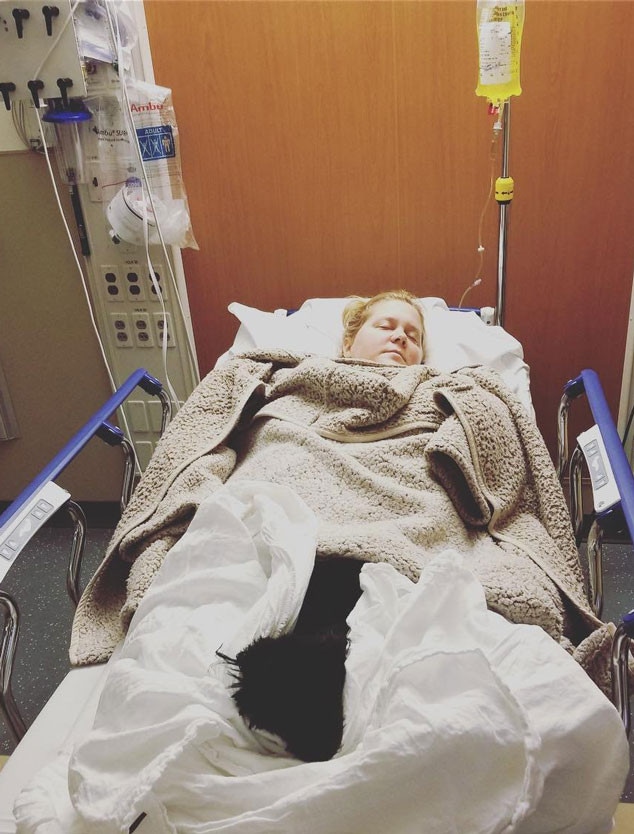 Instagram
Amy Schumer has been hospitalized for hyperemesis gravidarum, severe nausea and vomiting.
The Snatched actress, who is pregnant with her first child with husband Chris Fischer, shared a photo of herself in a hospital room on Thursday. "Texas I am so deeply sorry. I have been really looking forward to these shows. I have to reschedule. I am in the hospital. I'm fine," she told her social media followers. "Baby's fine but everyone who says the 2nd trimester is better is not telling the full story. I've been even more ill this trimester. I have hyperemesis and it blows."
"Very lucky to be pregnant but this is some bulls--t!" Schumer said. "Sending so much love to the doctors and nurses taking great care of me and Tati! They are cool as hell! And Texas I am really really sorry and I'll be out there as soon as I'm better."
Kate Middleton is another public figure who suffered from hyperemesis gravidarum during her pregnancies.
It was just last month that the comedian, 37, announced her pregnancy to the world. Schumer revealed the baby news on her friend Jessica Yellin's Instagram, writing "I'm pregnant—Amy Schumer" on a list of her candidate recommendations for voters for the midterm elections.
Before the reveal, Schumer teased her followers about the exciting announcement by sharing a photoshopped picture of Prince Harry and Meghan Markle, who are also expecting their first child together.
Schumer also joked to The Times, "Chris and I are thrilled and almost positive he's the father. I look forward to competing with Markle every step of the way."
Watch:
Amy Schumer's Road to Motherhood
Earlier this year, Schumer married the 38-year-old chef Fischer in a surprise ceremony in Malibu. On Feb. 15, Schumer confirmed the marriage with a series of photos on social media, which she captioned, "Yup."
Schumer and Fischer first went public with their relationship just days before their seaside ceremony. The actress confirmed the romance rumors by sharing a photo of her and Fischer kissing in a photo booth at Ellen DeGeneres' star-studded birthday party.