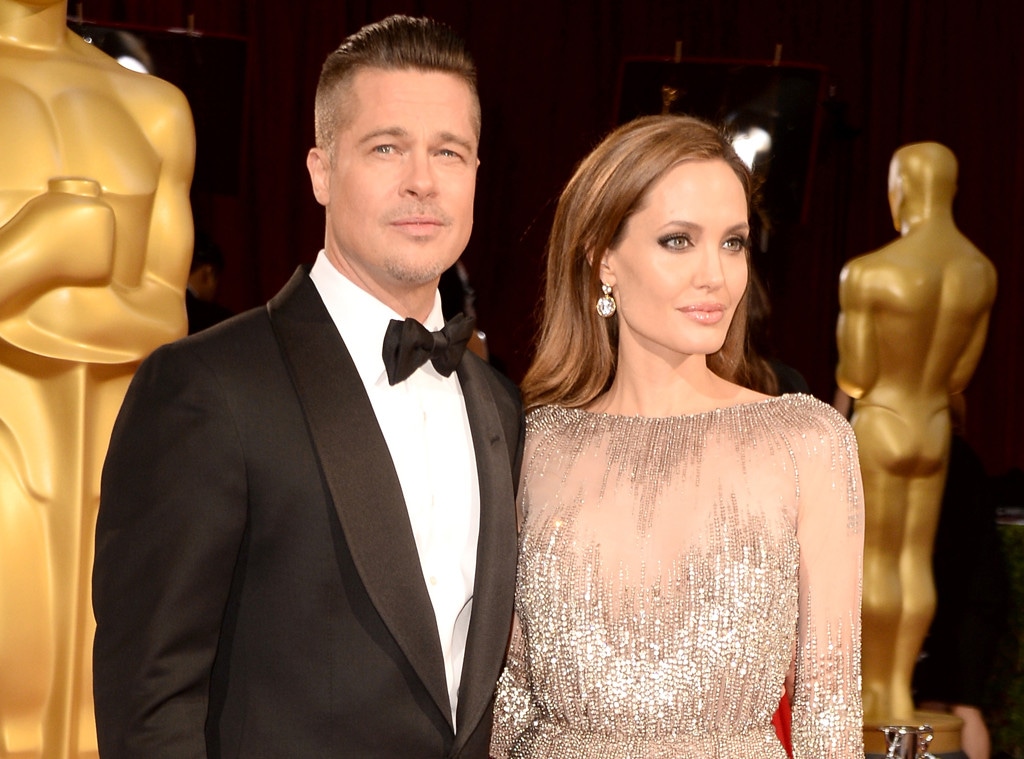 Frazer Harrison/Getty Images
How did this happen?
More than two years after Angelina Jolie filed for divorce from Brad Pitt, the two movie stars who once were Hollywood's premiere A-list golden couple remain at odds, terms of custody still hanging in the balance and a deadline looming for them to figure out what they want—or else a judge could end up figuring it out for them.
While the parents of six once shared everything, from multiple homes to plans for the future, they have seemingly whittled their combined interests down to wanting what's best for their children, and concern about the long-term effects their protracted legal battle will have on Maddox, Pax, Zahara, Shiloh, Knox and Vivienne Jolie-Pitt has moved to the top of the list.
"The last two years of their lives have been very difficult and stressful," a source tells E! News. "The kids are aware of what's going on. They're old enough to get it" and "it hasn't been good for anyone."
A judge set Dec. 4 as a target date for Jolie and Pitt to have their custody agreement in hand, or else a date will be set for trial. And after everything that's already been aired in the open, much to their discomfort, they can't possibly want even more of this to play out in public.
Pitt laments the toll the divorce has already taken on the family.
"Their family as they knew it was torn apart," the source says, "and it's going to take a lot of time and therapy to try and make sense of it all and get back on track. Brad doesn't know what the long-term effects are."
Frederick M. Brown/Getty Images
Remember when it seemed as if the Jolie-Pitt war was about to blow over, let alone remember when Brad and Angie were everyone's favorite celebrity twosome?
Together since 2005 and married in 2014,  the actors' relationship implosion really did come as a shock, their partnership having survived a shady start, every rumor under the sun and the general perils of being two famous people with competing schedules and lots of demands on their individual time.
It wasn't any less than dumbfounding when Jolie's divorce filing on Sept. 19, 2016—"for the health of the family," she said in a statement—was soon followed by the revelation that the FBI and L.A. County Department of Children and Family Services were investigating Pitt over an argument with son Maddox that had occurred 30,000 feet in the air, while aboard a private jet flying from London to the United States.
All was wrapped up and the case closed within a few months with no findings of wrongdoing on Pitt's part, but he still had to spend some time only seeing the kids on supervised visits. Moreover, at first Maddox wasn't joining in when the rest of his siblings spent time with their dad, and it took longer for the father and his eldest son, who was 15 at the time, to get back on cordial terms. Everyone was in counseling, Pitt going both alone and with Jolie and the kids.
Still, however, there were signs in early 2017 that a detente might come sooner rather than later.
Pitt traveled to Cambodia multiple times when Jolie and the kids were there in support of her movie First They Killed My Father, for which Maddox earned his first executive producer credit. Brad stayed so thoroughly behind the scenes, spending time with the children when they weren't with their mom, that no one knew he was there. 
Jolie first commented on the divorce while there in February, saying that Pitt was a great father (or at least she signaled her agreement when the question was posed to her) and that they would get through it as a family.
"It was very difficult," Jolie told the BBC. "Many people find themselves in this situation. My whole family have all been through a difficult time. My focus is my children, our children. We are and forever will be a family and so that is how I am coping. I am coping with finding a way through to make sure that this somehow makes us stronger and closer."
"Things have calmed settled between Brad and Angelina," a source told E! News a few weeks later. "It's not as tense as it had been. They are focused on the kids and working to do what's best for them."
The fact that they were even talking again, as opposed to just communicating through their lawyers, was a big step.
Pitt soon revealed, in a bombshell-packed interview published by GQ Style in May 2017, that he had quit drinking, was stone-cold sober and had come to love therapy. He candidly took a lot of responsibility for his failure to hold up his end of the relationship bargain, admitting that being emotionally unavailable had helped him end up in the weeds of his own life.
"I was really on my back and chained to a system when Child Services was called," he said, referring to the 2016 investigation. "And you know, after that, we've been able to work together to sort this out. We're both doing our best. I heard one lawyer say, 'No one wins in court—it's just a matter of who gets hurt worse.' And it seems to be true, you spend a year just focused on building a case to prove your point and why you're right and why they're wrong, and it's just an investment in vitriolic hatred. I just refuse. And fortunately my partner in this agrees. It's just very, very jarring for the kids, to suddenly have their family ripped apart."
Jolie, who bought the former Los Feliz mansion of director Cecil B. DeMille for $25 million to be based near Pitt (who after spending some time crashing at a friend's place continued to live in their old house), complemented Pitt's soul-searching with an emotional but more reserved Vanity Fair cover story that certainly didn't take the onus off of her ex—but in which she described how painful the breakup had been.
Jason Merritt/Getty Images
"Things got bad," Jolie said, referring to the summer of 2016 leading up to her decision to end the marriage. "I didn't want to use that word...Things became 'difficult.'" She said later, "It's just been the hardest time, and we're just kind of coming up for air." Moving into the house near Brad, after hunkering down in a rental house in Malibu for months, "is a big jump forward for us, and we're all trying to do our best to heal our family."
Asked if there was any truth to speculation that Pitt had longed for a more traditional way of life—less country-hopping, more raising the kids in one place—Jolie replied that their way of doing things "was not in any way a negative. That was not the problem. That is and will remain one of the wonderful opportunities we are able to give our children...They're six very strong-minded, thoughtful, worldly individuals. I'm very proud of them."
Since the split, "they've been very brave. They were very brave."
Meanwhile, Pitt had already been the subject of all sorts of dating rumors—he was going out casually, we were told, enjoying dinners out with friends and more group situations than anything else—and his carefully cultivated appearances in which he spoke (the 2017 Golden Globes, playing "the Weatherman" on The Jim Jeffries Show) could be counted on one hand.
Jolie hit the festival circuit with Then They Killed My Father (which was well-received and got nominated for a Golden Globe for Best Foreign-Language Film in 2018) and was spotted out and about with her kids more than she had in years. She brought them all to Telluride and Toronto and the film's New York premiere. All of a sudden Jolie was a regular at Whole Foods (part of the learning-to-cook thing she told VF about), and understandably they were a pretty unmissable group at airports.
"Everything will be around the children," she told People in September 2017. "I haven't worked for over a year now because they needed me home. Everything was just stopped. I'm really sitting and talking with them because everything affects them. Every location, every type of project, I'm going to have to adjust it to however much they can handle."
Jolie acknowledged, "I think they're itching to get out in the world again. We've all been a bit in lockdown and going through some things. I think it would be good to get out there and play together."
It's not every family in which traveling between L.A., Cambodia, Canada, Colorado and New York within one year is considered lockdown, but such has been the Jolie-Pitt kids' life.
Pitt, meanwhile, went back to work last fall shooting the sci-fi thriller Ad Astra and this summer he joined Leonardo DiCaprio and Margot Robbie on the set of Quentin Tarantino's Manson murders-timed drama Once Upon a Time in Hollywood—both primarily local productions, an important factor in Pitt's post-split movie choices. 
Jolie and Pitt also backed away from the divorce process in 2017, a source telling us that August, "They don't take divorce lightly and want to make sure they are doing the right thing." 
They had sold their home in New Orleans fairly quickly in 2016, but decided to jointly hang onto the winery at Château Miraval, wanting it "as an investment for their children," a source told People earlier this year.
But no rush to finalize a plan eventually turned into not having a plan, hence the purgatory the exes find themselves in now.
In May, with Pitt at home in L.A. and planning to work there through the summer, a source said he and Jolie were "at odds" over her desire to pack up the kids and take them to Europe for several months while she shot a movie.
"Angelina has been in London and is free to travel for shorter periods of time," the source added. "Brad isn't opposed to that. But she can't leave with the kids for several months."
And so their lawyers continued toiling away on the pair's warring schedules and in June eventually arrived at a "mutually acceptable" plan for the summer. Pitt, who had a steeper mountain to climb when it came to normalizing relations with the kids, was "thrilled" to be able to see them regularly and considered it a "huge victory" in his quest to repair what had been broken by the contentious split. (Maddox, being 16 then and 17 now, was given more of a say in how much time he spent with both parents.) Pitt in turn traveled to London, where Jolie was filming Maleficent 2, to be with them on Father's Day.
"The Court has determined that not having a relationship with their father is harmful to them," the judge wrote in portioning out time and phone calls accordingly, calling it "critical that each of them have a healthy and strong relationship with their father and mother." Furthermore, the judge determined that "each of them are safe with their father."
Neilson Barnard/Getty Images
But to date, they had been spending much more time with Jolie and getting increasingly comfortable with that arrangement.  "They really help me so much," Jolie told The New York Times in September 2017. "We're really such a unit. They're the best friends I've ever had. Nobody in my life has ever stood by me more."
Pitt told GQ Style last year that there was "no other outcome" than for them all to come out "stronger and better people" on the other side, but everyone has been traveling at their own pace to get there.
In August, Jolie alleged in a court filing that Pitt had "paid no meaningful child support" since they separated. Pitt's lawyer responded with their own brief charging that Jolie's filing was a "thinly veiled effort to manipulate media coverage." According to the document, obtained by E! News, the actor had actually loaned Jolie $ 8 million toward the purchase of her house and "paid over $1.3 million in bills for the benefit" of her and the kids.
An attorney for Jolie stated to E! News that her brief was "both legally appropriate and factually accurate in all respects," while Pitt's rebuttal was "a blatant attempt to obfuscate the truth and distract from the fact that he has not fully met his legal obligations to support the children." Pitt was charging Jolie interest, the statement added, and Jolie would "of course honor that loan. A loan is not, however, child support and to represent it as such is misleading and inaccurate." Jolie was merely asking that Pitt pay 50 percent of the children's expenses, the lawyer said.
Dominique Charriau/WireImage
We've been told that Jolie is not seeking sole custody (as she did at the very beginning, when the airplane fight was still being investigated), contrary to some reports. She "definitely remains committed to helping the kids heal with their father," a source told E! News in August, when a report that they had reached a settlement turned out to be false.
But three months later, winter is around the corner "and they aren't anywhere close to making an agreement," a source said last week. Jolie was having trouble moving past the messy end of their marriage, though Pitt had cleaned up "in a very positive way."  
Pitt "wants joint custody and to have a relationship with each one of them," the source said. And stubbornness isn't the sole purview of one or the other. "He's not going to give in, either," the insider added. "It's extremely sad what's happened but he's still hopeful that at the end of this process he'll have joint custody and can work on his relationships with the kids.
As of last week, they were still working together toward an out-of-court settlement. Another source assures us that Jolie "still supports the reconciliation of the children with their father."