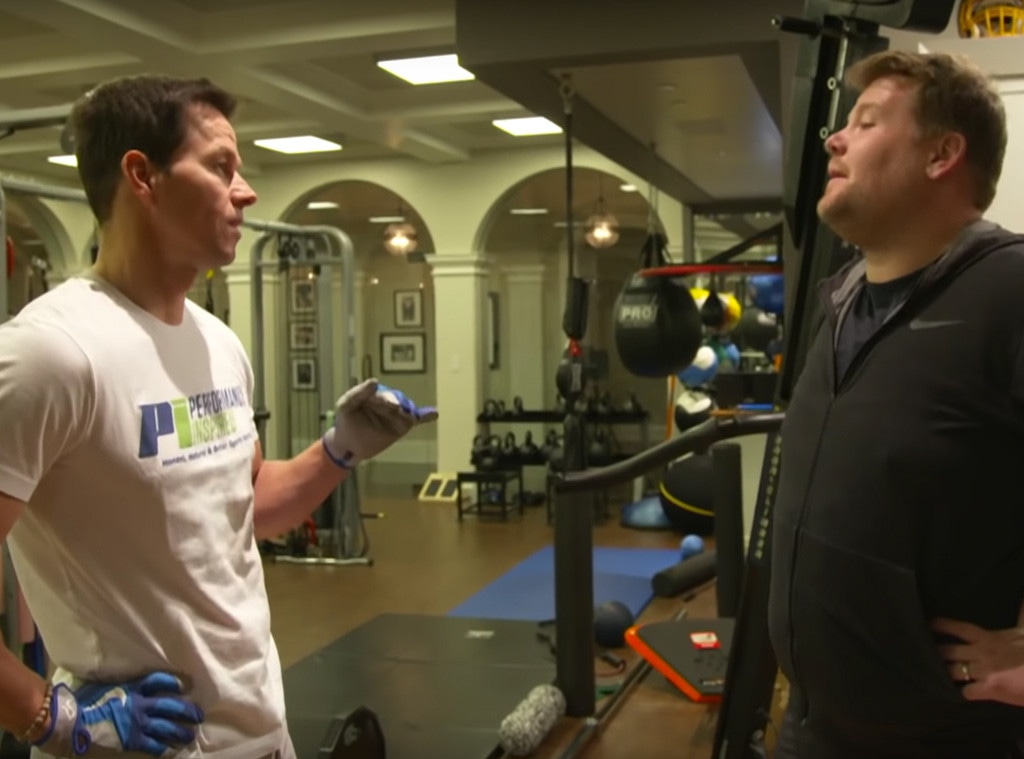 YouTube
As the old saying goes, "no pain, no gain."
James Corden certainly felt the burn on Wednesday's episode of The Late Late Show when he joined Mark Wahlberg for a 4:00 a.m. workout.
To get a sense of the actor's busy lifestyle, Corden attempted to follow a daily schedule Wahlberg posted to Instagram, which included a 2:30 a.m. wakeup call and a 2:45 a.m. prayer session before hitting his home gym.
"According to Mark Wahlberg's Instagram schedule, he's praying right now—and so am I," the late-night host said. "I'm praying that he cancels."
By 3:36 a.m., Corden started making his way to the Wahlberg residence. When he got there, the Ted star was ready to go and asked the host if he found the stillness of the morning nice and peaceful. 
"I was more peaceful when I was flat out asleep," Corden replied. "I was completely peaceful." 
While The Fighter lead admitted the workout was "going to suck," he reassured Corden that he would feel great and be ready to attack the day after a post-workout shake and turkey burger. 
"I'm going to go back to bed," Corden said. "Yes! Of course I am. It's the middle of the night."
First, they started with a good stretch—at which point Corden tried to sneak in a snooze.
"I don't even know if I'm still awake or this is some sort of weird dream—just grinding on the floor in Mark Wahlberg's house," he said.
Then, they discussed Wahlberg's nutrition plan, which includes a pre- and post-workout breakfast. 
"So, you do two meals. See that appeals to me," Corden said. "I've been doing the two breakfasts without the workouts. That might be where I'm going wrong."
Soon, it was time to start the warmup, which included lifting weights, balancing on a medicine ball, cardio and more. Still, Corden managed to have a bit of fun with their routine, such as by rocking out to the Backstreet Boys while doing lunges.
To thank the Instant Family star for his help, Corden got him a T-shirt with the words "4 a.m. club" on the front and shirtless images of the celebs. Wahlberg pointed out Corden's muscles were notably bigger on the apparel.
Still, Corden wasn't willing to stick around after the intense warmup. Watch the video to see their exercise routine.