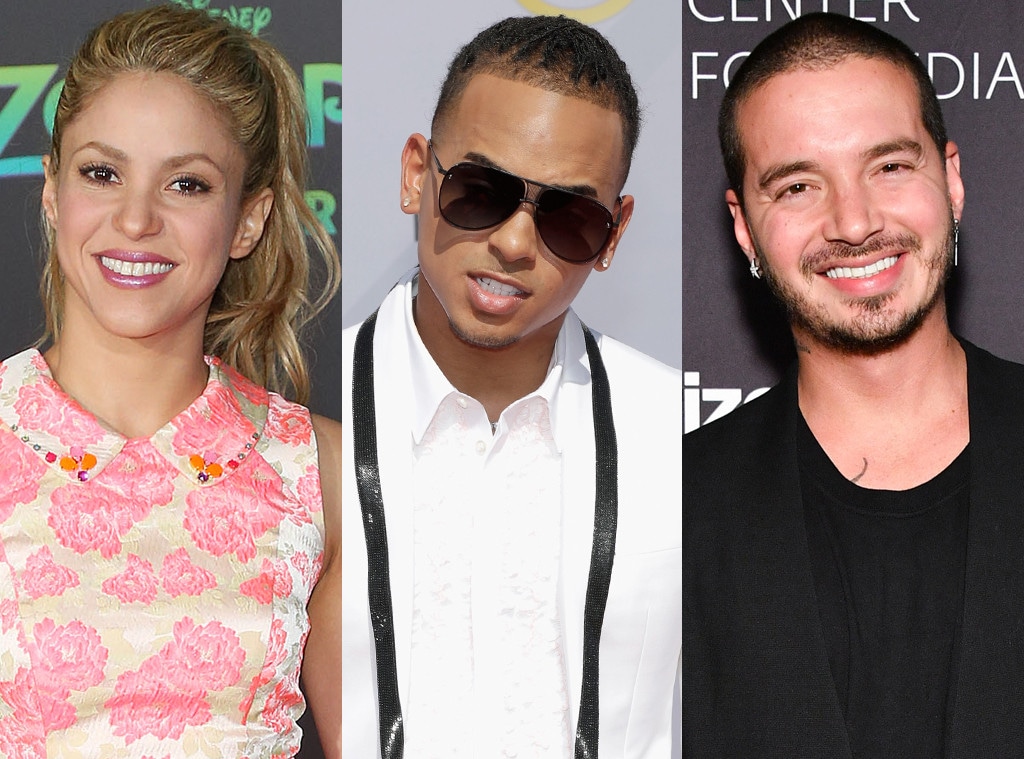 Dia Dipasupil/Frederick M. Brown/Getty Images
The 19th Annual Latin Grammys have finally arrived and everyone can't wait to find out who will win at Thursday night's show.
All of Latin America's biggest stars showed up in style at the MGM Grand Garden's Arena in Las Vegas, ahead of the exciting night. And while people were excited to see the colorful and vibrant fashions the performers wore, they were even more excited to see the many showstopping schedules awaiting them. 
Marc Anthony, Will Smith and Bad Bunny are set to perform their collaboration, "Está Rico," with at least a dozen other performances on the A-list lineup.
There are over 48 different awards being handed out throughout the show, ranging from Best Long Form music video to Best Song. To see just a few of the many honors being handed out at the event, check out the list below!
Kevin Winter/Getty Images for LARAS
Record Of The Year
"No Vaya a Ser"—Pablo Alborán
"É Fake" (Homem Barato) —Anaadi
"Mi Gente"—J Balvin With Willy William
"Internacionales"—Bomba Estéreo
WINNER: "Telefonía"—Jorge Drexler
"Para Siempre"—Kany García
"X"—Nicky Jam & J Balvin
"Danza De Gardenias"—Natalia Lafourcade Featuring Los Macorinos
"Bailar Contigo"—Monsieur Periné
"Malamente"—Rosalía
Album Of The Year
Prometo­—Pablo Alborán
Vibras—J Balvin
Caravanas—Chico Buarque
Salvavidas De Hielo—Jorge Drexler
Siguiente—El David Aguilar
Soy Yo—Kany García
Musas (Un Homenaje Al Folclore Latinoamericano En Manos De Los Macorinos), Vol. 2—Natalia Lafourcade
WINNER: ¡México Por Siempre! —Luis Miguel
Encanto Tropical—Monsieur Periné
Cuando El Río Suena... —Rozalén
Song Of The Year
"Antes De Ti"—Manú Jalil & Mon Laferte, songwriters (Mon Laferte)
"Bailar Contigo"—Monsieur Periné & Mauricio Rengifo, songwriters (Monsieur Periné)
"Danza De Gardenias"—David Aguilar Dorantes & Natalia Lafourcade, songwriters (Natalia Lafourcade Featuring Los Macorinos)
"Embrujo"—El David Aguilar, songwriter (El David Aguilar)
"La Puerta Violeta"—Rozalén, songwriter (Rozalén)
"Malamente"—Antón Alvarez Alfaro, Pablo Diaz-Reixa & Rosalia, songwriters (Rosalía)
"Para Siempre"—Kany García, songwriter (Kany García)
"Robarte Un Beso"—Mauricio Rengifo, Andrés Torres, Carlos Vives & Sebastian Yatra, songwriters (Carlos Vives & Sebastian Yatra)
WINNER: "Telefonía"—Jorge Drexler
"Tu Vida Mi Vida"—Vito Páez, songwriter (Fito Páez)
Best New Artist
Angela Aguilar
Anaadi
El David Aguilar
Alex Ferreira
WINNER: Karol G
Lospetitfellas
Nana Mendoza
Christian Nodal
Claudia Prieto
Benjamín Walker
Best Contemporary Pop Vocal Album
Ser—Axel
Camino Fuego Y Libertad—Pablo López
Cuerpo Y Alma—Beatriz Luengo
WINNER: F.A.M.E.—Maluma
Miradas—Nana Mendoza
Best Traditional Pop Vocal Album
Prometo—Pablo Alborán
Solo Los Buenos Momentos—Mojito Lite
Amor Supremo Desnudo—Carla Morrison
WINNER: Hazte Sentir—Laura Pausini
Feliz—Nahuel Pennisi
Best Urban Fusion/Performance
"Mi Gente"—J Balvin Con Willy William Featuring Beyoncé
"Internacionales"—Bomba Estéreo
"Yo Contra Ti"—Daddy Yankee Featuring Orquesta Sinfónica De Puerto Rico
"Sua Cara"—Major Lazer Featuring Anitta & Pabllo Vittar
WINNER: "Malamente"—Rosalia
Best Alternative Music Album
WINNER: Claroscura – Aterciopelados
Puñal – Dante Spinetta
Fuerza Arará – Telmary
Mismo Sitio, Distinto Lugar – Vetusta Morla
Aztlan – Zoé
Alexander Tamargo/Getty Images
Best Song—Mexico Region
"Arránquense Muchachos"—Domingo Leiva Delgado, compositor (Pedro Fernández)
"Ayúdame A Olvidarte"—Gabriel Flores y Yoel Henríquez, compositores (La Explosiva Banda De Maza)
"Corrido De Juanito"—Edén Muñoz, compositor (Calibre 50)
"El Sueño Americano"—Salvador Hurtado, compositor (La Energía Norteña)
WINNER: "Probablemente"—Christian Nodal
Best Album (Brazilian)
Mano Que Zuera—João Bosco
WINNER: Caravanas—Chico Buarque
Edu, Dori E Marcos—Edu Lobo, Dori Caymmi y Marcos Valle
Campos Neutrais—Vitor Ramil
Deus É Mulher—Elza Soares