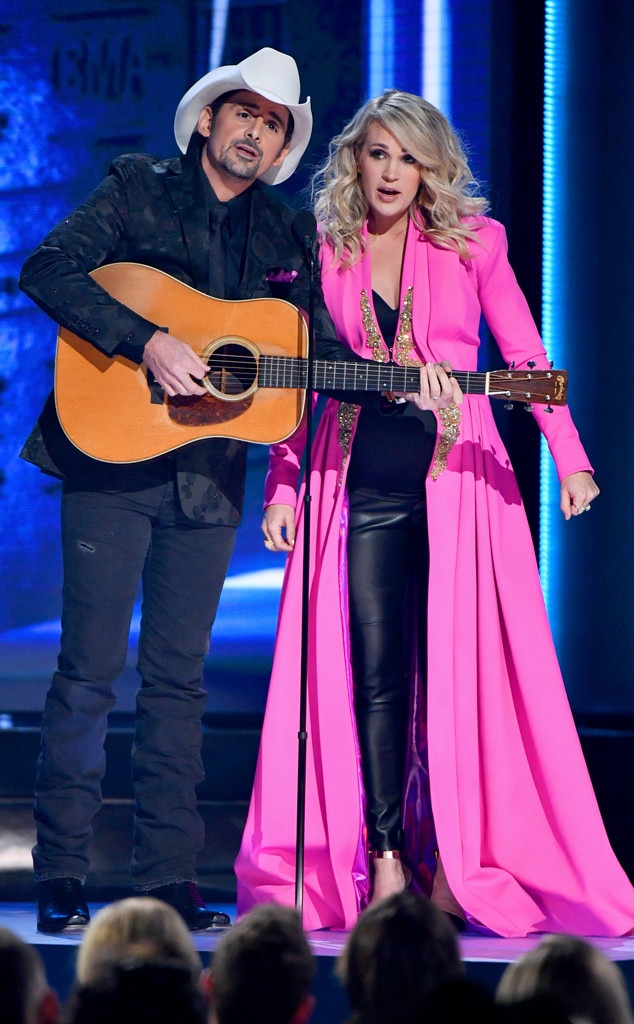 Michael Loccisano/Getty Images
Well, the cat's out of the bag!
Carrie Underwood accidentally let it slip that she is having a "Willie" while co-hosting the 52nd Annual CMA Awards on Wednedsay night. Her good friend and fellow country crooner Brad Paisley managed to learn the sex of the baby by pressing Carrie for the deets on live TV.
"Seriously, Carrie, give me a baby hint," he insisted. Then, after rattling off a list of potential boy or girl names, Carrie exasperatedly said, "Oh, my gosh, Willie, it's a Willie!"
"Carrie blew it! Trending worldwide! Way bigger than when I did it, and worse," Brad joked.
And it's good Carrie was the one with the loose lips this time around, since the last time she was pregnant he accidentally revealed the sex of the baby. Brad asked Carrie, "Hey, you remember last time when I accidentally revealed the gender of your baby?" 
During their opening monologue, Brad even joked that Carrie's husband Mike Fisher may not be the daddy. He asked, "Mike, we're all rooting for you, buddy. What's your gut feeling, here, Carrie? "
But Carrie assured, "I like Mike's chances."
Mike and the Cry Pretty performer announced they are expecting their second child in August and that she will be touring the U.S. on her Cry Pretty 360 tour starting in May of next year. "We are just so excited and just so glad that you guys can share in this with us and be a part of this with us. I love you guys. We'll see you on the road in 2019," she said in the video shared to Instagram. 
Carrie's bun in the oven will be joining big brother Isaiah Michael.