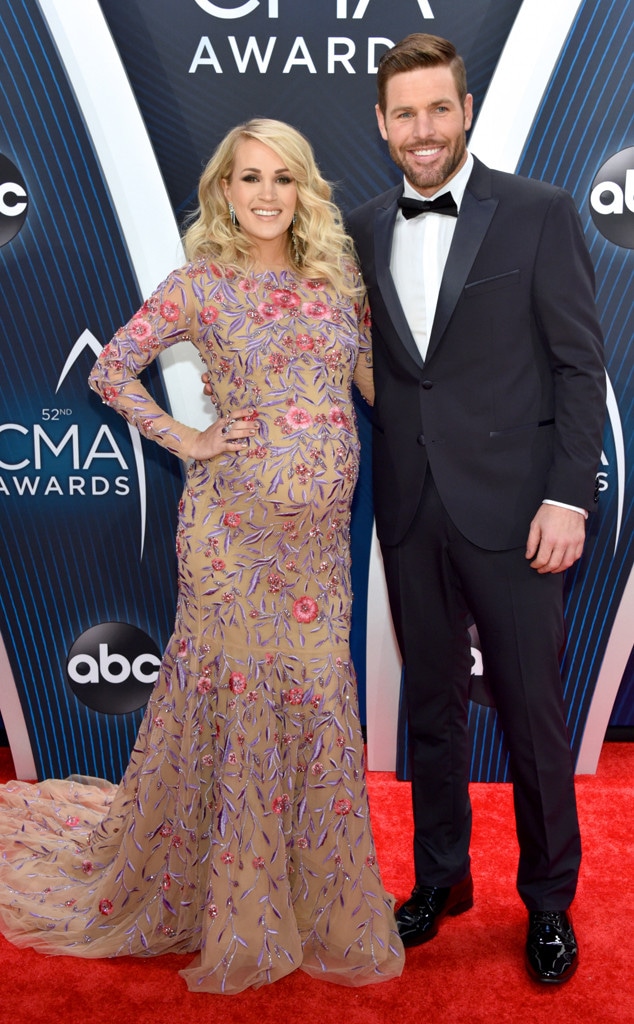 John Shearer/WireImage
Carrie Underwood is bumpin' along!
Carrie was dressed in a delicate long sleeve gown, with intricate floral designs, for her stroll down the red carpet with husband Mike Fisher. Her equally-stylish counterpart wore a black tuxedo for the 52nd annual event, which is held at the Bridgestone Arena in Nashville, TN and will be hosted by Carrie and Brad Paisley for the 11th consecutive year.
In August, the hostess revealed she and Mike are expecting their second child. She shared the exciting news in a video posted on her Instagram account, which also announced her upcoming Cry Pretty 360 tour for 2019. 
The star and her hockey-player husband have yet to announce how far along she is, but they plan to go on tour in May of next year. Other than planning a nationwide tour, Carrie feels like she is just like every other pregnant women. "I just have a strange job. I feel like I'm a working mom, pregnant, I got my stuff to do, you know, it's just an interesting job I have, but I'm just like every other pregnant lady trying to go to work," she told E! News at the 2018 CMT Artists of the Year Awards.
Watch:
Carrie Underwood & Brad Paisley: Best Hosting Moments
In the meantime, Carrie and Mike are busy keeping up with their three-year-old son Isaiah Michael, who is just as excited for the baby to come as they are. Carrie shared that the little one eagerly looks at her growing bump and exclaims, "Your baby's getting bigger."
He is clearly his mom's number one fan, but Carrie is his too. At her Hollywood Walk of Fame star unveiling in September, Carrie made a touching tribute to her son. "Isaiah Michael, I love you so much. You're the best thing we ever did, the best thing. I love you and I'm proud of you and I believe in you too," she said. 
Aww, too cute!