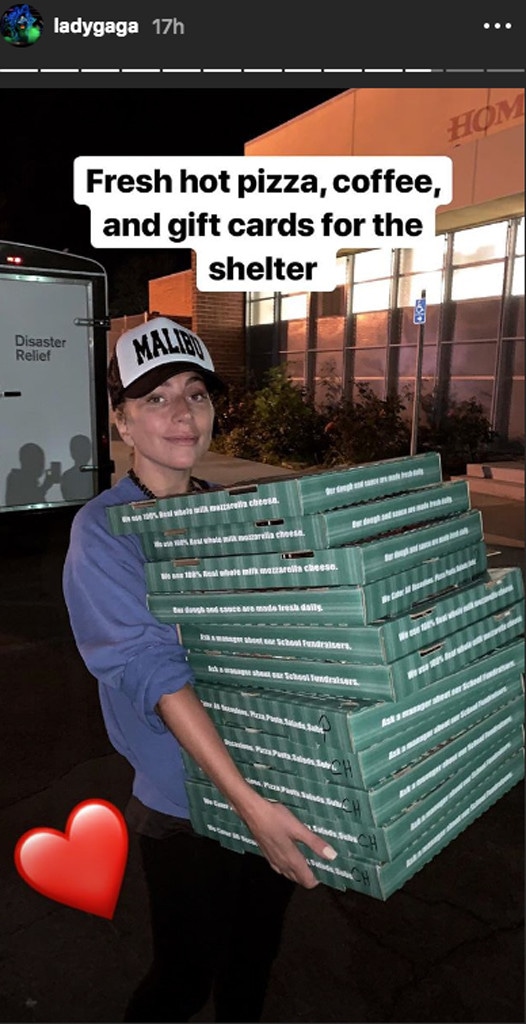 Instagram
Hollywood is doing their part to assist those impacted by the deadly wildfires scorching California. 
In fact, several stars including Miley Cyrus, Gerard Butler, Camille Grammer, Robin Thicke and Neil Young lost their homes in the Woolsey fire that swept through Malibu and the surrounding Los Angeles and Ventura Counties. Other celebrities like Caitlyn Jenner, Jessica Simpson, Orlando Bloom, Alyssa Milano were forced to evacuate as the flames crept dangerously close to their residences. 
As it stands, an estimated 50 fatalities have been reported as a result of the Woolsey fire and Camp fire in Butte County. Neither, in addition to the Hill fire, are completely contained. 
Amidst the destruction, these and many other celebrities have donated their time, energy and finances to the ongoing wildfire relief efforts. Just last night, Lady Gaga paid another visit to a Red Cross shelter with several stacks of pizza boxes, coffee and gift cards for those community members displaced by the fires. 
Watch:
Liam Hemsworth & Miley Cyrus' House Burned Down By Wildfires
To see how other A-listers are stepping up to the plate and to find out how you can get involved, keep scrolling.