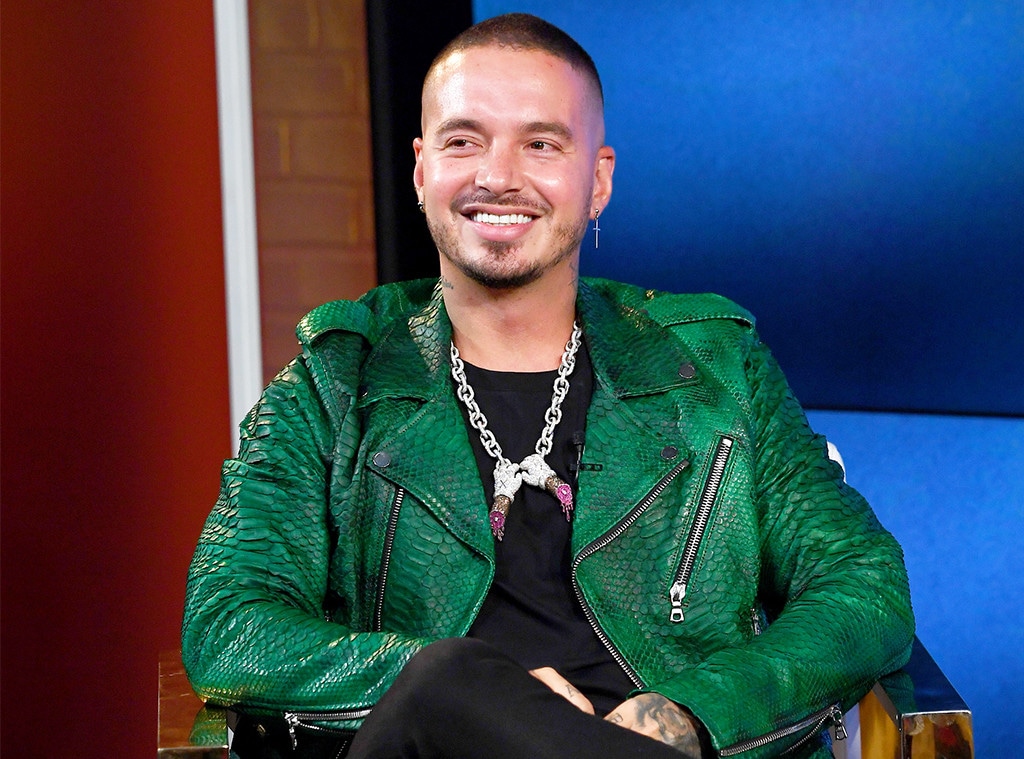 Nicholas Hunt/Getty Images for YouTube Music
"I don't think about the Latin market, I just think about the world."
J Balvin may have been talking about his worldly taste in fashion at that particular moment, but he easily could have been referring to his ever-expanding musical horizons. The 33-year-old reggaeton artist from Medellín, Colombia, has spent the last few years owning the Latin charts, and in May found himself right at home atop the Billboard Hot 100 with "I Like It," his collaboration with Cardi B and Bad Bunny.
He leads the field heading into tonight's Latin Grammys with eight nominations, including Album of the Year for Vibras, two for Record of the Year for his smash hit "Mi Gente," written with Willy William, and "X," featuring Nicky Jam, and a shared nod with Beyoncé in the Best Urban Fusion/Performance category for the "Mi Gente" remix—which Balvin performed with her during the second weekend of Coachella back in April.
Let's just say, it's all part of his plan for organic world domination.
In 2016, he told the New York Times that he was in no rush to cross over into the English-language mainstream, that he wanted what he was doing to become the mainstream.
Artists like Shakira, a fellow Colombian, and Ricky Martin "didn't live what I'm living right now," Balvin said. "They felt that they needed to cross over to get bigger, but I'm going to go the furthest I can in Spanish. And then we'll see."
As it turns out, he can do both.
"Be true to yourself and just don't follow what everyone else is doing. Just do you," he shared his continued approach with E! News last year, fresh from recording his first all-English song, "Hey Ma," with Camila Cabello and Pitbull for the Fate of the Furious soundtrack. They also did a version in Spanish.
"J Balvin is just incredible," Cabello told MTV News ahead of the trio's performance of "Hey Ma" at the 2017 MTV Movie and TV Awards. "I literally listen to all of his music on replay."
"She's super humble," Balvin said of Cabello, "and I'm super proud of [the song], because in this game, sometimes the ego just kills the souls. I think it's more important to find good people than good artists. There's a lot of good artists in the world, but when you add a good person to it, that's when you're going to change the world [into] a better place."
That being said, he found kindred spirits in Cabello and Pitbull for another reason, too: "We just want to conquer the world."
But he doesn't want to force it. For instance, Balvin is interested in acting, but he's "not in a hurry," he told E! News. "I like things to happen organically." So, if someone thinks he's the right fit for a part...
He'll consider it.
Meanwhile, even the most epic things that have happened in his career seem thisclose to being divine intervention.
"It wasn't strategy, it just happened," he told Billboard in October 2017 about Beyoncé wanting to do a remix of "Mi Gente" (Blue Ivy was apparently a huge fan), which naturally sent the song rocketing into a whole upper tier of awareness, as well as to No. 3 on the Hot 100, Balvin's first top-10 hit on the U.S. charts.
Kevin Mazur/Getty Images for Coachella
"Mi Gente" (or "My People") is all about appreciating family and culture and honoring where he came from, a timely message in any year, and in recent years especially. (Balvin canceled a planned performance at the Miss USA pageant in 2015 after then-pageant owner and just-announced presidential candidate Donald Trump made his infamous remarks about Mexican immigrants.)
"At the time there was a lot of things going on in the world, so I said let's do something about cool vibes and love," Balvin said. "Actually, 'Mi Gente's' a love song. It's all about no discrimination for my people."
He continued, "I think this is just the beginning. You know, now the people are really talking about what happened with 'Despacito,' now with 'Mi Gente,' and the beautiful thing about 'Me Gente' was it got number-one global without any feature, and then when Beyoncé jumped in the remix, it just makes it more special...I'm still in shock. I haven't woke up [from] this. This is amazing, I'm super blessed."
The effort was made even more special by all proceeds from the single going to aid hurricane relief in Puerto Rico, Mexico and the various Caribbean islands affected by last years' storms.
Both versions of "Mi Gente" hit No. 1 on the Billboard Hot Latin Songs chart.
And speaking of "Despacito," despite that song's massive global success, including seven Guinness World Records, it couldn't knock Balvin off of his World Record-holding perch for the longest stay at number one on the U.S. Hot Latin Songs chart by a single artist—earned with his tune "Ginza," which spent 22 weeks up there between October 2015 and March 2016.
"It's all about dreams," he reiterated to E! News.
The dreams began for José Álvaro Osorio Balvin when he was a kid growing up in Medellin—which he still considers his favorite place in the world—and worshiping at the altar of rock acts like Metallica and Nirvana (hence the Nirvana tattoo on J Balvin's knee), as well as listening to Run DMC and other rap acts. He was born into upper-middle class surroundings but after his father lost his business, the family had to downsize in a less affluent neighborhood.
"Because of that… I feel something like a chameleon," Balvin told The Fader in 2016. "When I would go to the barrio, people saw me as a rich person, but when I'm around rich people they see me as someone from the ghetto. It's all perceptions. I like moving between worlds. I feel equally comfortable in both."
When he was 17 he went to Oklahoma on an exchange program, didn't love it, but decided to give the United States another shot by moving to New York. He told the Fader that he worked odd jobs, such as painting houses and walking dogs, and fell head over heels for hip-hop culture—including the name-brand fashion.
Nowadays, he doesn't just wear designer fashion, he counts a lot of designers as friends, including Hedi Slimane, Haider Ackermann, Fear of God's Jerry Lorenzo and FourTwoFour's Guillermo Andrade. 
Balvin's also known for changing his hair color almost as often as his clothes, which he simply attributes to boring easily if he sees the same color for too long.
"If it goes wrong, I just shave it," he told E!. "I'm just happy being me."
But back when he was 19, he returned to Colombia with a big dream—to be not just an artist, but a whole brand.
"For 10 years, I was my own label, my own promoter, my own PR," Balvin told the Fader. "We borrowed money to print our CDs."
He recalled to Rolling Stone this year, "Of course everybody was like, 'You're a crazy Colombian.' They said, 'Reggaeton is for Puerto Ricans—you are never going to make it.' But the more they said it...the more I wanted it."
He released his first album, Real, in 2010, and in 2012 had his first international hit with "Yo Te Lo Dije," after which he signed to Universal's Capitol Latin subsidiary. "6 AM " was his first song to reach No. 1 on the Hot Latin Songs chart, in 2013. 
Interestingly, it's noted in The Fader story that Balvin was hoping to get Justin Bieber to sing in Spanish on a song he was working on with writer-producer and frequent Bieber collaborator Poo Bear, having done the Latin remix of Bieber's "Sorry." Balvin was convinced they had a hit on their hands, but his manager didn't think it was a fully realized song yet.
Eventually, Bieber proved he could provide that extra oomph in Spanish on the "Despacito" remix with Daddy Yankee and Luis Fonsi. And we know how that turned out.
Microsoft Theater / Andrew Bernstein Associates / Aaron Poole
But Balvin and Poo Bear did all right for themselves, getting Pharrell Williams—whom Balvin worked with previously on "Blurred Lines" and considers a mentor—to sing the hook for "Safari" in Spanish. And Balvin has had his choice of collaborators, including Daddy Yankee on "Pierde Los Modales," ever since. Then, of course, Beyoncé and Cardi B came knocking.
Despite the meteoric rise, however, Balvin's ascent hasn't been an entirely smooth ride.
Just as his career was taking off he started suffering bouts of anxiety and recalled to the Fader getting on a plane one day and feeling despair just wash over him.
"For two months afterward, I was in hell," he said. "I lost the desire to live. I went to lots of doctors and tried alternative medicine. I didn't want to go to a psychiatrist because I thought it was for crazy people. And it turned out I was crazy."
Kevin Mazur/Getty Images for Coachella
Eerily enough, in July 2016 he was a passenger in a small private plane that crashed in the Bahamas. He emerged physically unscathed and grateful to be alive.
"We're safe. God didn't want us to die today," he wrote (translated from the Spanish) on Facebook next to a photo of him perched on the plane's wing, seemingly before takeoff.
Balvin shared with Nandoleaks' Fernando Halman in May that Pharrell called him afterward and told him that life doesn't make mistakes.
"What are the chances to be alive after a plane crash," he remembered the "Happy" singer telling him. "There's zero...It means you have something to do in this world, you've got a mission to do. So, from that day I really understood that I've got a mission, to inspire people, so that's what I'm doing every day. Open people's eyes."
Balvin maintains his equilibrium by working out, eating right, reading a book when he has the time and FaceTiming with friends and family when he's on the road. He calls his mom first whether it's good or bad news. He likes to chill out in nature, sometimes in designer jogging suits and blinding-white kicks.
The artist, who has 24.7 million Instagram followers, also treats social media like it's his job—which it kinda is, at least part-time, in the age of YouTube views (he's got billions), Snapchat and streaming.
"I'm always on the social media watching what's up with my career," he told E! News last year, adding with a smile, "I follow a lot of girls."
And if you're on social media watching what's up with his career, you'll be treated to a series of images of  J Balvin living his best life, usually while wearing something bright—representative of the positive vibes he's made it his mission to share with the world.
"I think God has been amazing with me," he also told Nandoleaks' Halman in May, "but we have to work hard to get those miracles...I do believe in miracles but we've got to make them happen."
The 19th Annual Latin Grammy Awards air live from Las Vegas' MGM Grand Garden Arena at 5 p.m. PT/ 8 p.m. ET tonight on Univision.