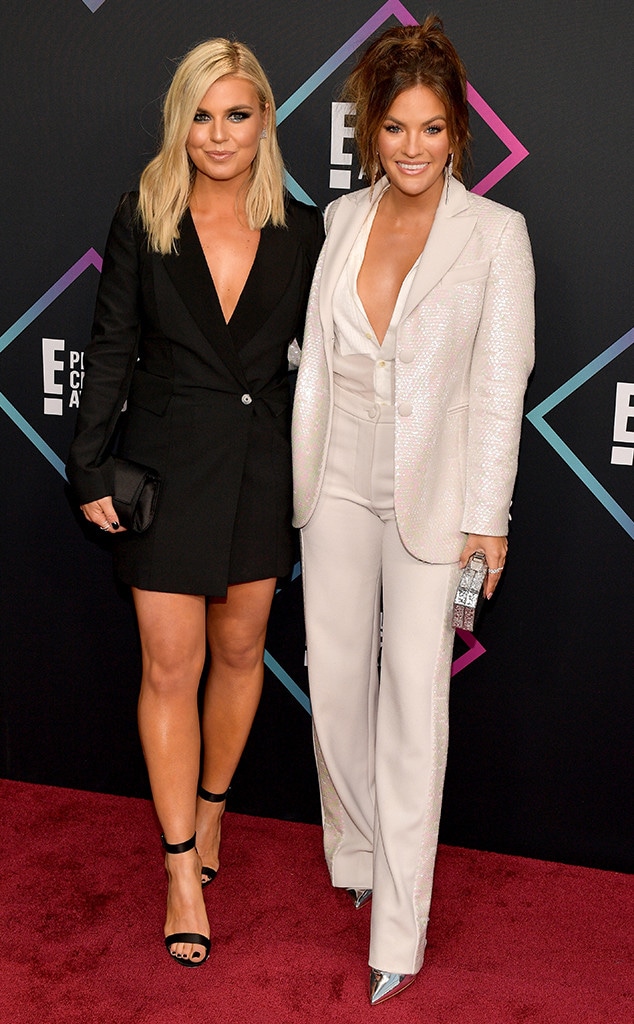 Matt Winkelmeyer/Getty Images
Becca Tilley and Tanya Rad are still celebrating their podcast, Scrubbing In, winning Pop Podcast of 2018 at Sunday's People's Choice Awards.
In fact, the co-hosts gave their acceptance speech for the award, which was not part of the televised broadcast, during this week's podcast and made sure to invite first-round Pop Podcast of 2018 nominee Oprah, to visit Scrubbing In while they were at it.
"Oprah, we want to take this opportunity, during our speech, to formally invite you onto our podcast in 2019," Rad shared during their Monday podcast.
"We'll make some room for you," Tilley quipped.
The best friends turned podcast hosts realized they couldn't have won without their supporters and decided to turn their attention to their followers and remind them to never give up on their dreams.
"Most importantly, our listeners. Truly, you guys showed up in the biggest way possible. We were the little engine that could and we did. So for everybody that's been told no in their lives, this one is for you," Rad added.
The iHeartRadio personalities also made time to mention the devastating California wildfires and recent shooting in Thousand Oaks, CA, which made their speech even more emotional.
"We just wanted to say it's so bittersweet to be here, there is so much devastation outside of this room," the former Bachelor contestant revealed. "As happy and exciting as this is, we wanted to acknowledge everything that is going on outside with the fires and the recent shooting, all the firefighters and police officers and people who are involved, we are thinking of you."
Finally, with send-off music playing in the background—as would happen when a speech goes too long at an award show—the ladies thanked the people who helped launch their careers.
"I would also like to thank Bachelor Nation for always showing up and being invested," Tilley said. "Everything that has come for that show is pretty much why I'm here."
Rad then took her turn to thank the people who helped her achieve her radio and podcast goals. "I would also like to thank Ryan Seacrest while we are at it. You know he believed in me from day one," she concluded.
We're so happy that the co-hosts had the opportunity to give their acceptance speech for PCA's Pop Podcast of 2018 and can't wait to hear about their next adventures on Scrubbing In!
Check out the full list of winners from this year's People's Choice Awards here.