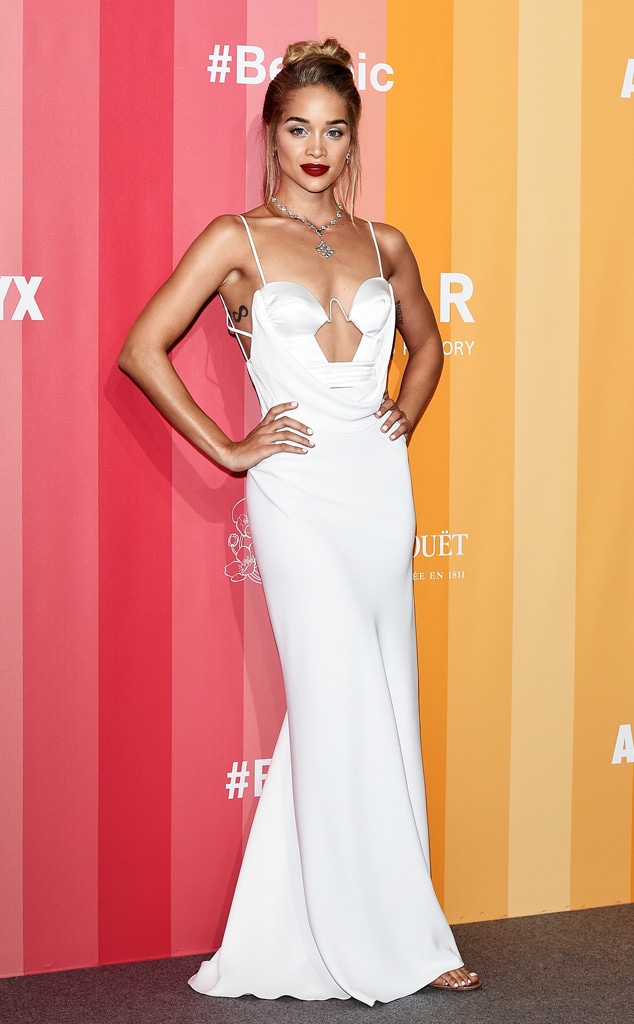 Stefania D'Alessandro/Getty Images for amfAR
Jasmine Sanders is officially a member of the Sports Illustrated family!
It was recently announced that the 27-year-old model, also known as "Golden Barbie," has joined the SI Swimsuit 2019 rookie class. Now, the Instagram sensation is opening up about the rookie honor, sharing her diet and fitness routine and revealing what her reaction was to the exciting news.
"Among the whirlwind of emotions, surprised was definitely the first one!" Sanders tells E! News exclusively. "I couldn't believe that it finally happened and all I could do was cry and call my parents!"
"For decades SI has showcased strong and confident women whose beauty radiates from the inside out," she shares with us. "It's such a blessing to work so hard and be part of their amazing family."
Ben Gabbe/Getty Images for Vanity Fair/Saks Fifth Avenue
As for how she prepares to be a SI model, Sanders tells E! News, "Trying to stick with a healthy diet and exercise routine is the best way to be prepared. Sticking with a routine allows for an 'always ready' mentality so when the time comes I won't be stressed out trying to make drastic changes. The routine also helps me stay focused and maintain a clear state of mind."
Sanders adds, "It's also great that Sports Illustrated encourages women to truly be themselves instead of pressuring them to an unrealistic goal."
When it comes to her fitness routine, Sanders works out with her trainer Kirk Myers at Dogpound in New York City.
"And I try to eat very clean on a regular basis, but I definitely like to try new and fun dishes during my travels," she tells us. "When I'm traveling I like to do my hotel workouts either in my room or the hotel gym. I travel with a jump rope and resistance bands to make sure I'm always getting my workout."
She also adds, "Depending on the part of my body that is the focus of the shoot or event, I like to tailor my workouts to target those areas."
Being in the spotlight, Sanders has a lot of young fans looking up to her. So what advice does she have for them?
"I like to tell women and girls to make themselves a priority," Sanders shares with E! News. "No matter what life throws at you, you have to make sure that you take care of yourself. Self-care and self-love are so important when chasing your dreams."