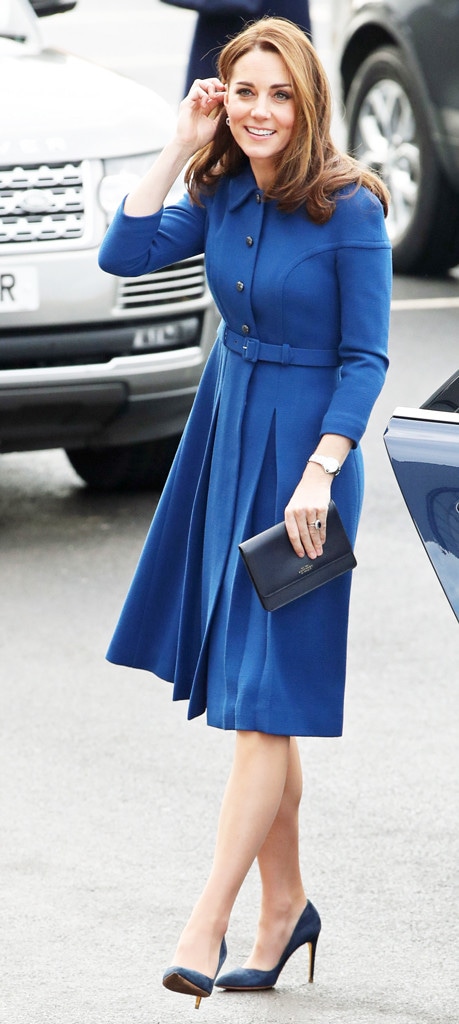 Danny Lawson/PA Wire
Once again, Duchess of Cambridge Kate Middleton has proven she's just like us—save for the royal title. 
She and husband Prince William stepped out on Wednesday for some engagements, including a visit to a local Centrepoint, for which William has long served as patron. Centrepoint, the UK's leading charity for homeless young people, provides support for the local homeless by providing living accommodations and resources for education, training and employment. 
Donning a vibrant blue belted coatdress by Eponine London she previously wore in 2017, Middleton and her royal beau were asked to help prepare lunch at the center. The mother of three swapped out her coat for an apron and got to work in the kitchen slicing bread for the group.
Charlotte Graham/Daily Telegraph/PA Wire
Charlotte Graham/Daily Telegraph/PA Wire
After, they served food to two of the young people who have been helped in the town and sat down all together for the meal. The couple looked relaxed while chatting with the group and Prince William joked it was far from a normal lunch, gesturing to the photographers and reporters around them.
Afterward, the couple helped officially open the Andy Norman Learning Hub, which will serve as a dedicated space and resource for young people at risk of homelessness in Barnsley. 
With Prince Charles' 70th birthday today, the couple is expected back at Buckingham Palace tonight for a big private bash thrown by Queen Elizabeth II. Needless to say, it will be quite a packed day for the duo!