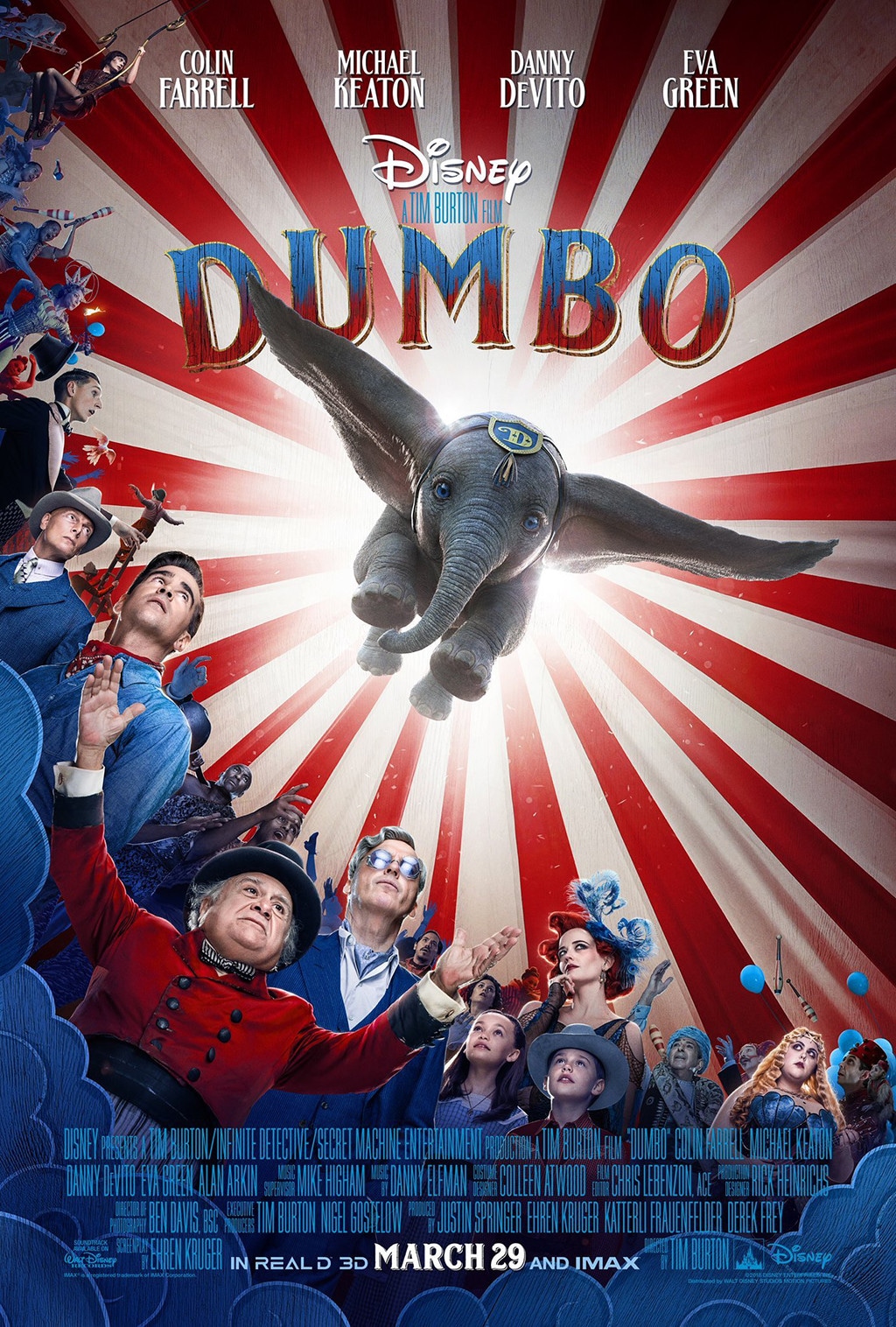 Disney Enterprises, Inc.
Have you ever seen an elephant fly?
Five months after Walt Disney Pictures released the first teaser trailer for Tim Burton's reimagining of Dumbo, the studio shared the full trailer during the 2018 CMA Awards on ABC.
Loosely inspired by the 1941 animated film of the same name, Dumbo stars Danny DeVito as circus owner Max Medici. He enlists former circus star Holt Farrier (Colin Farrell) and his two children, Joe Farrier (Finley Hobbins) and Milly Farrier (Nico Parker), to care for a newborn elephant whose floppy ears make him a laughingstock in an already struggling traveling show.
Of course, everything changes after they discover Dumbo's high-flying skills—and tycoon V.A. Vandevere (Michael Keaton) swoops in to recruit the peculiar pachyderm for his newest venture, Dreamland. Dumbo gets the opportunity to soar alongside Colette Marchant (Eva Green), a talented aerial artist—until Holt discovers that Dreamland is actually a nightmare.
Timothy Q. Mouse is in the movie, but Jim Crow (smartly) does not appear to be in the remake. Before Dumbo soars into theaters on March 29, 2019, check out more photos from the film:
For nearly every cast member, working on Dumbo was a dream come true.
"Honestly, I was like a child in a sweet shop. I really was. I was so giddy. I had this sustained excitement during the whole thing because the sets we were working on were extraordinary, the story was so sweet, Tim was such a dream and the cast was so lovely," Farrell, 42, told Entertainment Weekly in June, adding, "It's also nice to do something that my children can see."
Although this is Parker's movie debut, she knew what to expect, according to mom Thandie Newton. "She's been on endless sets," Newton said on This Morning in May. "It's not that she takes it for granted, but it's not a world that she feels she's not entitled to be in." As this was Parker's first film, Newton was "like a lioness" on set, "checking that everything is looked after."