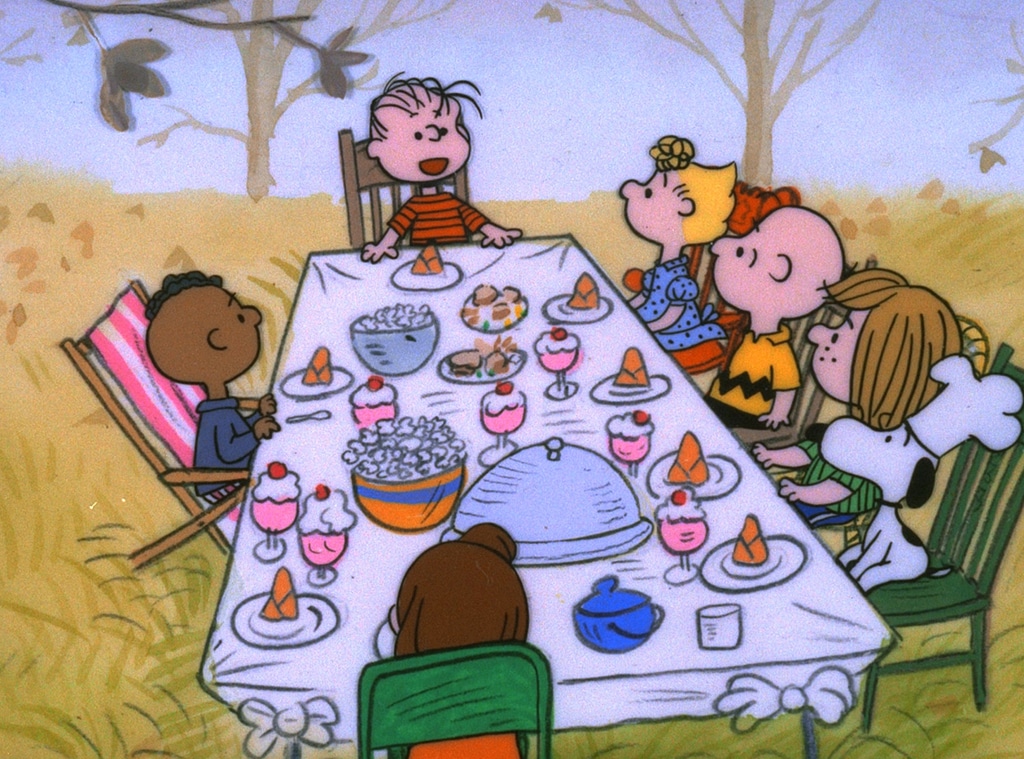 United Feature Syndicate Inc
Happy Thanksgiving!
The day is finally here, which means it's time to put on your comfiest pants, start making your turkey, stuffing, apple and pumpkin pies and so many more tasty treats as we celebrate the fun holiday with family and friends.
After you've watched the annual Macy's Thanksgiving Day Parade and prepped your feast for the evening, there's only one thing left to do...watch a holiday movie or two!
OK, we know that Thanksgiving movies don't get as much love as Christmas films, which are in large supply, but that doesn't mean they don't exists and they shouldn't be watched on this wonderful holiday.
Nothing gets us in the holiday mood more than a good Thanksgiving movie...as we try not to eat any of the delicious foods that are waiting to be served to the masses this Thursday.
It might be Turkey Day, but it's also a day meant to be spent with your loved ones, and watching a festive movie is the ideal way to kick things off.
Over the years there have been a decent amount of movies centered around Thanksgiving, or that feature a big Thanksgiving scene that we've come to love and wait to watch on this holiday.
Some of the movies kick off our countdown to Christmas, while others remind us that Friendsgiving is just as important as Thanksgiving with family. Some make us laugh—we're looking at you Planes, Trains and Automobiles—while others take us back to our childhood the moment it starts AKA A Charlie Brown Thanksgiving.
In case you need a little holiday inspiration this fall, we've rounded up the top 12 Thanksgiving films that you should definitely be watching all weekend long. Who says Thanksgiving only lasts one day? That's what leftovers are for right?!
After you've seen our top 12 picks, makes sure to cast your vote for the Thanksgiving film you love the most. Oh, and again, happy Thanksgiving!
1. Planes, Trains and Automobiles:
Steve Martin and John Candy together? Sign us up! This 1987 film follows the journeys of Neal Page (Martin) and Del Griffith (Candy), who are both thrown off on their trips home for Thanksgiving due to weather. The acts of nature force them together and when they are stuck being each other's travel buddy hilarity ensues.
2. Free Birds:
The 2013 animated film has something for both adults and kids. Free Birds tells the story of two turkeys who are from opposites sides of the tracks, but are able to put aside their differences in order to travel through time to keep turkeys off the Thanksgiving menu once and for all. The main characters are voiced by Owen Wilson (as Reggie), Amy Poehler (as Jenny) and Woody Harrelson (as Jake).
3. A Charlie Brown Thanksgiving:
Talk about a classic! A Charlie Brown Thanksgiving is a holiday movie you can't miss. In addition to A Charlie Brown Christmas and It's the Great Pumpkin, Charlie Brown, this Thanksgiving specific film gives fans of the character all of the feels year after year. This movie, which airs every year on TV, includes your favorite Peanuts characters as they attend Charlie Brown's Thanksgiving dinner after being invited over by Peppermint Patty.
Courtesy Columbia Pictures
4. When Harry Met Sally:
We know this movie isn't about Thanksgiving, but it does give us fall feels to the max, which is something that all festive movies should include. It is about two friends, Harry (Billy Crystal) and Sally (Meg Ryan), who after meeting and eventually becoming good friends must decide if becoming a couple is worth ruining their friendship. There is love, fall colors and holiday celebrations galore. Plus, this movie gives you another reason to watch all-things Meg Ryan like You've Got Mail, which gives us the line, "Don't you love New York in the fall?" which is perfect for this time of year.
5. The Ice Storm:
Want a more realistic version of Thanksgiving? Then, The Ice Storm is the movie for you. This 1973 film is set around the holiday in Connecticut and focuses on two well-off families that struggle to deal with changing times. Ang Lee's movie depicts what happens when normal families have to deal with big issues like adultery and alcohol all while celebrating a holiday about love and family. It stars Tobey Maguire, Christina Ricci, Kevin Kline, Sigourney Weaver, Joan Allen and Elijah Wood.
6. Pieces of April:
Katie Holmes is that you? The Dawson's Creek alum plays April Burns in this 2003 film, which focuses on April after she invites her dying mother—and the rest of her estranged family—from Pennsylvania to her apartment in New York City for Thanksgiving dinner. Of course disaster strikes when the stove breaks and she must turn to her neighbors for a working stove.
7. Home for the Holidays:
After she loses her job, her daughter decides to celebrate Thanksgiving with her boyfriend, and she makes out with her soon-to-be former boss, Claudia Larson (Holly Hunter) must deal with her family during the holidays. The 1995 film also stars Robert Downey Jr., Dylan McDermott, Anne Bancroft, Charles Durning and Claire Danes.
8. Addams Family Values:
When you think about the Addams family, we're pretty sure Halloween comes to mind and not Thanksgiving, but Addams Family Values has one of the funniest Thanksgiving scenes of all time. In this movie, Wednesday Addams (Ricci) goes full-on destruction mode during her camp's pageant during the Thanksgiving storyline and it's too funny not to watch every holiday. Plus, the rest of the cast including, Joan Cusack and Christine Baranski outdo themselves with their performances in this comedy.
9. Funny People:
Funny People isn't technically about Thanksgiving, but there is a Turkey Day scene that really hits home. The dramatic comedy stars Adam Sandler as George Simmons, a movie star who goes back to stand-up after getting cancer. He then meets Seth Rogen's character, Ira Wright, who is an aspiring comic and together they tour the country. In the end, the film is about how friends can become family as seen during George's memorable Thanksgiving toast.
10. Dutch:
Ed O'Neill stars in Dutch, the 1991 comedy that follows Dutch Dooley (O'Neill) on a road trip home for Thanksgiving. Dutch drives the long trip with Doyle Standish (played by Ethan Embry), who is the son of Dutch's girlfriend. Together the two opposite men form a lasting friendship, but not without a series of mistakes and missteps.
11. Miracle on 34th Street:
OK, we know that Miracle on 34th Street is a Christmas film, but it is actually a Thanksgiving and Christmas movie because it begins with the Macy's Thanksgiving Day Parade. Because of where it starts, around Thanksgiving, as a new Santa is called in to replace the regular parade Santa, we're counting this as the ideal Thanksgiving movie. You get to celebrate the fall holiday while kicking off your countdown to Christmas at the same time.
12. Holiday Inn:
Again, Holiday Inn is usually considered a Christmas film, but the 1942 musical is actually about all of your favorite holidays. The inn does celebrate each holiday including, Easter when they perform "Easter Parade," Christmas with "White Christmas" and of course Thanksgiving with "I've Got Plenty to Be Thankful For." The festive black-and-white movie starring Bing Crosby, Fred Astaire, Marjorie Reynolds and Virginia Dale, will be the perfect way to celebrate your Thanksgiving blessings and start prepping for Christmas miracles.
Now that you've seen what Thanksgiving movies we love, it's time to vote for the film you are going to watch this year.
Happy Thanksgiving everyone, now vote...and go eat some turkey!