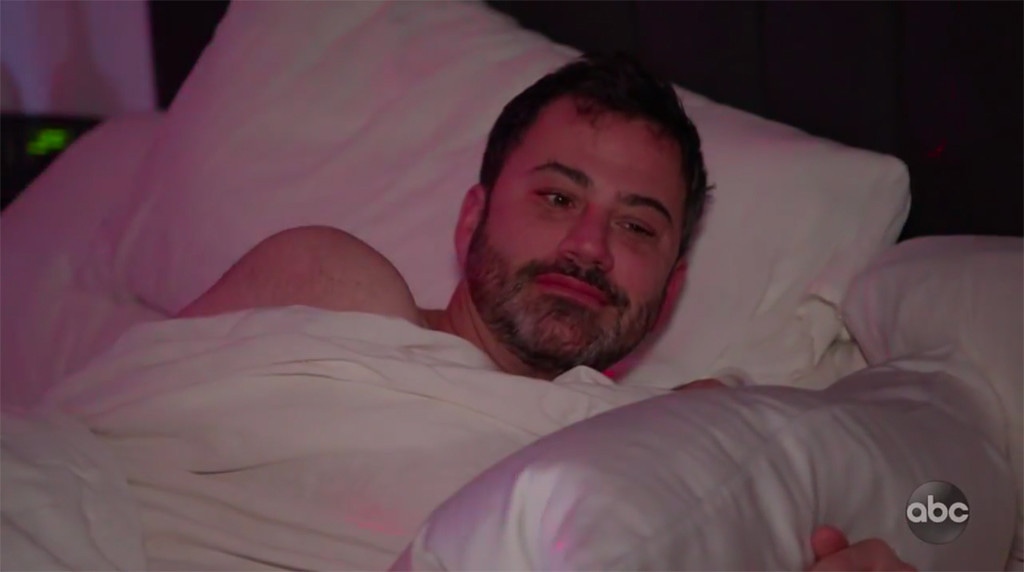 YouTube
Believe it or not, this isn't the first time Jimmy Kimmel has woken up next to half-naked strangers. In previous episodes of Jimmy Kimmel Live!, head writer Molly McNearney has pranked her hubby by asking Miley Cyrus, Dua Lipa, Rihanna, Britney Spears and other stars serenade him in bed—unbeknownst to him. Each time, a stunned Kimmel was rendered speechless when the scantily-clad singers and their backup dancers gave him a private show.
So, in honor of Kimmel's 51st birthday Wednesday, McNearney upped the ante.
"Every year, my Aunt Chippy calls me at the crack of dawn; she gets up before the sun comes up, so it's now to the point where I mute the telephone," Kimmel said, setting the scene before he showed the prank Tuesday. "The night before I think, 'Oh, I have to turn off the phone so she doesn't wake up me up.' And it usually works. But this year, she got a little bit of help from my wife and brother and flew here from Las Vegas to wake me up in person in the middle of the night." After the crowd cheered, he told them, "This is not something I want to be encouraged."
Kimmel then showed the footage, which had been shot overnight.
With rollers in her hair, Aunt Chippy got out of the car—with Chippendales dancers in tow!—and headed upstairs. McNearney laughed to herself, explaining, "He is going to hate this one!"
Cut to Aunt Chippy, banging on a pot at the foot of Kimmel's bed and yelling, "Surprise!" As he woke up, Aunt Chippy sang "Rise and Shine" as the male dancers stripped and surrounded him.
"Does mom know about this?" Kimmel asked when it was finally over.
"No," Aunt Chippy said, nonchalantly. "She doesn't have any clue."
After sharing the clip, Kimmel turned to her and said, "Thank you, Aunt Chippy. What a wonderful gift that was. Thank you. That was like the opposite of a sex dream right there!"