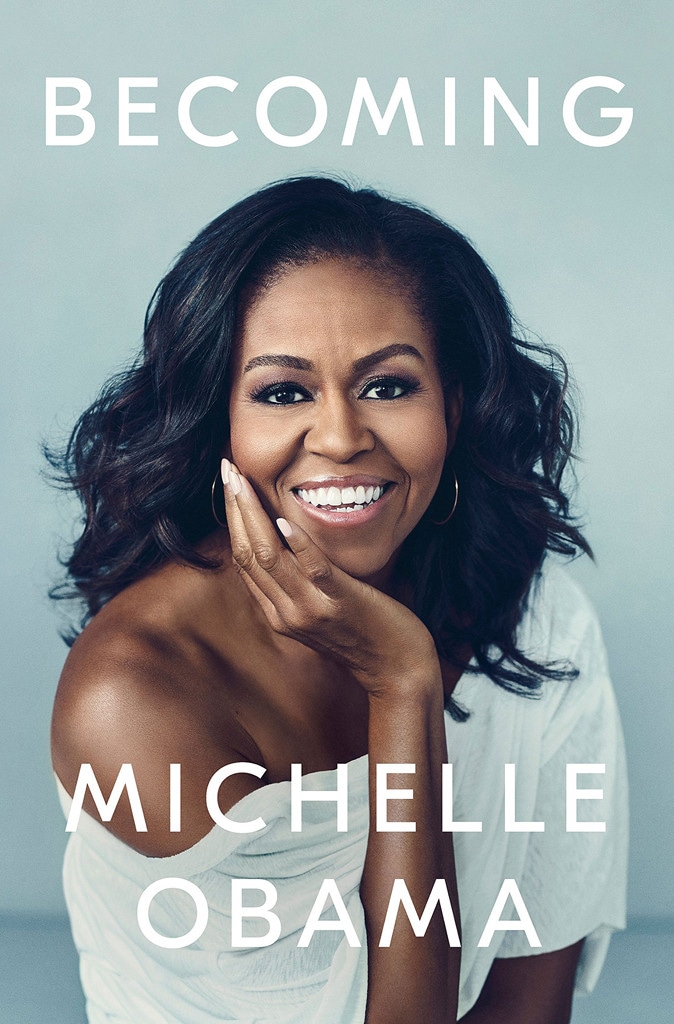 Crown Publishing Group
Michelle Obama is getting personal in her new memoir, Becoming.
Inside the pages of her book, the former First Lady of the United States opens up about everything from meeting husband Barack Obama, to their marriage and their struggle to conceive children. She also shares stories from her time in the White House and the end of her husband's presidency with readers.
"As I've reflected on my journey, I've learned so much about where I came from, about the people and moments that shaped me, about all of the struggles and the growth along the way," Michelle told her followers on Instagram Tuesday. "But mostly, I learned to embrace the fullness of my story—every bit of it."
"As I write in the preface, 'Your story is what you have, what you will always have. It is something to own.' I hope this book is meaningful to you, even in the smallest of ways," she continued. "I hope you find something in it that resonates with your life. Most of all, I hope that each of you can embrace the beauty of who you are, and I wish you all the best in your own process of becoming."
Take a look at five bombshell stories we learned from Becoming below:
1. The Obamas Wasted No Time Being Casual: "As soon as I allowed myself to feel anything for Barack, the feelings came rushing—a toppling blast of lust, gratitude, fulfillment, wonder," she writes. "Any worries I'd been harboring about my life and career and even about Barack himself seemed to fall away with that first kiss, replaced by a driving need to know him better, to explore and experience everything about him as fast as I could."
"Maybe because he was due back at Harvard in a month, we wasted no time being casual," she continues. "Not quite ready to have a boyfriend sleeping under the same roof as my parents, I began spending nights at Barack's apartment, a cramped, second-floor walk-up above a storefront on a noisy section of Fifty-Third Street."
Kevin Dietsch/CNP via ZUMA Wire
2. Her Father Thought the Relationship Wouldn't Last: "My father appreciated Barack instantly, but still didn't like his odds," she writes. "After all, he'd seen me jettison my high school boyfriend David at the gates of Princeton. He'd watched me dismiss Kevin the college football player as soon as I'd seen him in a furry mascot outfit. My parents knew better than to get too attached. They'd raised me to run my own life, and that's basically what I did. I was too focused and too busy, I'd told my parents plenty of times, to make room for any man."
She goes on to explain that, according to her brother Craig Robinson, after their first introduction, "My father shook his head and laughed as he watched me and Barack walk away. 'Nice guy,' he said. 'Too bad he won't last.'"
3. Barack Proposed Right After Telling Michelle He "Didn't Really See the Point" in Marriage: On the same day Barack finished the bar exam, the couple went out to celebrate at one of their favorite restaurants, Gordon. At the end of the meal, he brought up the subject of marriage, telling her he "didn't really see the point" of it. The two then went on to have a tense discussion, which Michelle notes "it was clearly I who was more inflamed."
"Eventually, our waiter came around holding a dessert plate, covered by a silver lid," she writes. "He slid it in front of me and lifted the cover. I was almost too miffed to even look down, but when I did, I saw a dark velvet box where the chocolate cake was supposed to be. Inside it was a diamond ring."
"Barack looked at me playfully. He baited me," she recalls. Michelle later adds that Barack said to her lightly, "Well, that should shut you up."
4. The Couple Turned to IVF After Having a Miscarriage: "It turns out that even two committed go-getters with a deep love and a robust work ethic can't will themselves into being pregnant," Michelle writes. "Fertility is not something you conquer. Rather maddeningly, there's no straight line between effort and reward. For me and Barack, this was as surprising as it was disappointing. No matter how hard we tried, we couldn't seem to come up with a pregnancy."
"We had one pregnancy test come back positive, which caused us both to forget every worry and swoon with joy, but a couple of weeks later I had a miscarriage, which left me physically uncomfortable and cratered any optimism we'd felt," she later writes. Michelle then shares that she and Barack met with a fertility doctor, who eventually recommended they try IVF. This lead to the couple conceiving their daughter, Malia Obama, and a few years later, Sasha Obama.
John Angelillo-Pool/Getty Images
5. Michelle "Stopped Even Trying to Smile" at Donald Trump's Inauguration: "That day, I was feeling everything all at once–tired, proud, distraught, eager," Michelle writes in her epilogue about Donald Trump's Jan. 2017 inauguration. "Mostly, though, I was trying just to hold myself together, knowing we had television cameras following our every move."
"Sitting on the inaugural stage in front of the U.S. Capitol for the third time, I worked to contain my emotions," she later writes. "The vibrant diversity of the two previous inaugurations was gone, replaced by what felt like a dispiriting uniformity, the kind of overwhelming white and male tableau I'd encountered so many times in my life—especially in the more privileged spaces, the various corridors of power I'd somehow found my way into since leaving my childhood home. What I knew from working in professional environments—from recruiting new lawyers for Sidley & Austin to hiring staff at the White House—is that sameness breeds more sameness, until you make a thoughtful effort to counteract it."
"Looking around at the three hundred or so people sitting on the stage that morning, the esteemed guests of the incoming president, it felt apparent to me that in the new White House, this effort wasn't likely to be made," Michelle continues. "Someone from Barack's administration might have said that the optics were bad—that what the public saw didn't reflect the president's reality or ideals. But in this case, maybe it did. Realizing it, I made my own optic adjustment: I stopped even trying to smile."
Becoming is available now.