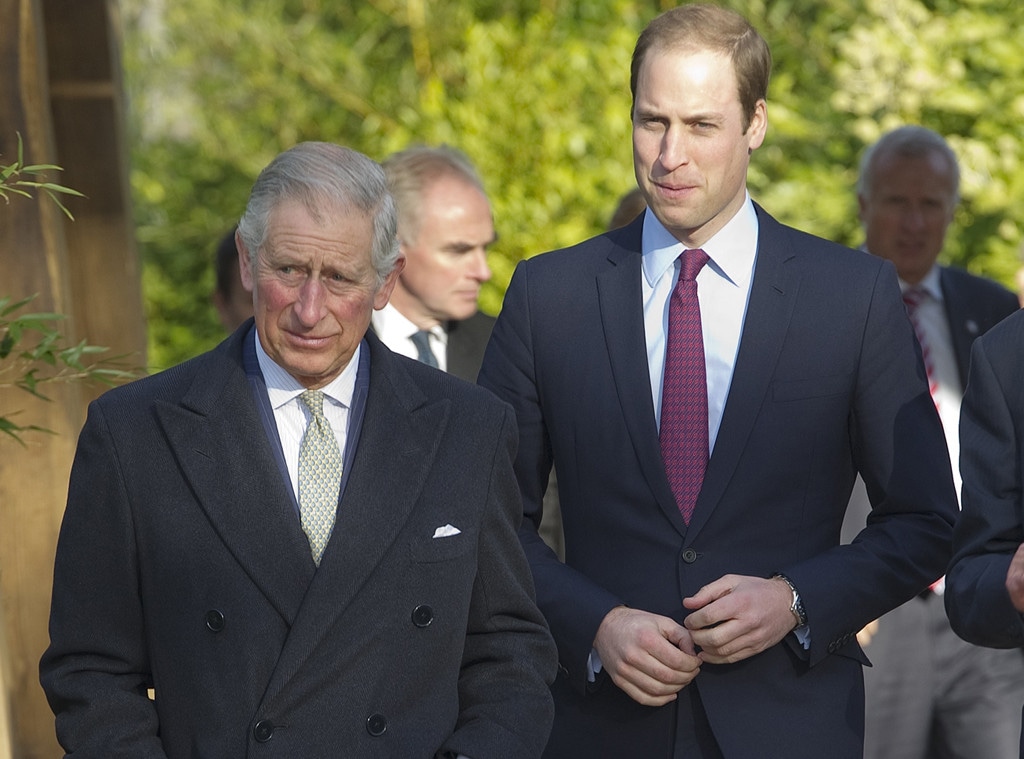 Eddie Mulholland-WPA Pool/Getty Images
It was 1997, and Prince Charles' reputation hung in the balance.
Princess Diana had just died and a nation's eyes were laser-focused on her ex-husband and former in-laws—most of whom, in the people's eyes, had treated their princess poorly in life and were not displaying anywhere near the proper amount of grief in the wake of her death.
When they married in 1981, Charles and Diana were the world's idea of a fairy-tale brought to life, their wedding watched by 750 million people and the blushing 20-year-old bride heralded as the most exciting royal development since Princess Margaret wore her tiara in the bathtub. 
And when they separated in 1992, the people took sides. 
Charles was widely vilified when it became clear that he had been unfaithful to Diana—to a level that not even Diana's eventual admission of infidelity could only slightly mitigate—and when she was killed in a car crash on Aug. 31, 1997, the Prince of Wales knew that any wrong move on his part could lose him the people's respect, perhaps forever. And that just wouldn't do for the future king of England.
Luckily for Charles, the right move for him happened to finally be the right move, full stop.
Priority No. 1 in the days, weeks and months following Diana's death was the well-being of his sons, 15-year-old Prince William and 12-year-old Prince Harry, and Charles—already a highly evolved father when viewed through the prism of his own father's approach to parenting—devoted himself to helping his kids process what had happened.
"One of the hardest things for a parent to have to do is to tell your children that your other parent has died," Harry recalled in the 2017 BBC documentary Diana: 7 Days, which chronicled the immediate aftermath of his mum's death. "How you deal with that I don't know. But, you know, he was there for us."
William, in hindsight, said he was grateful to have had "the privacy to mourn, to collect our thoughts, and to just have that space away from everybody."
Their father, who took them to stay at his Gloucester estate, Highgrove, "was the one out of two left and he tried to do his best and to make sure that we were protected and looked after," Harry added. "But, you know, he was going through the same grieving process as well."
Maybe not exactly the same, as Charles' relationship with Diana had frayed in almost every aspect except as amiable co-parents to William and Harry, but certainly the prince was in a state of mourning and regret all his own.
As it would turn out, Charles' obviously close relationship with his sons and the way in which he handily took up the parenting reins in Diana's stead would serve as an unparalleled form of image rehabilitation for his battered reputation—and, among those who enjoy and appreciate the royal family in the first place, he's been steadily on the up-and-up with the people ever since. Even his marriage to Camilla Parker-Bowles in 2005 ultimately proved popular, maybe because as much as folks rooted for Diana, it was impossible to turn a cold shoulder to Charles finally settling down with the love of his life. 
But the infinite irony of Charles' life has been that, while royal observers love to see the family appear as a cohesive unit, time spent with family takes away from time spent tending to royal affairs, and time spent fulfilling the role of a full-time royal takes away from family—and neither dereliction of duty goes unnoticed.
By anyone.
"Having more time with him at home would be lovely—and being able to, you know, play around with the grandchildren," William himself just said in the BBC's Prince, Son & Heir: Charles at 70. "When he is there, he's brilliant, but we need him there as much as possible."
Celebrating his 70th birthday today, Charles is theoretically at the age where a person is ideally honing in on a plan for his golden years, retiring from day-to-day business and looking to spend that extra time with family, which by next spring will include four grandchildren (in addition to Camilla's four grandkids with ex-husband Andrew Parker-Bowles).
If only Charles weren't still in line for that promotion.
William can't help but want his father to slow down a bit and enjoy life as much as possible, but at the same time he is pretty much the only other person in the family who at least kinda gets it.
Max Mumby/Indigo/Getty Images
Father and son are right now the only two people alive who have to conduct themselves on a daily basis with the pressing knowledge that they're destined to sit on the British throne, making for a most unique bond. (William's eldest child, 5-year-old Prince George, presumably hasn't quite yet grasped what's in store, but he'll be filled in eventually.)
And with the queen by all accounts still thriving at 92 and with no expressed plans to relinquish the throne while she's able-bodied, Charles and William continue to exist between a rock and a hard place—neither could ever profess a desire to be king because of what that implies, but they both still have to think about it, Charles more than William.
Hence his family-leading 546 official appearances at home and abroad in 2017, outranking his sister, Princess Anne, for a change (by six whole engagements) and far surpassing his sons' tally, 380 between the two of them.
Ian Vogler - WPA Pool/Getty Images
"I think the royal family has to modernize and develop as it goes along and it has to stay relevant and that's the challenge for me," William told the BBC for a 2016 documentary about his side career as an air ambulance pilot (since retired to focus on royalty). "How do I make the royal family relevant in the next 20 years' time—you know, it could be 40 years' time, it could be 60 years' time—I have no idea when that's doing to be and I certainly don't lie awake waiting or hoping for it because it sadly means my family have moved on and I don't want that."
William's most pressing order of business one day will be keeping an already controversial medieval tradition alive well into the 21st century. Charles, however, will have the not small task of comforting what will be an entire grieving kingdom, should the queen reign for the rest of her life as planned, after which Operation Golden Orb—the plan for Charles' ascension to the throne upon her death—would immediately go into effect.
And reputation for being a sensitive sort aside, Charles hasn't exactly proved that he's capable of inspiring and rallying a nation yet.
"Now that he's reached his 70th year, it's the perfect time to consolidate a little bit," William also said in the new BBC special. "You're worried about having them around and making sure their health is OK. He's the fittest man I know, but equally, I want him to be fit until he's 95."
So, with William's path in life inextricably intertwined with his father's longevity and with Charles wanting to enjoy his life but also please millions of strangers, the two can only try to meet in the middle.
Which, despite William's acceptance of his family's role in history, doesn't always satisfy the 36-year-old prince's desire to keep his loved ones close and his life as normal as possible.
Because he knows first hand how family can be ripped away in an instant.
William, the first future king of England to be born in a hospital, arrived in this world in 1982 to unparalleled fanfare and two instantly devoted parents. Instead of leaving him at home, as Charles was often left behind as a lad, Charles and Diana brought 9-month-old William with them on a six-week tour of Australia and New Zealand.
William and Harry, who was born in 1984, both got to go to Eton College—where the Queen Mother had wanted to send Charles but was overruled by Prince Philip, who wanted his eldest son to toughen up at his own alma mater Gordonstoun, in Scotland.
With the boys not too far away, Charles pretty much trusted them to do their thing, for better or worse. They didn't even have their own private secretary until Harry's Nazi costume debacle in 2005, after which the Prince of Wales realized that a little guidance—particularly for his tempestuous younger son—would go a long way. But even then, he let the boys interview candidates themselves.
Charles also notably didn't interfere in William's dating life—or at least, he didn't really have to, as William met the queen-worthy Kate Middleton at St. Andrew's University and dated primarily just her for the entirety of his adult life leading up to their 2011 marriage. According to multiple accounts, Charles was put off by the public's fixation with Kate (perhaps that called up a few too many memories) once she married into the family, and felt once again at risk of being overshadowed, but aside from liking his daughter-in-law personally, he really liked that the public loved her. She was a strong hire for The Firm.
Before losing his mother, William had suffered the loss that comes with divorce. He was away at boarding school when his mother showed up to tell him that she and Charles were separating.
"I went to the school and put it to William, particularly, that if you find someone you love in life you must hang on to it and look after it, and if you were lucky enough to find someone who loved you then one must protect it," Diana told Martin Bashir for the BBC's Panorama in 1995. 
"William asked me what had been going on, and could I answer his questions, which I did. He said, was that the reason why our marriage had broken up? And I said, well, there were three of us in this marriage, and the pressure of the media was another factor, so the two together were very difficult. But although I still loved Papa I couldn't live under the same roof as him, and likewise with him."
Asked how her then 10-year-old son reacted, Diane replied, "Well, he's a child that's a deep thinker, and we don't know for a few years how it's gone in. But I put it in gently, without resentment or any anger."
When the tell-all Princess in Love, which discussed her affair with James Hewitt, was published in 1994, "the first thing I did was rush down to talk to my children," Diana recalled. "And William produced a box of chocolates and said, 'Mummy, I think you've been hurt. These are to make you smile again.'"
Armed with his mother's charm and empathy and his father's cerebral and, at times, stubborn nature, William was due to make a splash in the public sphere, and he has indeed proved immensely popular among royal watchers who, naturally, simultaneously adore his young family and applaud his commitment to the crown (and chafe when he gives the appearance of putting duty on the back burner).
Like his father, and quite unlike his mother, William feels most at home at in the country, particularly at his Norfolk estate, saying in the latest issue of Country Life—guest-edited by Charles—that there's nowhere he feels "more relaxed, energized and at peace than the British countryside." He also credits his father for his desire to pass along an appreciation for the natural world and commitment to conservation to his own children. 
"My father's focus on the environment is something I've looked up to all my life," William says.
More so than Charles at a young age, William seemed comfortable in his own skin—which, incidentally, probably had a lot to do with his father's concerted effort to let him be.
"If you want to understand William, his relationship with the Middletons is the beginning and end of it," a friend of the prince says in Penny Junor's Prince William: The Man Who Will Be King. "He likes them, they're happy, and they're nice, straightforward people."
Said another friend, regarding Will's determination to live life on his own terms as much as is royally possible, "Imagine what it must have been like to live through the s--t of his childhood: the divorce, the acrimony, the shame of it all being played out in public, his mother's Panorama interview, then she's dead. His father's mistress hanging around, then moving in. It makes you shudder."
Ben A. Pruchnie/Getty Images
William did reportedly have no interest in getting to know Camilla when he was a kid and, as far as he was concerned, she was the reason why his parents broke up. 
Charles was hopeful that they would get along but respected his sons' wishes and did not have Camilla to Highgrove or York House, his London residence at the time, when his boys were home from school.
William, however, made an effort to be more welcoming in 1998, having started to realize that Camilla wasn't exactly the toxic vixen his mother had painted her to be, and the boys invited her to the 50th birthday party they threw for their dad that November, a sturdy olive branch for its day.
To this day, the state of the relationship between Duchess Camilla and her stepsons remains a hot-button issue for the local tabloids, with some speculating last year that Harry and William not having anything to say at Camilla's 70th birthday party last year was a sign of trouble. Also last year, William made it clear in the documentary Diana, Our Mother: Her Life and Legacy, that he didn't automatically think of his stepmother as his children's grandmother. 
"We've got more photos up round the house now of [Diana] and we talk about her a bit and stuff," William shared. "It's hard, because obviously Catherine didn't know her, so she cannot really provide that, that level of detail. So, I do regularly when putting George or Charlotte to bed, talk about her and just try and remind them that there are two grandmothers—there were two grandmothers—in their lives. So, it's important that they know who she was and that she existed."
But all remains cordial, because the alternative is familial anarchy.
Dave J Hogan/Getty Images for Invictus Games
A person involved in the planning that went into William's first official royal outing as an adult (of 18) in February 2001, an appearance with Charles and Camilla that was considered essential in the ongoing process of warming the public to Camilla's presence, recalled to Junor, "To be fair to Camilla, she never tried to be mummy but she was the 'other woman' and she was there and taking daddy's time. It wasn't all happy families for quite a long time, but William was happy to see his father happy.'"
Interestingly, Bashir asked Diana whether she wished for William, instead of Charles, to directly succeed the queen one day.
"My wish is that my husband finds peace of mind, and from that follows others things, yes," she said, visions of Camilla being queen one day surely dancing in her head.
Twenty-three years later, the question of whether the throne should go directly to William has now been asked a number of times, with varying degrees of seriousness. But no one is skipping the line and Charles wouldn't dream of relinquishing his birthright.
"Anyone of my age knows that days pass at a far greater speed than when they were young," Charles recently told Vanity Fair in a rare interview. "But in my case there are so many things that need to be done."
He was talking about climate change and other pressing issues that "keep [him] awake at night," but quality time with the grandchildren should rank higher on that list, according to some.
Yet even when he's falling asleep over paperwork at his desk, Charles at least has their best interests at heart.  
"Perhaps the clearest way to understand how much is at stake and what we might want to do as a result," the elder future king wrote in a Country Life editorial, "is to try to think ahead to what our grandchildren will want and need."
He concluded, "Should we at last recognize the more timeless aspects of our natural and human environments, which need to be maintained for the benefit of generations yet unborn?"
Yet who better to take that next generation for a walk in the country than Grandpa himself?