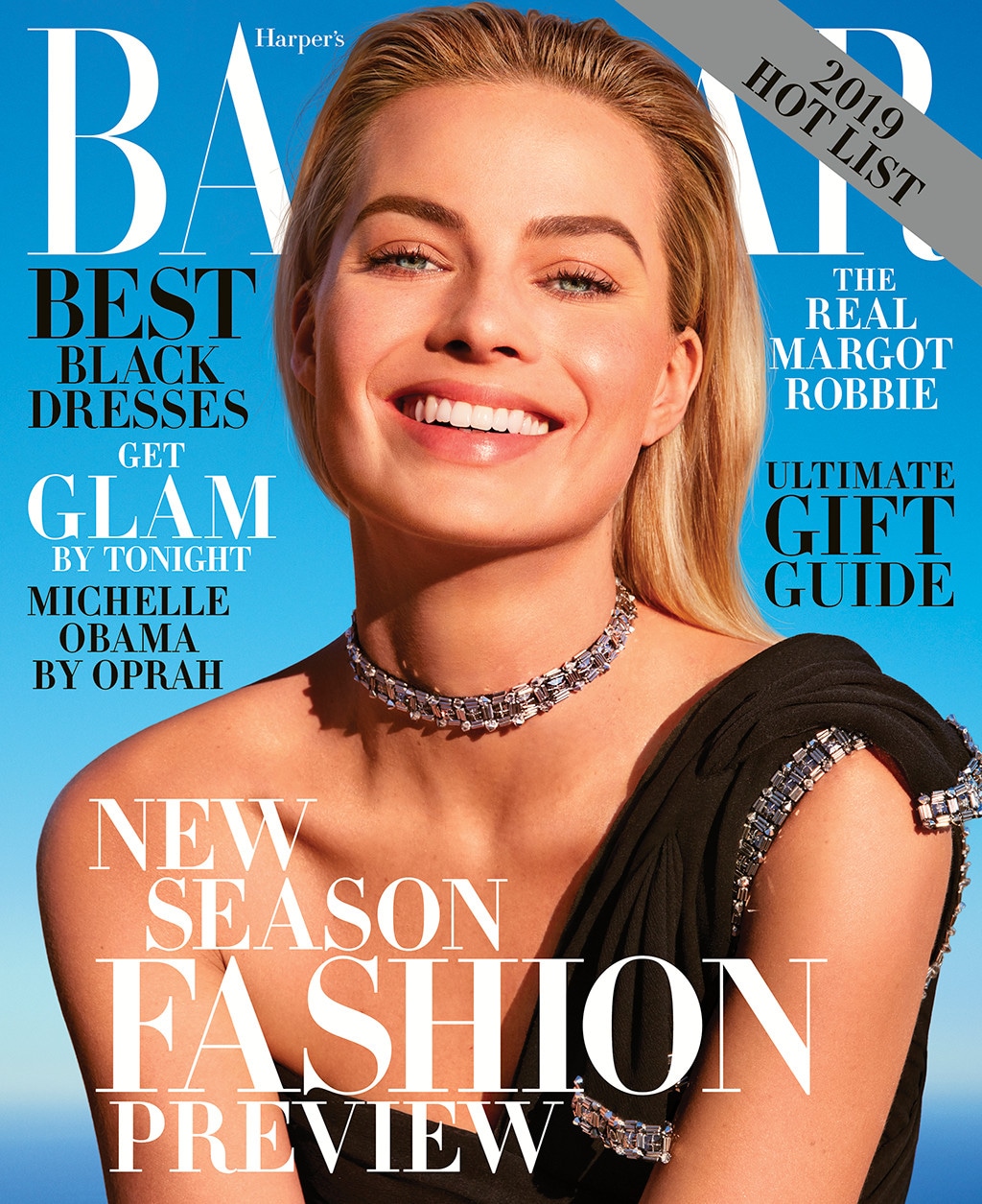 Camilla Akrans/Harper's Bazaar
Margot Robbie is undeniably beautiful—which made playing "ugly" a real eye opener.
Gracing the cover of Harper's Bazaar, Robbie explains how enlightening it was to transform herself to play Queen Elizabeth I in Focus Features' Mary Queen of Scots (in theaters Dec. 7). When she would emerge makeup trailer in costume, Robbie claims her colleagues' attitudes would change. "I'd say, 'Hey, how's your weekend?' But they wouldn't even get close to me," she says. "It was very alienating. And I felt very lonely. It was an interesting social experiment."
To embody her character, who was scarred by smallpox as a young woman, Robbie sat in the hair and makeup chair for three and a half hours daily. "They'd start with a head wrap, gelling and pinning my hair down," she says. "Then we'd do a bald cap." Robbie had different wigs for different plot points, and prosthetic scarring was also applied to her face. "Surprisingly," she admits, "the quick part was the white makeup and the heavily drawn-on blush, eyebrows, lips."
According to the undeniably beautiful star, it was a refreshing process—one that allowed her to dive deeper into the role. "Normally there's someone who steps in and says, 'No, keep all the girls looking pretty!' But Josie Rourke, the director, was keen to explore how Queen Elizabeth's looks affected her relationships," the 28-year-old actress says. "Everyone had the guts to do it."
Camilla Akrans/Harper's Bazaar
Saoirse Ronan, who plays Queen Mary in the film, was impressed with Robbie's dedication. "Margot is a very, very good actor who takes her work incredibly seriously. I don't think looks even factor into it. Even when she has a glamorous role, she's got this brilliant, strong presence, and part of that is because she's a very sincere and authentic person. She's very open," Ronan says in the magazine's December 2018/January 2019 issue. "What you see is what you get."
Underestimate Robbie at your own risk. After her breakout role as a vixen in Martin Scorsese's The Wolf of Wall Street, she formed her own production company, LuckyChap Entertainment, in 2014. She did so, in part, to ensure she'd never feel limited as an actress. "When I was trying to make my name as an actress, creative roles for women were limited," explains Robbie, who produced and starred in last year's hit movie I, Tonya. "I didn't want to pick up another script where I was the wife or the girlfriend—just a catalyst for the male story line. It was uninspiring."
Camilla Akrans/Harper's Bazaar
"When we set out to create our company, it was sort of a new idea, but then in response to the #MeToo conversation it was all that anyone was talking about. People were like, 'Why don't we make movies for women?'" she says of how times have changed. "Uh, what a revelation, right?"
For more from Robbie, pick up the latest issue of Harper's Bazaar, on newsstands Nov. 20.
(E! and Focus Features are both members of the NBCUniversal family.)