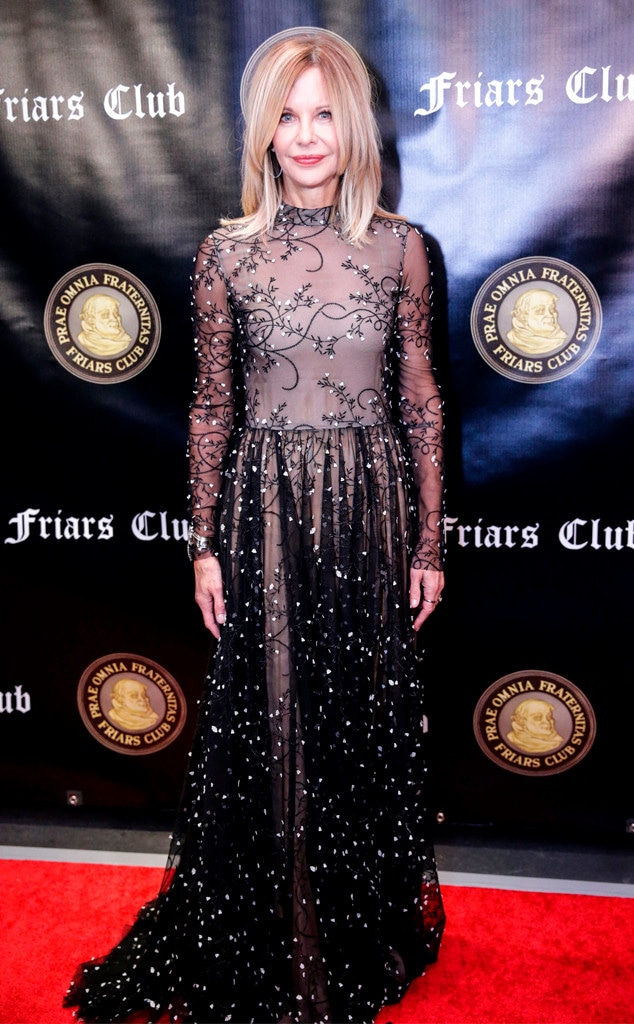 KENA BETANCUR/AFP/Getty Images
Say hello to the future Mrs. Cougar!
Four days after confirming her engagement to John Mellencamp, Meg Ryan made a rare red carpet appearance in New York City Monday night. Wearing an elegant Roland Mouret gown, the bride-to-be looked radiant as she posed by herself for photographers. Ryan stepped out to honor her When Harry Met Sally co-star Billy Crystal with the Friars Entertainment Icon Award.
The 56-year-old actress, who recruited makeup artist Christopher Ardoff and hairstylist Matthew Monzon for the event, also gave photographers a better look at her engagement ring.
Ryan began dating Mellencamp in 2011. She was based on the East Coast, while he remained in the Midwest, visiting her whenever he could. "I'm too sensitive to live [in New York City]," he explained to Rolling Stone in 2013. "I can't see poor people. I can't see the suffering. I can't see the trash on the streets." Denouncing the paparazzi, the "Pink Houses" rocker added, "I don't give a f--k about me, but I don't like it for [Ryan]. I'm not leaving Indiana. I'm going to die here."
Amy Sussman/Variety/Shutterstock
After the couple split in 2014, Mellencamp predicted they would never reunite. As he told Howard Stern, the actress hated him "to death" after their breakup. "I think it's because I'm a child. I throw fits, I gripe, I complain. I'm moody. Every bad thing that a fella can be, that's me."
To his surprise, he reconciled with Ryan in late 2017. Earlier this year, the "Jack and Diane" singer bought an apartment in New York City's Soho neighborhood for a reported $2.3 million.
The A-list stars have yet to discuss their engagement. This will be the fourth marriage for Mellencamp, who has five children, and the second marriage for Ryan, who has two children. Mellencamp is now prepping for his upcoming tour, kicking off Feb. 7, 2019, in South Bend, Ind.