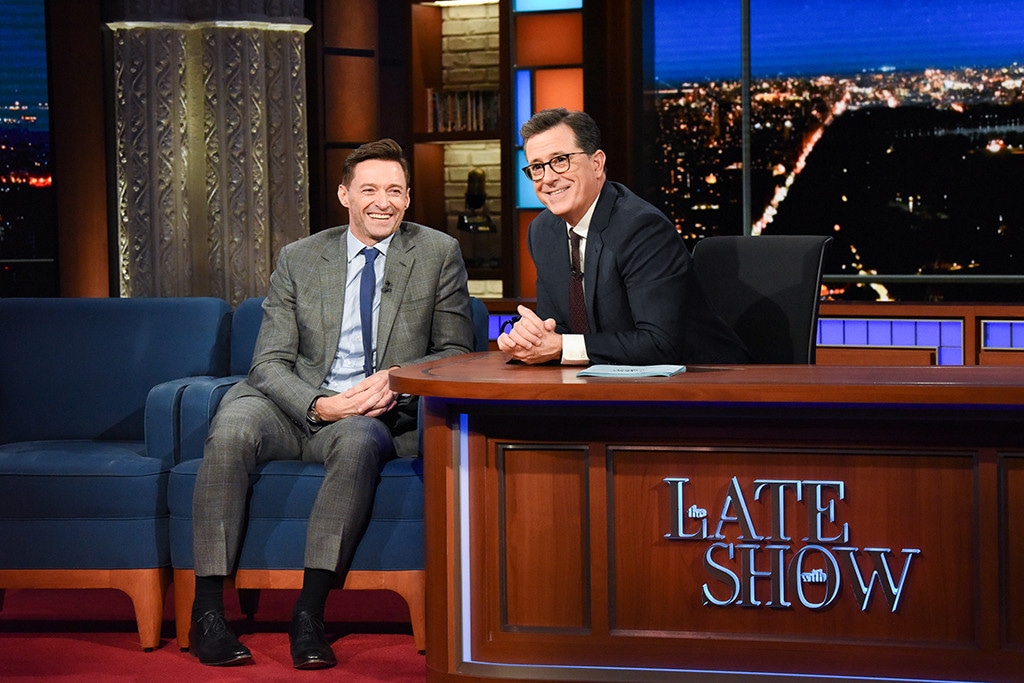 Scott Kowalchyk/CBS
Without Stan Lee, there would be no X-Men.
Hugh Jackman won the role of a lifetime when he was cast as Wolverine in the 2000 film adaptation of the beloved comic book series, replacing Dougray Scott three weeks into filming. While John Romita Sr., Roy Thomas and Len Wein had created the character, Jackman knew how influential Lee had been in developing the franchise. So, hours after Lee's death Monday, the actor wanted to pay tribute to the pop culture legend on The Late Show. "Let me just say, to the family and to the legions of fans, that I remember Stan as a true gentleman who had this glint in his eye. He's a creative genius," Jackman said to Stephen Colbert. "He thought outside the box. He created a whole universe that changed the lives of many people—mine included."
The actor got to know Lee well over the years, and he always marveled at how beloved he was. "If you ever want to get a real understanding of where you're at in the world, you think, 'I'm Wolverine. I'm walking into Comic-Con...This is a good day for me,'" the actor said. "I was on a red carpet and I was the only one on there, and no one was taking my photo, because at the other end was Stan Lee. There were about 300 photographers and interviewers—just on Stan!"
"Stan, God bless you," Jackman added. "You're one of the greats."
(Like other stars, he also honored to Lee earlier in the day. "We've lost a creative genius. Stan Lee was a pioneering force in the superhero universe. I'm proud to have been a small part of his legacy," Jackman wrote on Instagram, "and to have helped bring one of his characters to life.")
Jackman has played Wolverine in 10 films (sometimes in a cameo role), but admittedly, he didn't always understand the character. As he recalled to Colbert, when he signed up to star in the first film, he was unfamiliar with the source material. "Embarrassingly, I didn't know what a wolverine was. I had never heard of such an animal, and I presumed it was a made-up name for the comic book. I had never read an X-Men comic. I had never seen a wolverine; we don't have 'em in our zoos, and there are a lot of really crazy animals in Australia. So, I presumed it was a wolf and I did study wolves. I watched some documentaries. There was a big IMAX movie at the time; I went twice to go and see it," he said. "I put in the hours, and I turned up on set for a fight rehearsal and I was just incorporating some of that [wolf stuff]...and the director goes, 'What are you doing, man?' I said, 'I was doing some work on the wolves, blah blah blah.' And he goes, ' Wolves? Why wolves? You're playing a wolverine!' I go, 'That's not an animal.' He goes, 'Yeah, it is. Go to the zoo!' It was a humiliating moment...and three weeks of wasted research."