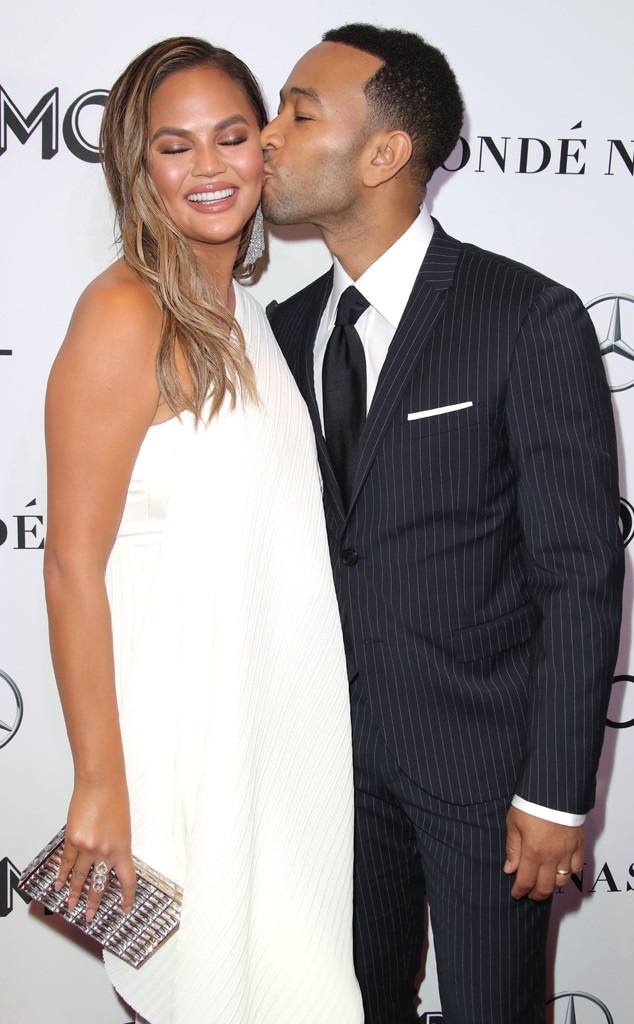 Matt Baron/REX/Shutterstock
John Legend and Chrissy Teigen just cemented their status as the Hollywood power couple.
At Glamour's 2018 Women of the Year Awards John Legend and Chrissy's "trophy husband" explained all the reasons why he, and the rest of the world, can't help but adore Chrissy. "I have a career in the music business, but we all know who the star of the family is. She's the heart and soul of the family too... But I'm not the only one who loves her. Many millions of people who aren't married or related to her love her too."
In fact, he said they love her so much that "the number one comment I get from people who USED to be MY fans is how much they LOVE Chrissy." He joked, "She gets bigger cheers than I do at my own concerts. They love her!"
John then continued by listing off the endless qualities that fans adore about the mother-of-two: her beauty, honesty, passion, loving personality. The list goes on.
And, in his eyes, the world never would have come to know the amazing woman he fell in love with if it weren't for social media.
"I think the world may have missed out on Chrissy's full awesomeness if it weren't for social media. She would have never fully shone the way she does if she were filtered by publicists and handlers," he reasoned. "Chrissy's biggest impact may be the way she proves that just by being the person you are, you can make a difference. Being who you are, unapologetically, you can make a difference."
And in a particularly emotional moment, John talked about the humility Chrissy shows day in and day out, even after selling a national best seller and becoming a TV host. He shared, "In her Glamour profile, she talked about a time when we were at this big event and she was crying in a dressing room because she felt so overwhelmed by the illustrious company she was in. We were celebrating the TIME 100 and she felt like she didn't belong. How could she be worthy of the likes of Oprah, Christine Lagarde, Michelle Obama?"
Holding back tears John told a beaming Chrissy and the crowd: "Well, I'm here to say that you belong here. I think it has become very clear to Glamour magazine and to many millions of people around the world that you are more than worthy of this honor tonight."
And when Chrissy ascended to the stage in an angelic white dress, she was blown away by John's emotional speech. "John didn't even cry when I was giving birth," she joked.
The pair first started dating in 2007 after meeting on the set for John's song "Stereo." They later married in a fairy tale wedding in Como, Italy. And the rest, as they say, was happily ever after. 
To read the full speech, click here.