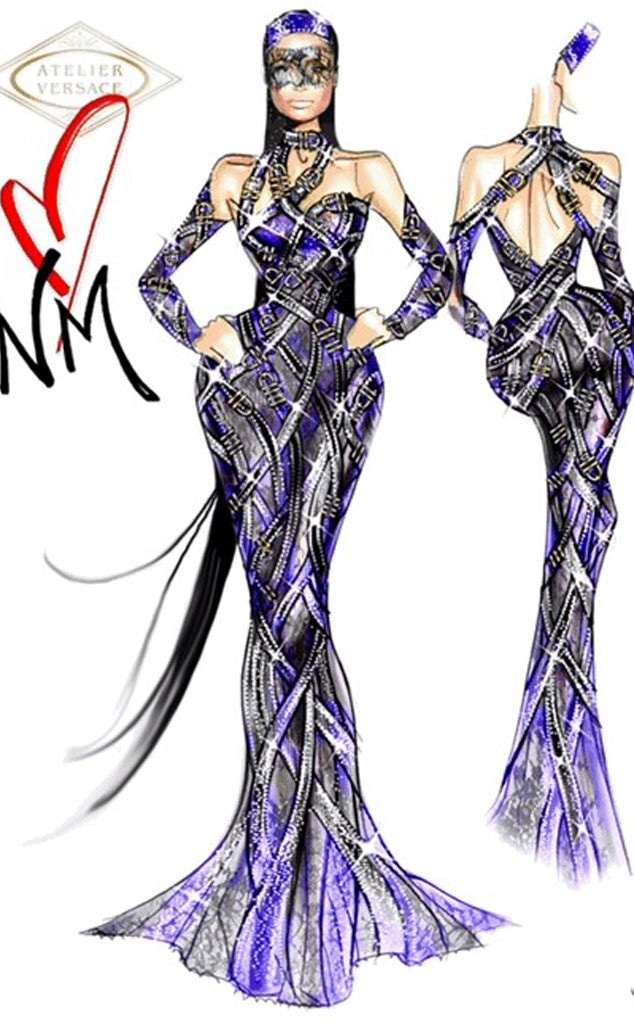 Aterlier Versace
Nicki Minaj won the night both literally and figuratively at the 2018 People's Choice Awards.
To start it off, Minaj opened the awards show with a performance of her song "Dip," which also included a cameo by Tyga, who she collaborated with on the song. For that first portion of the night, the "Barbie Dreams" rapper wore a leather mini-skirt, fishnets and knee-high boots. 
While she looked stunning there, she then changed into a custom Atelier Versace dress. The sketch and design of her gown was sent to E! News exclusively.
Her look was a "custom made long-sleeve black lace gown with bondage gold buckle, enriched by degrade purple beading at the bottom." Minaj thanked the designer Donatella Versace for the gorgeous look in her acceptance speech after winning the PCA for Female Artist of 2018. She also won Best Album of 2018.
Rancel Lopez @rancelphotography
Other than giving a shout out to Donatella, Minaj referenced her outfit in another part of her speech. She said of her dress, "Shout out to Michael B. Jordan cause he's gonna be taking it off of me tonight." Jimmy Fallon, who was standing next to her, doubled over from laughing so hard. 
The artist talked to E! News' Jason Kennedy backstage at the show and told him why Michael B. Jordan was the recipient of said pass. Apparently, she and the Creed actor aren't even good friends. "I believe he introduced himself to me one time at the Met Gala," she said. "But I was watching Black Panther last night so he happened to be fresh in my mind." She then gave a little wink.
Minaj is, after all, Queen according to her latest album and Jordan's Erik Killmonger character famously said, "I want the throne." 
That's a monarchy that we could get behind. 
Congratulations on the awards, Nicki!