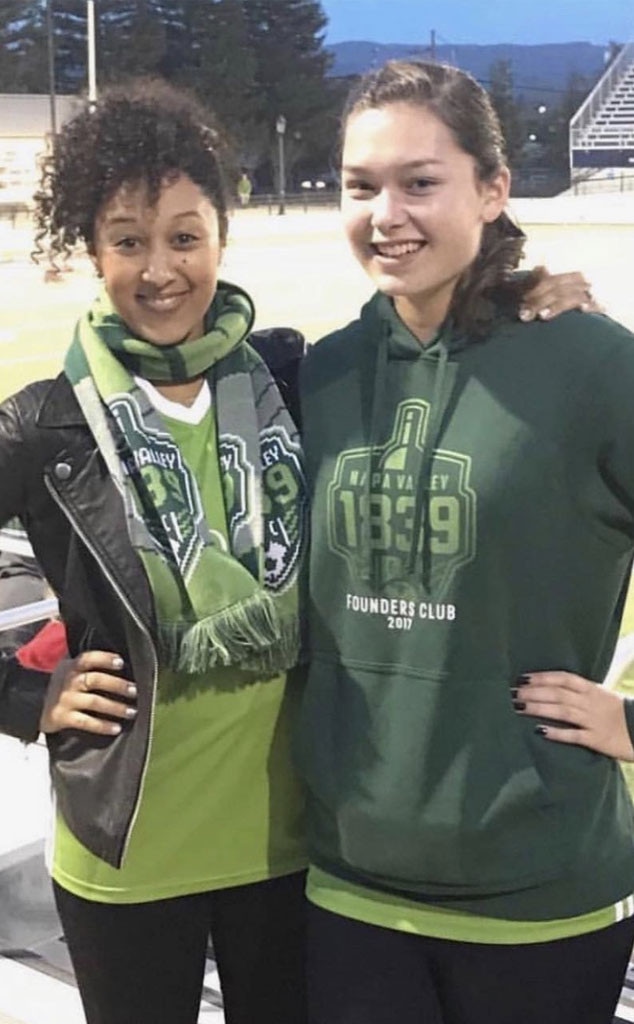 Instagram
Just days after Tamera Mowry-Housley's niece, Alaina Housley, was killed in the Thousand Oaks shooting, The Real hosts shared the heartbreaking details of how their co-star learned the tragic news.
On Thursday, less than 24 hours after news broke that 12 people had been fatally shot inside of a bar in Southern California, Tamera revealed she was unable to find her niece.
Loni Love recalled receiving a phone call from her co-star around 1:30 a.m. and thinking Tamera had accidentally dialed her number. But when she received a second call from her colleague, she knew something was wrong. 
"She was frantic," Loni said. "I immediately went over there to her."
Loni helped Tamera look through reports while Tamera's husband, Adam Housley, went to the scene of the crime to look for Alaina.
"Then we just started getting pieces of information," Loni continued. "Tamera was calling every hospital she could because we were holding out hope that maybe she was at the hospital." 
Eventually, Tamera was contacted by one of Alaina's suitemates, who informed the TV star their group of friends had been dancing at the bar when Alaina decided to sit down at a nearby table. Then, the gunman, who has been identified as Ian David Long, opened fire. While the suitemates managed to escape through a broken window, they would later learn that Alaina had been killed. 
Tamera and her husband shared the devastating news in a joint statement.
"Our hearts are broken," the couple stated on Thursday. "We just learned that our niece Alaina was one of the victims of last night's shooting at Borderline bar in Thousand Oaks. Alaina was an incredible young woman with so much life ahead of her and we are devastated that her life was cut short in this manner.  We thank everyone for your prayers and ask for privacy at this time."
Adrienne Houghton teared up after hearing Loni detail the incident. She also shared a note from Tamera thanking her colleagues for their support. 
"Loni, Tamera actually wanted me to say something that she wrote for you," Adrienne said. "She said, 'Please tell Loni, thank you.  Thank you for being there for me and answering her phone at 1 am.  For giving me hope…until I got the call. Thank you for holding me and helping me breathe through the unthinkable. Thank you for always believing in the Housleys. The Housleys will be strong.  We will never let Alaina or any other victim of gun violence die in vain. '"
In addition, Adrienne said Tamera pledged to "do everything she can to make sure that our children and our community feels safe."
"She said, 'Enough is enough,'" she continued, relaying her colleague's message. "She said she will never give up fighting until her dying day." 
She also encouraged viewers to vote and contact their local representatives to help end gun violence. She then shared a message from Tamera's spouse.
"I spoke to Adam and he, along with what we just said, he also wanted to add this," she said. "'While we're helping these gun laws and trying to make that happen, before we can even get a consistent national gun policy, we have to understand that we as a country and as a society are at a crossroads. The hatred, the judgment, the polarization and the lack of heart. We are going to make a change I can guarantee it, and Alaina is with us as we do this.'"
They also told viewers about Alaina.
This wasn't the first time the hosts had offered their condolences. After news of Alaina's death broke, the co-stars expressed their deepest sympathies in a statement.
"The Real is heartbroken for the victims of the senseless tragedy in Thousand Oaks, which included Alaina Housley, the niece of Tamera and Adam Housley," the statement read. "We send prayers and strength to all the victims' families and their community as well as our gratitude to the first responders. We send all our love and our deepest condolences to the Housleys, our family, during this difficult time."
On Sunday, Alaina's body was escorted by police to Tulocay Cemetery Funeral Home and Crematory in Napa, Calif. to be laid to rest. Members of the community were invited to line the path along Soscol Avenue and Silverado Trail to honor her and her family members. 
Adam shared a photo of people lining the streets to pay their respects.
"Humbled by how many lives Alaina touched and how many people..several thousand lined the streets to welcome my niece home where she belongs," he wrote. "People were hugging, saying hello...from all walks of life. It's the way things ought to be in this country. Live, love and respect."
He also remembered his niece on social media.
"We are so very humbled. Heartbroken, but humbled," he wrote along with the police escort information. "She was special. Can't believe we are living this. Miss her every second, but know she is now safe and looking down knowing her legacy will be change to save others. Thank you to all, we feel your arms."
Tamera did the same on Instagram a few days before. 
"Alaina. My sweet, sweet Alaina. My heart breaks. I'm still in disbelief. It's not fair how you were taken and how soon you were taken from us. I was blessed to know you ever since you were 5. You stole my heart," she wrote. "I will miss our inside jokes, us serenading at the piano. Thank you for being patient with me learning how to braid your hair, and I will never forget our duet singing the national anthem at Napa's soccer game. I love you. I love you. I love you. You are gonna make one gorgeous angel. My heart and prayers are with every victim of this tragedy."