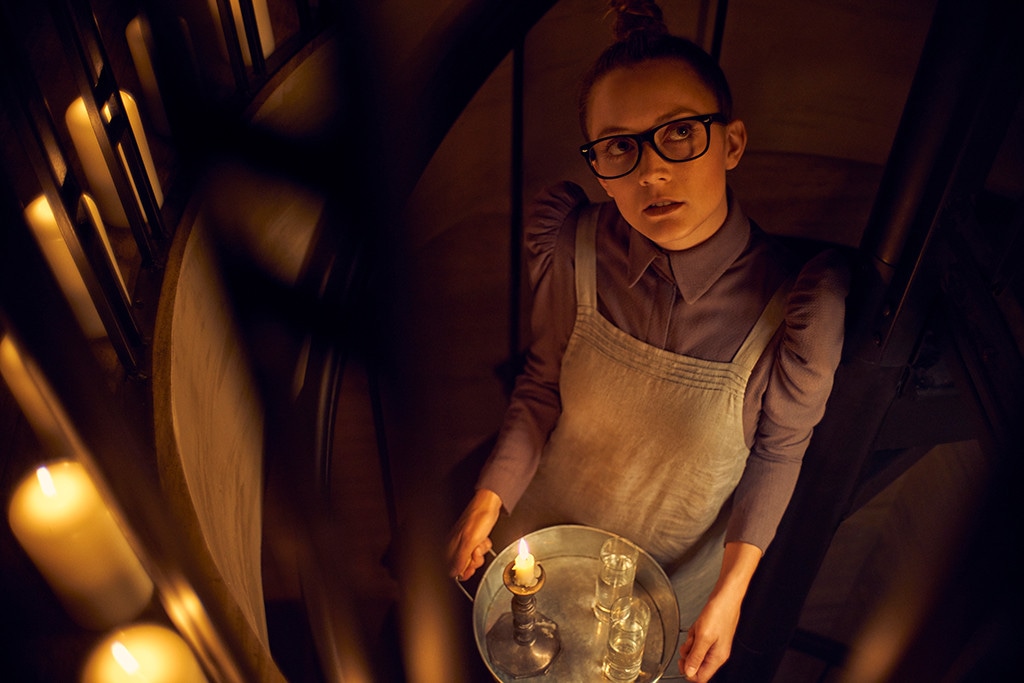 FX
Behold our next supreme, Billie Lourd! Fighting the Antichrist has her more than ready for a vacation, a vacation filled with piña coladas, trashy reality TV and water slides. At least that's what was on the agenda when E! News got on the phone with the American Horror Story: Apocalypse star.
"I'm in a cab on the way to Atlantis…I'm very relaxed," Lourd said with a laugh. "It's my perfect interview moment…I've had this Atlantis trip planned for like three months 'cause I knew, this season has been so crazy. I'm like, 'I got to go on some water slides after that.' And just, like, drink a piña colada."
Lourd has earned those piña coladas, Jersey Shore and Teen Mom episodes and beach frolicking after a season full of ice-cold blood baths, "hair dicks" (more on that later) and witches battling the Antichrist as Mallory, the witch who is poised to save the day and be the next supreme in the coven of witches first established in American Horror Story: Coven.
Lourd said she didn't know much about her character, let alone her destiny, when she signed on for the show. All she knew was Mallory was Coco St. Pierre Vanderbilt's (Leslie Grossman) assistant and would be fetching her green juice and all that. That changed, when "Ryan [Murphy] came to me one day and said, 'You know you're the f—king Supreme.' And then I figured it out after episode three, during that interview scene, I was like, 'OK, this is going somewhere,' but I always kind of have that sense when I sign on to these shows: that the character's never what it seems to be in the beginning," she said.
Ultimately, Lourd said the mystery helped her with the character, especially when viewers see what happens in the finale. And there will be answers in the finale. "Oh, yeah, big time. When I read that script, I was so excited I actually cried. It is for the fans, it answers all the questions, it ties a perfect little bow on the season and I think people are going to be really, really satisfied—I hope," she teased.
Some of those questions that were answered are ones Lourd had as well.
"I've been wondering where Mallory came from, how she became this person, and what it all means, and all the questions get answered," Lourd said.
Through flashbacks, viewers learned about Mallory's vast power set, including time travel. In the penultimate episode of the season, Lourd's character was submerged in a bath and traveled through time after being submerged. When she returned, she was bloody and pretty damn wet.
"Bath scenes on the page you're like, 'Oh great, I'm going to go sit in a hot bath all day, sounds like a lovely day oh set. But I was in the bath for, like, 7 hours and some things pruned I didn't even know could prune," she said with a laugh.
The bath time travel was something not even the previous American Horror Story supreme, Sarah Paulson's Cordelia Goode, could do. Once Murphy established Mallory's role with the witches, Lourd said she and Paulson started the razzing instantly.
"I mean, Sarah's the head witch in my life regardless of being in the coven. But yeah, I asked her advice and asked her what it was like to be the Supreme, and now we get into silly banter fights of like, 'I'm the Supreme,' 'No, I'm the Supreme.' And it's devolved into that now, but I look up to her, so this is kind of really close to home and kind of a perfect role for both of us to play," Lourd admitted.
Working with Paulson and the likes of Grossman, Joan Collins, Adina Porter and Kathy Bates has been a "dream come true," Lourd said.
"I had to pinch myself every day, and I learned something new every day. It is so amazing, and I just try to take it all in because I'm so stoked to be with all these incredible, incredible actors. It's surreal, it's amazing… I just try to soak it all in and learn as much as I can cause it's an incredible environment to be in. Especially, you know this is my fourth year doing this and I'm so lucky to be where I am," she said, especially with all the women in the show having power. "It's so powerful, especially right now. I think this message of powerful women and sisterhood is so important and I hope young girls and women are watching it and really feeling inspired and getting a sense of swag from it [Laughs.] because I surely do."
The finale, which may or may not feature Lourd sharing scenes with returning AHS grande dame Jessica Lange, will for sure feature a return to the "hair dick," Mallory's signature hairstyle in the post-apocalypse outpost.
"I mean, I always miss the hair dick, honestly, it came me a great sense of self. No, I'm kidding, [Laughs.] but I did miss the hair dick. I love an iconic hairstyle," Lourd said, referencing her earmuffs from Scream Queens and gray hair from AHS: Cult.
Can you top the earmuffs and hair dick? What will season nine hold?
"Honestly, who knows, but I'm always in search for the next iconic hairdo," Lourd said.
American Horror Story: Apocalypse finale airs Wednesday, Nov. 14 at 10 p.m. on FX.