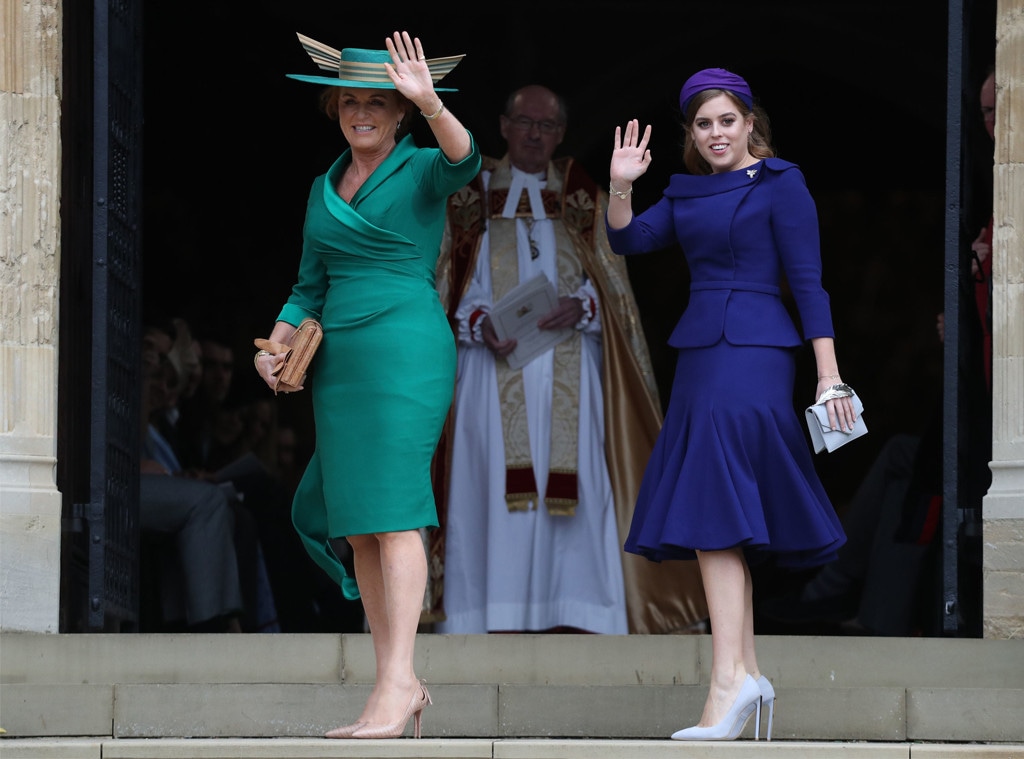 Steve Parsons/PA Wire
To hear Sarah Ferguson tell it, her life is still a fairytale. 
Twenty-six years since her separation from Queen Elizabeth II's second son, Prince Andrew, and only eight years after it seemed she'd be excised out of the family for good thanks to the financial mismanagement that led her to seemingly trade access to her ex in favor of a six-figure payout from a News of the World reporter posing as an investor, she remains eternally charmed by her former husband. 
"He's still my handsome prince, he'll always be my handsome prince," she said at the 2013 Cheltenham Literature Festival of her childhood pal turned paramour turned however you classify their current relationship status. "It's lovely that we are such a family and the story has a happy ending all the time." 
In their particular narration, "We really respect each other and we honor each other and it's just lovely to have that sense of integrity, to what we believe is right—to what is good and compassionate and love and kindness," she continued. "And that's the way we are." 
That's not to say all those rumors and tabloid reports about the spouses recoupling are true, but it's also hard to categorize them as decisively not. Particularly when Fergie, as she's come to be known colloquially, responds to questions about their unconventional arrangement like so: 
"We're the happiest divorced couple in the world," the 59-year-old offered by way of explanation during a recent two-day interview with Daily Mail's Frances Hardy, her most extensive sit-down in as many years. "We're divorced to each other, not from each other." 
All right, then.  
Asked if she loves him, she responded, "We both say it. We are completely compatible. Our bywords are communication, compromise and compassion. July 23, 1986 was the happiest day of my life. Andrew is the best man I know. What he does for Britain is incredible; no one knows how hard he works for his country. My duty is to him. I am so proud of him. I stand by him and always will. The way we are is our fairytale." 
While their relationship never wavered, Sarah is happy to be past the years of frostiness with her ex's kin, that included Prince Philip's supposed declaration that he would never be in the same room as her and Prince William's decision not to include her on the guest list for his 2011 wedding to Kate Middleton.
The first cold shoulder, though, came in 1992. In what has come to be known as the great toe-sucking scandal, the Mirror published a cover story with photographs showing the Duchess of York, separated still legally wed to Andrew, sunbathing topless with American financial manager John Bryan and allowing him to nuzzle her foot. 
"I remember seeing it and just going, 'Oh no, Sarah,'" she recalled during a 2001 CNN interview. The Queen saw it as well, as she flipped through the morning papers during the family's annual summer holiday at Balmoral, and immediately asked Sarah to leave, daughters Princess Beatrice, then 4, and Princess Eugenie, 2, joining her for the trip back to London. 
"I had been tagged 'unsuitable' for royal life and the charge stuck," she would later write of the time period in her 1996 memoir, My Story. "I was frozen out and not just in the Palace; the wind from all the doors slamming in my face might have knocked me over." 
So, as the aphorism goes, she found a way to crack open a window. The onetime art gallery worker, who also had stints in public relations and publishing graphics, picked up where she had left off with her series of children's books centered around Budgie the Little Helicopter, a character she was inspired to create after becoming a pilot herself. She also penned a history on Queen Victoria and her own memoir and—finding a way to turn the cruel taunts she'd endured throughout her public life—signed on as a Weight Watchers spokeswoman, a $1 million move that further scandalized her in the eyes of The Firm but only served to endear her to Americans. 
For all her professional success, though, her personal failures still stung. "It was so bad that I believed I was this worthless human being. I thought maybe Prince Philip was right," she admitted to London's Sunday Mirror in 2001. "But I don't want to develop a thicker skin. I want to know, not why he says I'm odd and pointless, but why it affects me. What is it in me I need to fix and heal?"
Alan Davidson/REX/Shutterstock
As the years wore on, however, the ice began to thaw. Having maintained a cordiality with the Queen—"I have a good relationship with her. There's just a couple of them who think I'm 'pointless,'" she noted—she was invited back to Balmoral in 2008, the same year she moved into Royal Lodge, the Windsor estate Andrew shared with their daughters.
And though the Queen, Philip, and brothers Prince Charles and Prince Edward had skipped out on Andrew's 40th birthday in 2000, reportedly to avoid Fergie, she still scored an invite to the Buckingham Palace bash the monarch planned for her son's 50th in 2010. 
With all the good will, the Duchess of York, a title she maintained, though she lost Her Royal Highness status, began fantasizing about perhaps having a do-over. "You have to think of the Royal family as being like a brand, yeah? There are CEOs protecting the brand, and I didn't really fit in," she explained in a 2009 interview with The Telegraph. "Maybe if I'd had an adviser to lead me through it all I would have weathered it a bit better. I wish I had done it differently. I wish I could do it all over again." 
Alan Davidson/REX/Shutterstock
Because never once would she change her decision to marry the man who proposed to her with a ruby to match her red hair. "I'd just deal with it better," she explained. "I'd ride the storms. I'd see that what is said about me is here one day and gone the next. At the time I thought I had failed. Now I think I was successful in a way, successful at failing."
What she didn't know, though, was that her biggest, er, success lie ahead. Staring at a stack of unpaid bills in 2010, reportedly amounting close to $300,000, Fergie was introduced to a man she thought to be an Indian business tycoon looking to invest in her various business ventures. Instead, he was News of the World's Mahzer Mahmood, a reporter who captured her on camera agreeing to provide access to Andrew in exchange for money, including an immediate $40,000 cash payout. 
"On the now infamous, surreptitious video tape that has been broadcast around the world, you see me making a rather sloppy spectacle of myself," she wrote in 2011's Finding Sarah: A Duchess's Journey to Find Herself, "sipping too much wine and puffing on a cigarette. The tape was purposely cut to look like I was brokering a personal introduction—which, as I have said, I didn't not do. It was edited, completely out of context." 
She learned she'd been had while with Beatrice at Naomi Campbell's birthday party in the South of France, a call from her publicist informing her of the front-page headline: "Cash for Royal Access Sensation." 
After issuing a public apology, noting her dire financial straits were "no excuse for a serious lapse in judgment," and that Andrew "was not aware or involved in any of the discussions that occurred," she got in touch with a New York publicist, who in turn led her to Oprah Winfrey. Under the media mogul's direction she released the book Finding Sarah in conjunction with Finding Sarah: From Royalty to the Real World, a six-part OWN-produced series that saw her turning to Dr. Phil McGraw and financial advisor Suze Orman for guidance. 
Alan Davidson/REX/Shutterstock
Through it all, Andrew remained firmly in her corner, refusing her offer to move out of Royal Lodge. While he was unable to earn her a spot on William and Kate's 1,900 person guest list (she watched the spectacle from a spa in Thailand), he did his best to include her. "When Andrew went with the girls," she told Winfrey, "we were talking all morning, and he was saying, 'It's OK. Just remember, we had such a good day. Our wedding was so perfect'...Because we're such a unit together, he made me feel very part of the day on April the 29th."
Because that's just how they do, the York family remaining, as Sarah once put it to reporters, "a tight unit."  
Which is why the question still lingers: are the pair getting back together? Still roommates to this day, the pair seemed to have scaled any lingering family-related hurdles. Sarah has accompanied Andrew to Royal Ascot the past several years, gracefully mingling with the Queen, and even Philip deigned to be in the same vicinity as her twice this year, first at Prince Harry's vows to Meghan Markle, the younger of Princess Diana's two sons insisting his beloved aunt be included, and again at Eugenie's nuptials. 
"So many people have asked me that," she responded when Hardy inquired if they'd ever remarry, "but we're so happy with the way we are right now. We enjoy each other's company; we allow each other to blossom. I know it sounds like a fairytale, but that's the way we are." 
Besides, she'd rather focus on that other happy couple, the union of Eugenie to her longtime love Jack Brooksbank unexpectedly bringing her to tears. Her proudest moment, she told Hardy, was watching Eugenie stand tall in her Peter Pilotto gown, the plunging back highlighting her scoliosis scar. "I'd gone to all the fittings and sat there beaming with delight," she said, "and because there was no veil it was a very strong statement." 
But, much like any mother of the bride, she was also overcome with the emotions of watching her daughter take the next big step in life with a man inordinately suited for her. "She and Jack are just meant to be. He adores her, and now I've got a son," she gushed. "He will be the best consort there is, as Prince Albert was to Queen Victoria. I know it will be that sort of love match." 
And in the history of all prospective grandparents that have come before her, the duchess is already looking ahead to their next potential milestone. Asked on BBC's The One Show this August how she felt about becoming a grandma, she responded, "Excellent. They are thrilled because I write children's books and I'm a child I haven't grown up." 
It's an idea she repeated again in her Daily Mail tell-all. "Oh, I am in every way a child," she insisted to Hardy. "It's who I am. It gets me into endless trouble. People think you're impossible or difficult if they can't relate to you, if you don't take life seriously. But the key to me is that I look at life with a child's sense of excitement and joy." 
That unbridled optimism has sure landed her in a series of scrapes with the naturally buttoned-up royals, but now that she's come out the other side, her relationship with her daughters stronger than ever and her bond with Andrew perhaps bent but never broken, well, she simply can't wait to see what's next.