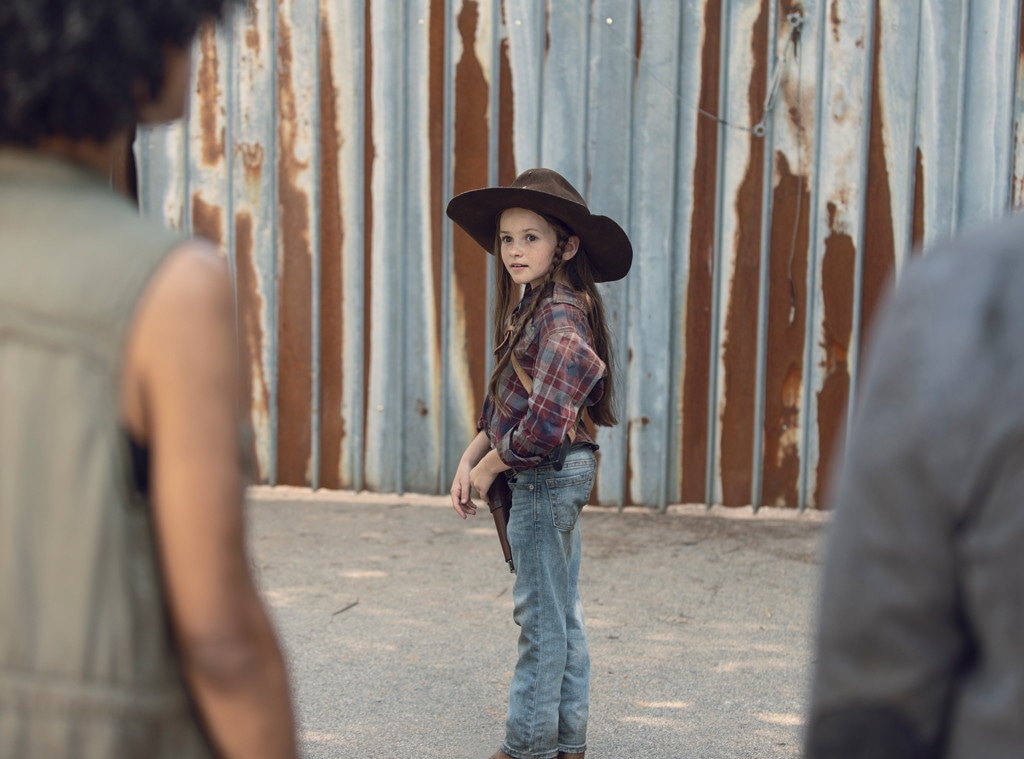 AMC
Andrew Lincoln's Rick Grimes might be gone (for now), but The Walking Dead continues. In the first post-Rick episode, the AMC drama revealed what life is like for your favorite zombie apocalypse survivors six years in the future.
The new normal for the gang includes Daryl (Norman Reedus) living in exile, Carol (Melissa McBride) ruling the Kingdom with her king, Ezekiel (Khary Payton), Michonne (Danai Gurira) governing Alexandria and raising not one, but two kids, and one of those kids, Judith Grimes (Cailey Fleming), is building a secret friendship with Negan (Jeffrey Dean Morgan). Say what?! It's a brand-new era for the nine-year-old show.
"We talked a lot about the philosophies we have seen from these characters before, and the coping mechanisms we've seen them use in the past when going through trauma. How do you figure out what that's going to become? For Alexandria, we see it's ruled by a council of elected leaders. Michonne clearly has a big role in that. We felt like Alexandria was trying to create something like an American democracy, though it's much more complicated than that, as we'll see throughout the season," showrunner Angela Kang told The Hollywood Reporter about the big changes. Daryl has always been a lone wolf, so the writers wanted to truly explore that part of him, and Carol started the show in an abusive relationship and has changed as she's survived every hardship thrown at her. What does her life look like joyful?
When it comes to the new Judith, she's now roughly 10 years old, the same age as Carl (Chandler Riggs) was when the show started in 2010. However, Kang said Judith and Carl are pretty different. "This is really our first apocalypse-native child whose story we're telling on the show. She carries none of the baggage that Carl carried, because he remembered life before all of this. She's been raised in this world," she said.
As for the unexpected friendship between Negan and Judith, it comes after Negan has spent about eight years behind bars in Alexandria.
"We thought hard about how prison might affect this character, and the confinement that he's had, and the limited access he's had to the community and the world beyond. It's a big part of his story, going forward: exploring Negan and where he's at in his journey in things, and the kinds of complex relationships he has with the various people in Alexandria — including this sort of secret relationship he has with Judith," Kang said. "We all internally [in the writers' room] love the relationship between Negan and Carl in the comic book. This gave us an opportunity to tell a very different sort of story, because Judith is a different kind of child than Carl. It's really fun to put those two together. They get to have some very interesting scenes together this season."
The Walking Dead airs Sundays, 9 p.m. on AMC.