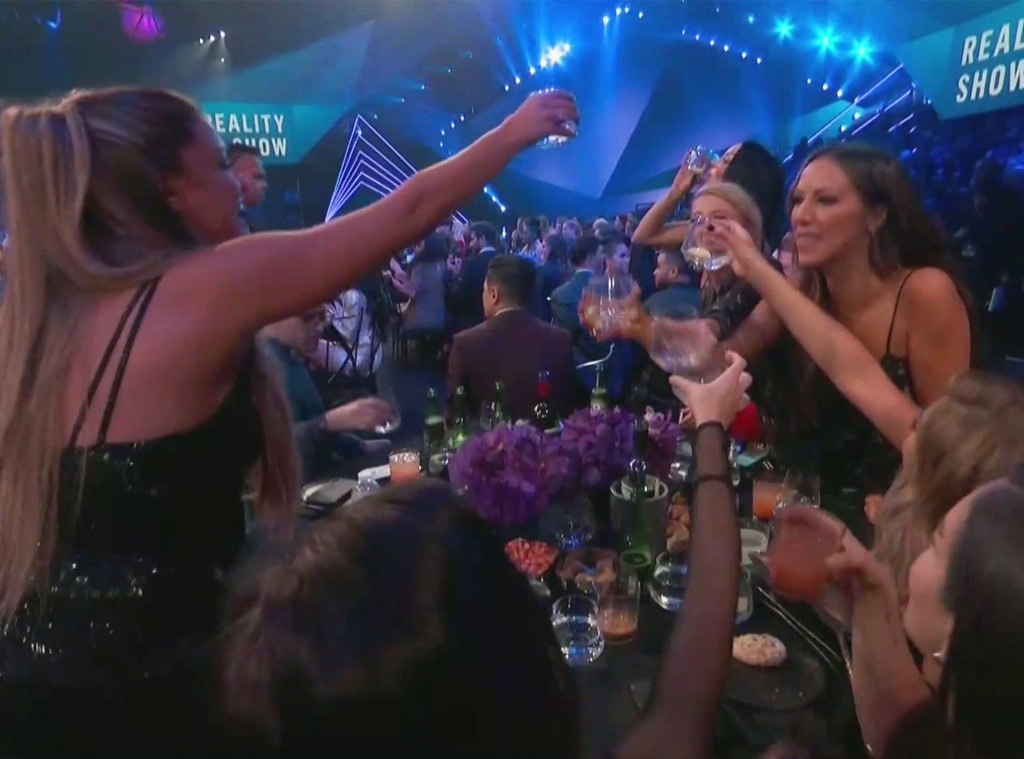 E! screengrab
You never know when the camera might be pointed at you.
That was at least true for the celebrities in the audience of the 2018 People's Choice Awards, whose reactions to some performances and winners were captured for all to see. Blake Shelton in particular had several good moments, while we also had a few gracious losers and some really, really excited winners in the audience at the Barker Hangar in Santa Monica. 
Just a few tips next time you're in an audience and potentially on camera: Don't make a face, but don't not make a face, and you can dance if you wanna, but just don't leave your friends behind. And do take shots. 
Jimmy Fallon Loves Nicki Minaj and Tyga
An eye witness tells E! News Fallon was up on his feet during Nicki's performance and LOVING IT. Unfortunately it wasn't shown on screen, but he did look happy as ever when the camera cut to him. 
Johnny Galecki Is Into It 
Did you ever think you'd see Leonard dancing to Tyga? Because we certainly didn't. 
Blake Shelton Isn't Sure What's Going On
Will Ferrell and John C. Reilly were onstage opening the show with some martinis, and it feels like maybe Blake's not a Stepbrothers fan. 
Retta Really Loves Jimmy Fallon
She just really does, OK? 
A Gracious Loser
Camila Mendes did not win Female TV Star of 2018, but props to her for not looking as sad as we definitely would if we lost out an award, like the award we invented and nominated ourselves for: The TV Watcher of 2018 (no one's gonna nominate us for anything else, so WHY NOT?). 
Blake, Gwen, Carson, and Matthew?
First this was just a playful scene of Carson Daly trying to get in on some Blake Shelton and Gwen Stefani action, but that look from Shadowhunters star Matthew Daddario kinda looks like he's a little jealous and wants to join. But we might just be reading too much into a well placed camera switch...
Shots! Shots! Shots!
The Vanderpump Rules cast lamented their loss to Keeping Up with the Kardashians for Reality TV Show of 2018 with some shots, and honestly same. 
Gym, Tan, Lose 
The Jersey Shore: Family Vacation cast took their loss a little bit less in stride, but maybe the Vanderpump cast has some extra shots?