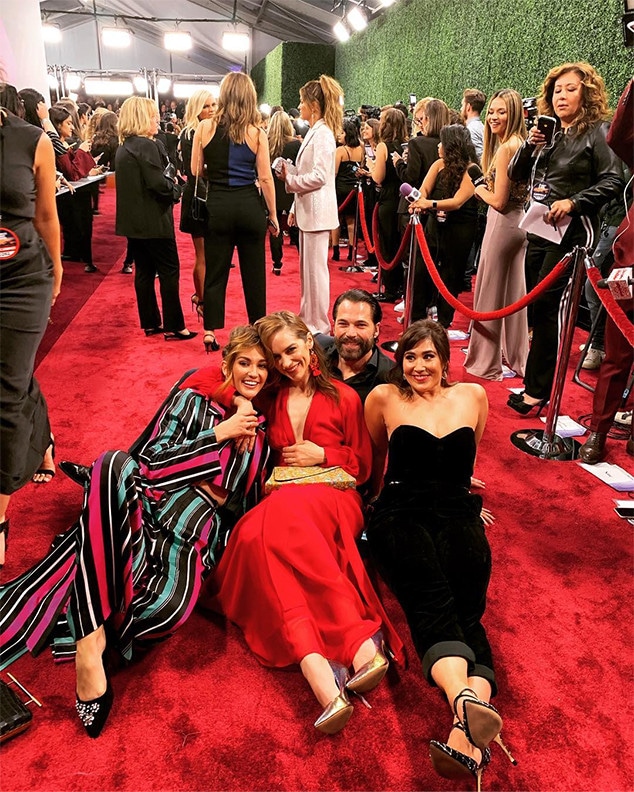 Instagram / Tim Rozon
When it comes to posing on the red carpet, the cast of Syfy's Wynonna Earp just gets it.
At the E! People's Choice Awards on Sunday, stars Melanie Scrofano, Tim Rozon and Katherine Barrell and showrunner Emily Andras took a breather amid the flashing lights and screaming fans and chilled out for a bit on the floor. Hey, they work hard. They earned it.
"I think we're taking to this red carpet thing... @peopleschoice@melanie.scrofano.officiel @katbarrell@unicorndepot #pcas," Rozon wrote on Instagram, alongside a photo of the four lounging on the carpet.
The group did pose on the red carpet standing up as well.
Wynonna Earp is nominated for the People's Choice Award for Sci-fi/Fantasy Show of 2018, competing against Supernatural, The Originals, The Expanse and Shadowhunters: The Mortal Instruments.
Watch:
Wynonna Earp Cast - E! People's Choice Awards Glambot
"Our fandom, we're biased but we think it's the most amazing sci-fi fandom," Barrell told E! News' Jason Kennedy on the red carpet. "They are so supportive and they're kind, which I think is the best part that makes them different."
Todd Williamson/E! Entertainment
A fan asked the group, on Twitter, to describe the #Earper fandom in three words.
"It would be kindness, supportive and world-changing," Rozon said.
"I was just going to say funny—they make me laugh every day," Scrofano added.
"I would say just inclusive," Barrell said. "Welcoming."
Watch:
E! People's Choice Awards 2018: By the Numbers