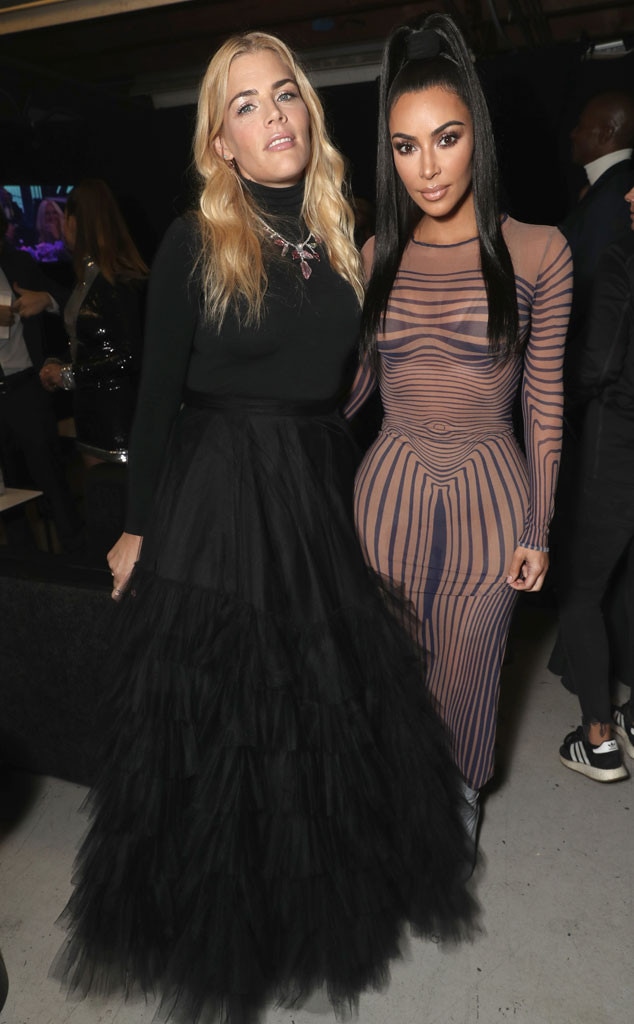 Todd Williamson/E! Entertainment/NBCU Photo Bank via Getty Images
Kim Kardashian is never one to play it safe when it comes to fashion and her look at the 2018 E! People's Choice Awards was no different. The reality star showed off her curves in a see-through, striped vintage Jean Paul Gaultier dress as she posed backstage with pal and Busy Tonight star Busy Philipps. Kim paired the dress with white heels and sheer white tights.
The Keeping Up With the Kardashians star rocked a high ponytail, similar to her sister Khloe Kardashian who opted for an all-white moment and older sister Kourtney Kardashian who kept her hair high and slicked back. The mom of three was spotted inside the show with KoKo, Kourt, mom Kris Jenner and younger sister Kendall Jenner.
The Kards were finalists in the Reality Show of 2018 category for their family's long-running reality series, Keeping Up With the Kardashians and took home the coveted trophy, while Khloe got a separate award in the Reality Star of 2018 category.
Todd Williamson/E! Entertainment/NBCU Photo Bank via Getty Images
Kim helped give the acceptance speech for the honor alongside her famous family who joined her onstage.
"It's been a really rough week in our home in Calabasas, Hidden Hills, and our neighbors in Thousand Oaks and Malibu. Our hearts are broken from the horrific shootings and those who have lost their lives and homes as well as the hundreds of thousands of us that have been evacuated from the devastating fires that are currently burning," Kim began. 
She praised the "resilient spirit" of everyone involved, and "the heroism of those risking their lives on the frontlines." 
"Action is necessary," she said. "So anything that we can do to help, as simple as donating to the many organizations that are collecting supplies, no form of help is too small. Our country is stronger when we come together and we cannot face devastation alone. We must continue to reach out and help each other in these trying times. So thank you so much to all of the people who have voted for us. This is such an honor, and we would like to dedicate this win to all of the firefighters, the law enforcement, and the first responders. We really truly appreciate what you have done for all of us, so please let's continue to pray for everyone's safety." 
Christopher Polk/E! Entertainment/NBCU Photo Bank via Getty Images
Momager Kris shared her excitement about being announced as a finalist for the award tweeting, "YAY!!! We're a finalist for the #PCAs! Tweet #KeepingUpwiththeKardashians #TheRealityShow and #PCAs or visit https://pca.eonline.com/#vote/cat15  THANK YOU GUYS!!"
It's no surprise that the show was named the Reality Show of 2018. After gracing our TV screens for 15 seasons, the Kar-Jenner family have let us into their lives for all the good, bad and everything in between.
Be sure to tune into the show and check out our backstage pics for every major Kar-Jenner moment!