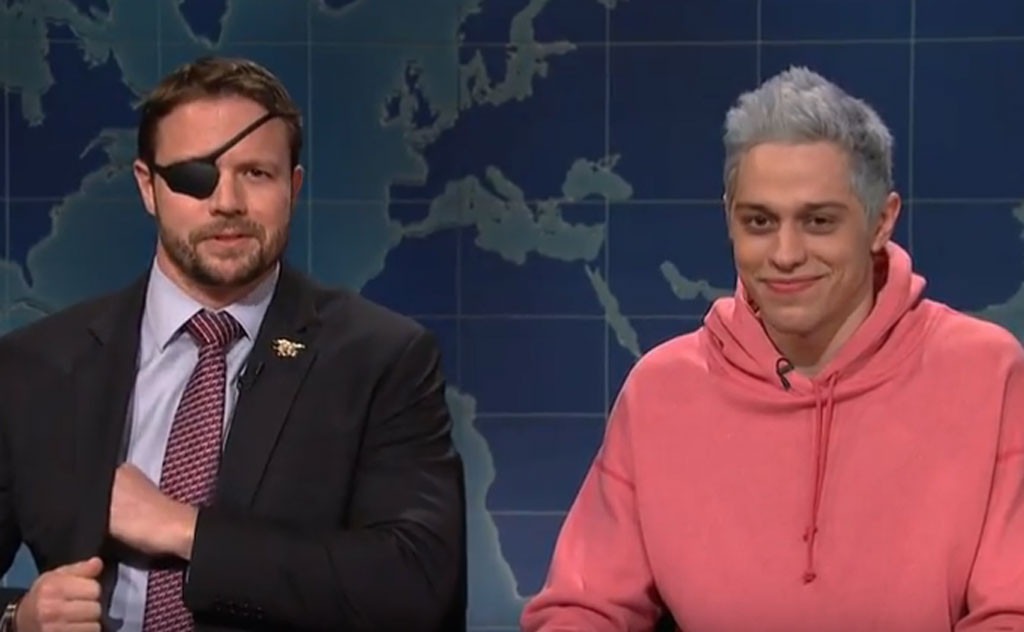 YouTube
One week after Pete Davidson made a controversial joke about Dan Crenshaw on Saturday Night Live, the newly-elected Congressman appeared on the show and received an apology. 
During last week's "Weekend Update," Davidson mocked several political candidates, including Crenshaw who lost his eye to an IED in Afghanistan during his third combat tour.
"You may be surprised to hear he's a congressional candidate from Texas and not a hitman in a porno movie," Davidson said of Crenshaw. "I'm sorry. I know he lost his eye in war or whatever."
Following the backlash, Davidson returned to the "Weekend Update" desk on the Nov. 10 episode to apologize for his joke. 
"So, in what I'm sure is a huge shock for people who know me, I made a poor choice last week," Davidson began. "I did, I made a joke about Lt. Com. Dan Crenshaw, and on behalf of the show and myself, I apologize."
"My poor mom," Davidson continued. "Can you imagine being my mom? That must suck. Can you imagine being Pete Davidson's mom? It can't be easy when everyone's mad at your son and roommate."
The roommate joke is a reference to his recent split with Ariana Grande, with who he previously shared an apartment with in New York City. Davidson has shared that he's since moved in with his mom after the breakup.
"No, but I mean this from the bottom of my heart, it was a poor choice of words," Davidson said. "The man is a war hero and he deserves all the respect in the world, and if any good came of this, maybe it was that for one day the left and the right finally came together to agree on something...that I'm a dick!"
Crenshaw then joined Davidson on the stage and asked, "You think?"
Davidson then apologized to Crenshaw, who accepted his apology.
"So we good?" Davidson asked.
"We're good, apology accepted," Crenshaw replied before his ringtone, "Breathin" by Ariana Grande, started going off.
A shocked Davidson then smirked at the camera as Crenshaw continued to let his phone ring.
"You gonna answer that?" Davidson laughed.
"No, I was just gonna let it ring, because that's rude to answer, let's just let it go to voicemail," Crenshaw trolled Davidson.
"It's cool, Ariana Grande song," Davidson laughed as Crenshaw asked, "Oh, do you know her?" 
Davidson, who clearly liked the joke, admitted "that's funny," before telling Crenshaw that it was his turn to make fun of a picture of him, since that's what Davidson had done a week earlier.
See Crenshaw tell jokes about Davidson, send a message about Veterans Day and share a moment with Davidson about his late father in the video above.