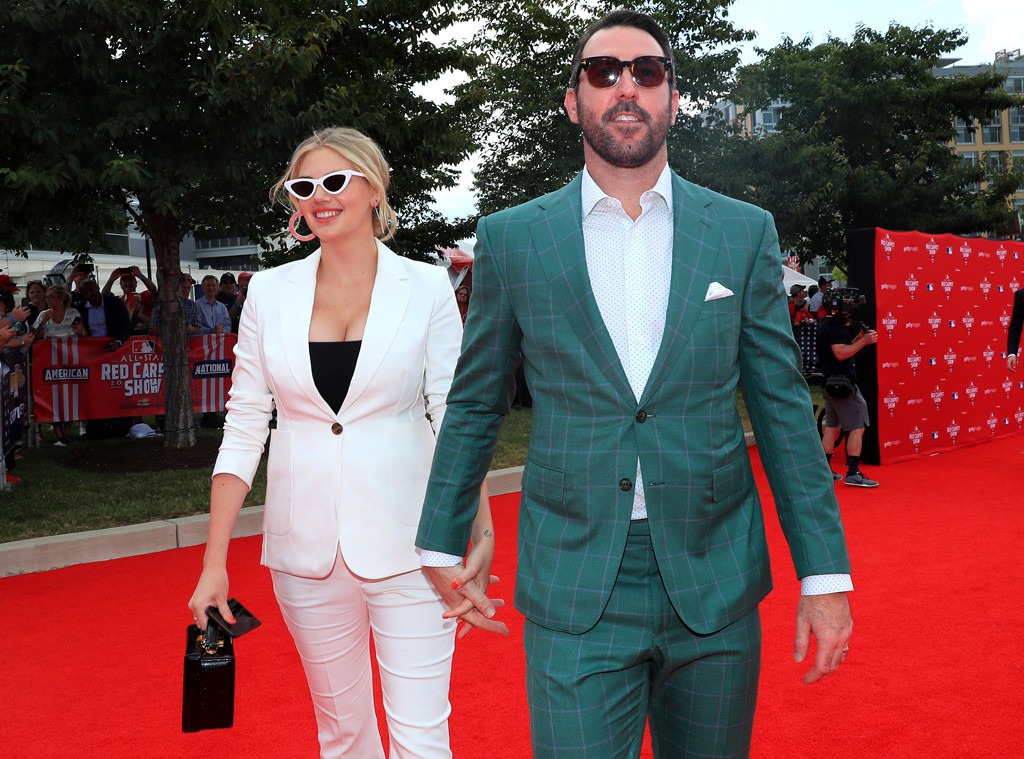 Mike Lawrie/Getty Images
Justin Verlander and Kate Upton have hit a home run with their new baby.
The parents both posted to Instagram on Saturday about the happy news as they welcomed their first child together. Their daughter's name is Genevieve Upton Verlander and she was born on Nov. 7. "Welcome to the world Genevieve Upton Verlander. You stole my [heart] the first second I met you!!! 11.7.2018," Verlander wrote on Instagram.
Upton's picture of baby Genevieve showed just part of her face with her hand near her mouth. The Houston Astros pitcher shared a sweet photograph of his hand intertwined with Upton's and Genevieve's.
The Sports Illustrated Swimsuit model announced in July that she was pregnant. She uploaded a picture of herself in a red suit with a white shirt that showed a bit of a bump and wrote, "#PregnantinMiami."
Verlander and Upton tied the knot just about a year ago at a villa in Italy. To top it off, they got married just a few days after Verlander and the Astros won the 2017 World Series. The ceremony occurred at a medieval church in the famous wine region of Montalcino. They were together for three years before getting engaged in 2016.
In August, the professional baseball player opened up about his relationship with Upton and how she helped him through some of his most difficult times. "Who knows if I'm even here if it wasn't for her?" he told Bleacher Report (B/R) Mag. 
Verlander discussed with B/R that at one point, he had what he believed to be a career-ending injury. "She was instrumental in me not…like, jumping off a bridge," he told the publication. The pitcher discussed being "depressed" and how Upton acted as "basically a therapist" for him.
Upton stood by his side through the ups and downs of his injuries and his trade from Detroit to Houston. Ultimately, he helped lead his team to a World Series title, which was the cherry on top of a difficult few years.
Congratulations to the new parents!