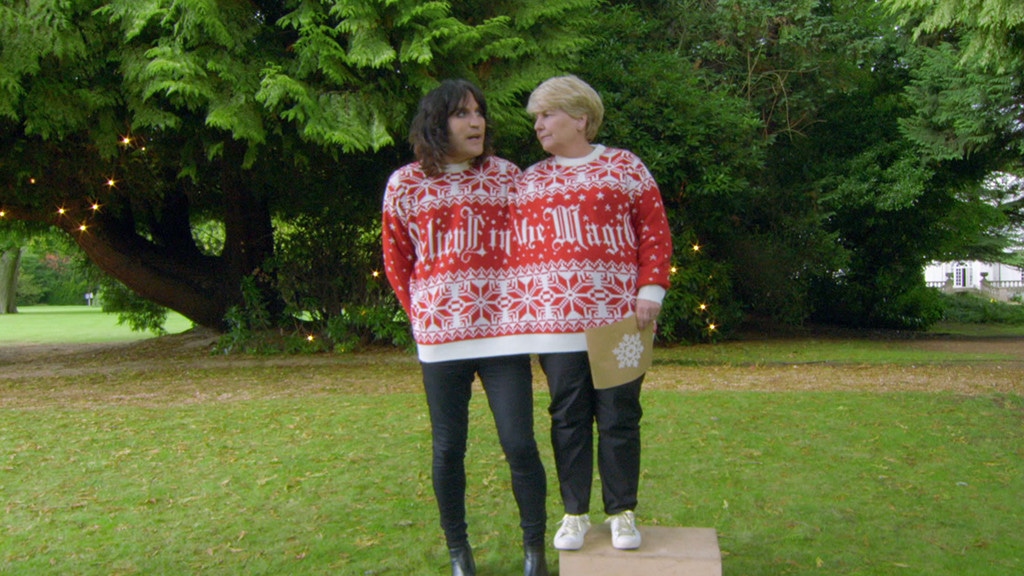 Netflix
Remember last year when Netflix changed all of our lives with the now classic film, A Christmas Prince? 
They certainly do, because this year, they're going all out for the holidays, making our dreams come true with sequels, new movies, new specials, and more extremely valid reasons to put on cozy sweaters and cozy socks and spend our wintry days on the couch with the hottest of chocolate. 
Genuinely, if you're a fan of things on Netflix, this list is going to make you squeal with delight, and also maybe confusion. Chilling Adventures of Sabrina has a holiday special, y'all!
Please, join us in taking a gander at "It's Beginning to Look A Lot Like Netflix."  
The Holiday Calendar (currently streaming)
Kat Graham stars with Ron Cephas Jones in a movie about a magical advent calendar that can do things like give you boots and win you photography gigs. There's also a love triangle, and it's William from This Is Us as the grandpa, and sure, there's a lot happening here, but you're gonna watch it 10 times anyway. 
The Princess Switch (11/16/18) 
It's Vanessa Hudgens! Times two! A princess and a baker switch places and they're both Vanessa Hudgens and hell yes we're gonna watch this.
The Christmas Chronicles (11/22/18) 
This is the movie where Kurt Russell plays hot Santa. Hello!  
A Christmas Prince: The Royal Wedding (11/30/18)
The follow-up to the extremely beloved movie from last year in which Amber (Rose McIver) must decide if she's ready to be the Queen after marrying her prince. 
The Great British Baking Show: Holidays (11/30/18)
It's a holiday confection competition in the tent and we're already crying about it!! 
Nailed It: Holiday (12/7/18)
It's a holiday version of our favorite hot mess of a baking show and we've never wanted anything more. 
Neo Yokio: Pink Christmas (12/7/18)
Jamie Foxx, Susan Sarandon, Rashida Jones, Jaden Smith, and more kinda random celebrities star in "the anti-Christmas Christmas special," about which we have so many questions that we don't even know where to start. 
Super Monsters and the Wish Star (12/7/18)
This movie is about Christmas wishes coming true for characters named Lobo, Vida, and Glorb. Sure! 
Fuller House Season 4 (12/14/18)
The first episode of this season is called "Oh My Santa" (Get it?). Perfect family holiday fare.
Chilling Adventures of Sabrina: A Midwinter's Tale (12/14/18)
That's right, witches. Sabrina's back and she's celebrating the Winter Solstice with her coven, singing pagan carols and telling ghost stories. "But the holidays are also a time for guests and visitors—both welcome and unwelcome—you never know what might come down the chimney..." Count. Us. In. 
Netflix would also like to remind you that you can still always watch A Christmas Prince, A Very Murray Christmas, BoJack Horseman: Christmas Special, Christmas Inheritance, and the Winter episode of Gilmore Girls: A Year in the Life while you wait for these new treats. And that's not all! Because Netflix loves us very much, they compiled a list of every Christmas movie you can watch on the platform
Love Actually
How the Grinch Stole Christmas
Mariah Carey's Merriest Christmas
Bad Santa
Bad Santa 2
Irving Berlin's White Christmas
Get Santa
A Christmas Star  
A Holiday Engagement
The Christmas Project
A Dogwalker's Christmas Tale
Christmas in the Smokies
Angels in the Snow
Christmas Crush
Christmas Ranch
Christmas Wedding Planner - (New 11/15)
Christmas with a View
Coffee Shop
Dear Santa
Holiday Baggage
Holiday Breakup - (Exp 12/15)
How Sarah Got Her Wings
Merry Kissmas
Miss Me This Christmas
The Christmas Candle
The Spirit of Christmas
You Can't Fight Christmas
George Balanchine's The Nutcracker
Chill with Bob Ross - (New 12/1)
Pee-wee's Playhouse: Christmas Special
Disney's Beauty & The Beast
A Russell Peters Christmas
All American Christmas Carol
Trailer Park Boys: Xmas Special
Christmas Cracker
Red Christmas
Semana Santa
AND THAT'S NOT ALL! Netflix has also provided a list of holiday episodes for some of your favorite shows, all of which you can currently watch on Netflix. 
The Office
Season 2: "Christmas Party"
Season 3: "A Benihana Christmas"
Season 5: "Moroccan Christmas"
Season 6: "Secret Santa"
Season 7: "Classy Christmas: Part 1"
Season 7: "Classy Christmas: Part 2"
Season 8: "Christmas Wishes"
Season 9: "Dwight Christmas" 
Friends
Season 2: "The One with Phoebe's Dad"
Season 3: "The One with Rachel Quits"
Season 4: "The One with The Girl From Poughkeepsie"
Season 5: "The One with The Inappropriate Sister"
Season 7: "The One with The Holiday Armadillo"
Season 8: "The One with The Creepy Holiday card "
Season 9: "The One with Christmas in Tulsa"
Glee
Season 2: "A Very Glee Christmas"
Season 3: "Extraordinary Merry Christmas"
Season 4: "Glee, Actually"
Season 5: "Previously Unaired Christmas"
Gossip Girl
Season 1: "Blair Waldorf Must Pie!"
Season 1: "Roman Holiday"
Season 2: "The Magnificent Archibalds"
Season 3: "The Treasure of Serena Madre"
Season 6: "It's Really Complicated"
The West Wing
Season 1: "In Excelsis Deo"
Season 2: "Shibboleth"
Season 2: "Noël"
Season 3: "Bartlet for America"
Season 3: "The Indians in the Lobby"
Season 4: "Holy Night"
Season 5: "Abu el Banat"
Season 6: "Impact Winter"
That '70s Show
Season 1: "The Best Christmas Ever"
Season 4: "An Eric Forman Christmas"
Season 5: "Thank You"
Season 6: "Christmas"
Season 7: "Winter"
Season 3: "Hyde's Christmas Rager"
Season 8: "That '70s Finale"
Parks and Recreation
Season 2: "Christmas Scandal"
Season 4: "Citizen Knope"
Season 5: "Ron and Diane"
Gilmore Girls
Season 1: "Forgiveness and Stuff"
Season 2: "The Bracebridge Dinner"
Season 3: "That'll Do, Pig"
Season 4: "In the Clamor and the Clangor"
Season 5: "Women of Questionable Morals"
Season 7: "Santa's Secret Stuff"
Netflix bless us everyone. 
If you somehow still need more cheesy holiday cheer, don't forget about all of the Lifetime and Hallmark movies airing this year as well! What a time to be alive.