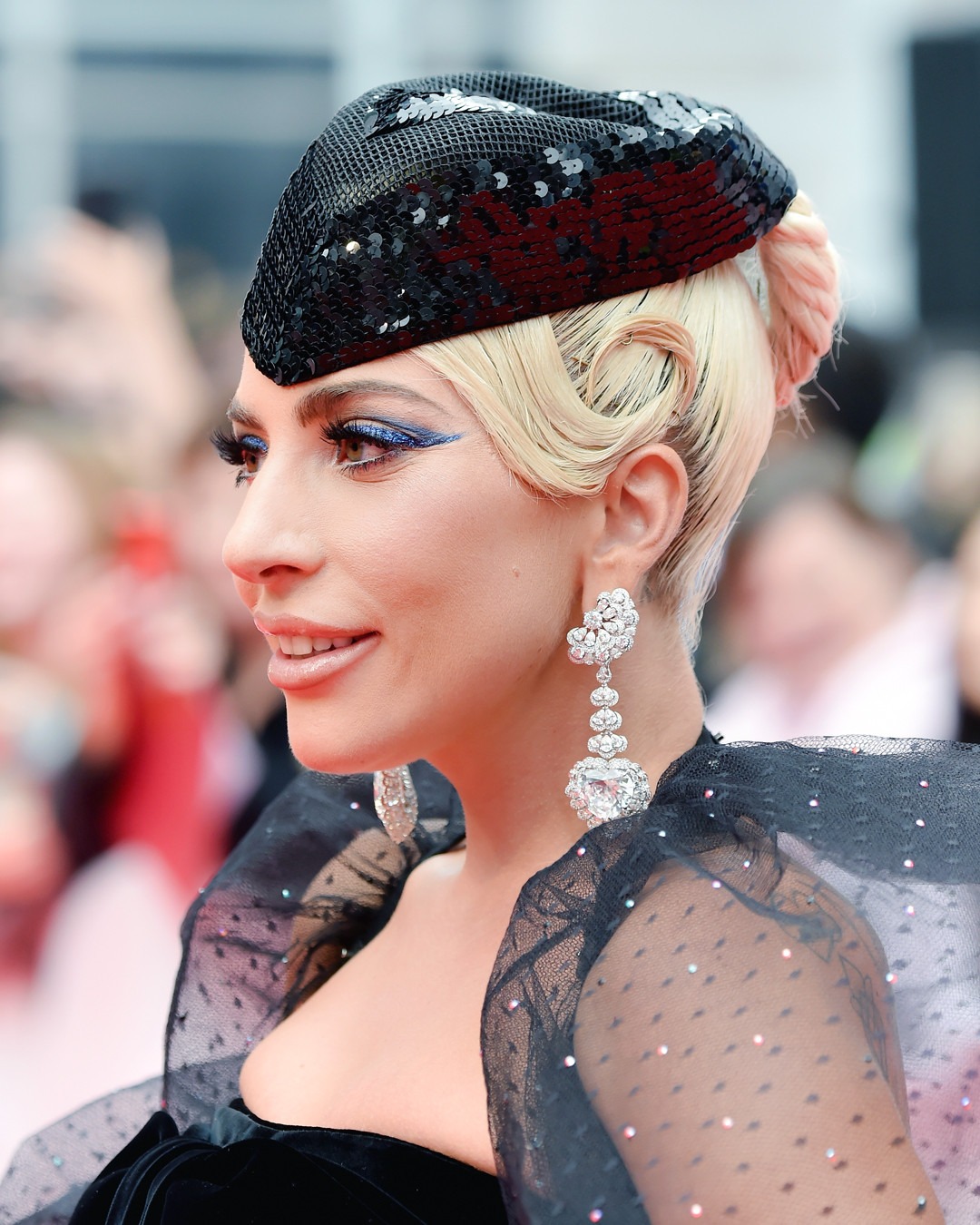 Kevin Mazur/Getty Images
Lady Gaga loves to bring the drama, especially on the red carpet. Now, Sarah Tanno, who frequently works with the star, is sharing how to bring Gaga-level glam to your next holiday party. 
Pulling from her past looks, the makeup artist points to a look she created for the premiere of A Star Is Born at the 2018 Toronto International Film Festival. At first glance, the makeup centers on a metallic blue cat eye, which balanced by Mother Monster's nude, glossy lip and flawless matte complexion. However, when the singer-turned-movie-star blinked or closed her eyes, she revealed the shape of her eyeliner, which goes outward from the outer corner of the eye, then makes a turn into the crease.
It's next level, causing us to want to leave this look for red carpet professionals like Sarah. However, the Marc Jacobs Beauty ambassador revealed that it's actually much simpler than it looks. In fact, this makeup look doesn't require eye shadow, making it a quick go-to for dressy holiday events.
Love it? Check out her tips for recreating the look below.
Tip #1: Keep your wings straight by giving your eye a little pull
After applying an eye primer like her Marc Jacobs Beauty Under(cover) Primer to the lid, use a bright blue (or red) eye liner to create a line from the inner corner to the outer corner, while pulling lightly on the outer corner.
"I'm going to go in with the blue that I used, which is called (Wave)length," Sarah told E! News. "It's a highliner gel crayon...I use them as eye shadow a lot cause they're so easy to blend. But you have about 15 second play time and then it's like set...When you're doing it on yourself, just give [your eyelid] a little tug. That way you get the line really smooth and it doesn't matter which direction you go, from inside out or outside in."
Tip #2: Create a guide for your liner
"I like to create like a guide since that wing was so sharp," she continued. "You want to line it up diagonally with your eyebrow. So i'm gonna just add a dot and add a dot on the other side here—that's where I want to stop and I'm just going to connect those two lines. So again, I'm going to pull it to get it really sharp...For the cut crease look that I created, once the wing is extended out, I just like to find your socket and connect it."
Tip #3: Use a Q-Tip and makeup remover if you mess up
"I clean it up a lot with a Q-tip and Bioderma," she said. "People are tilted and moving and I'm also standing at an angle, so a lot of times you might mess up and not get something perfectly symmetrical, so the Q-tip and that trick kind of just helps to clean it, so they get exactly the same."