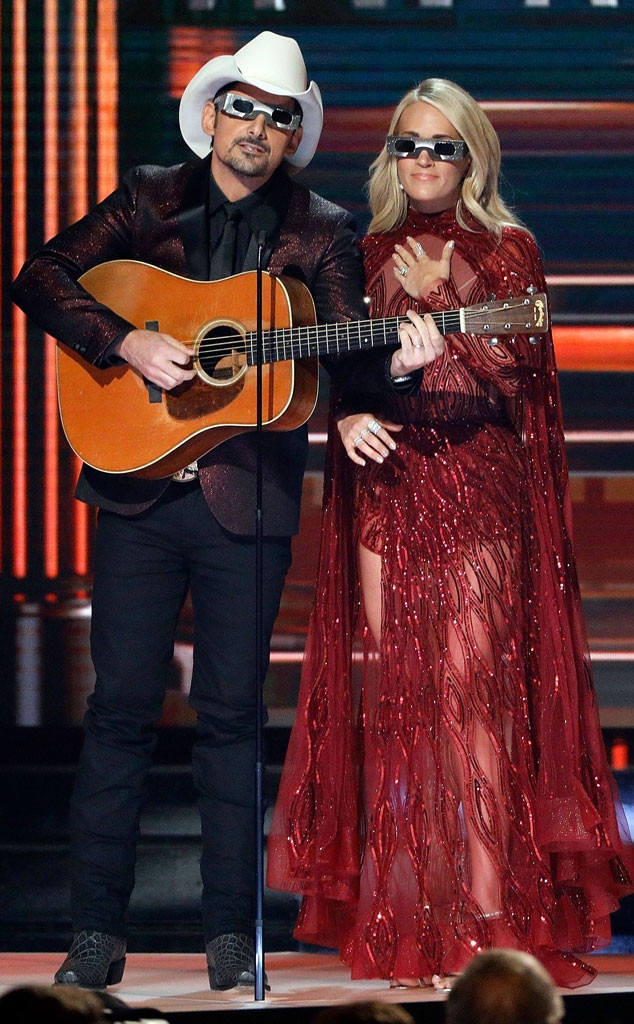 Taylor Hill/FilmMagic
The CMA Awards' favorite hosting duo is about to reunite once again. 
Lucky for country music fans everywhere, Carrie Underwood and Brad Paisley are set to team up and MC the annual awards on Wednesday night—for the 11th ceremony in a row. Needless to say, they've had some practice running the star-studded show. 
Not only are the two stars CMA veterans, but they've also set the bar for how its done. From goat yoga to TK, Carrie and Brad have really made the show their own over the years and we expect the one this week to be just as special. 
As we count down to the big night, here are the pair's hosting highlights over the years. Drumroll please!
Furry Fitness: Brad and Carrie got into hosting shape last year with help from some furry friends. During the 2017 show, they shared footage of themselves working out with baby goats. 
"Those are not chocolate covered raisins," the songstress teased about their training session—in Little Big Town's dressing room, no less. "You're gonna wanna keep your shoes on in there."
A Play on Politics: Last year, the duo joked they weren't allowed to touch politics before taking a playful dig at President Donald Trump with a to the tune of "Before He Cheats." 
"It's fun to watch that's for sure, until little rocket man starts a nuclear war," they sang. "Maybe next time he'll think before he tweets..."
Pop Culture Pros: Carrie and Brad are just as devastated as the rest of us by a big Hollywood breakup. Such was the case in 2016 when they mentioned the biggest split of the season—Brad Pitt and Angelina Jolie. 
"So much has happened in the news since we last met. Brad and Angelina broke up," Carrie said. 
"Yeah, we did," Brad responded. "And I don't want to talk about it." Ha! This duo had all the punchlines that year. 
We have a feeling they'll have plenty more this year. Tune in to the big show on ABC at 8 p.m. ET on Wednesday.