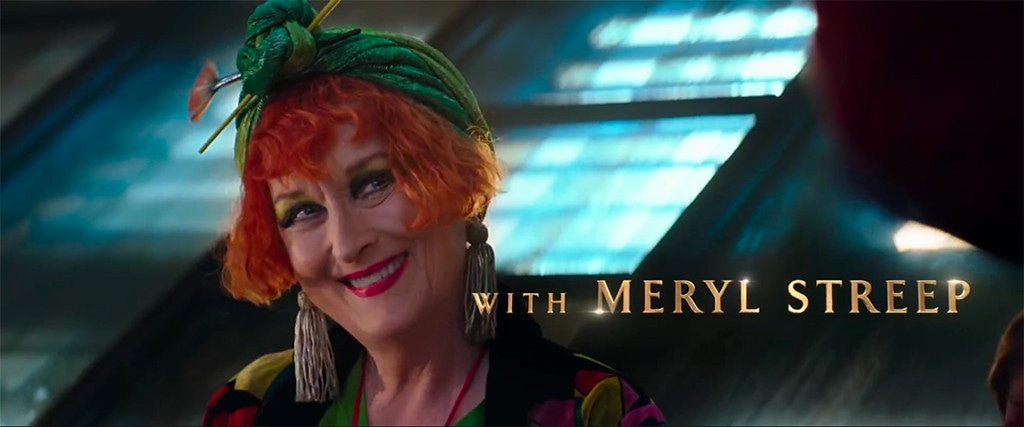 YouTube
Meryl Streep may just be the most convincing actress in history.
As Topsy, the three-time Oscar winner has a scene-stealing supporting role in Walt Disney Pictures' Mary Poppins Returns (in theaters Dec. 19). Streep's character, who is a cousin to Mary Poppins (Emily Blunt), is an oddity who involuntarily spends every second Wednesday upside down. She visits to the Banks to fix family heirloom and sings the jazzy "Turning Turtle."
Streep took the role solely to work with Rob Marshall, who directed her in 2014's Into the Woods. "Rob knew that I wanted in on whatever it was he did next. But I had no idea what he had in his head. And when he [and producer John DeLuca] invited me to talk through this idea, I thought, 'They're crazy, these two. They're just insane. They've lost their minds,'" Streep, 69, says with a laugh in in Entertainment Weekly's Nov. 16 issue (out now). "But It was such a big vision, and it was so ambitious that I said, 'Oh, well, I want to be in it. Absolutely. Right away.'"
To give the cast a sense of what to expect, Marshall invited the actors to London's Shepperton Studios to watch a rehearsal of a new musical number, "Trip a Little Light Fantastic." According to Streep, "It was unbelievable. Unbelievable! I don't know anybody else on Earth that could have done that except Rob Marshall. And that's when I said, 'OK. This is a gift to the world.'" It was then that Streep knew she was part of an "amazing" project. "You can kind of tell, you know? Everybody's walking around with their cheeks a little pinker, and you just know that everybody [has] got a secret. They've got something really good under wraps until Christmas."
Streep, who worked with costume designer Sandy Powell to create Topsy's over-the-top look, was just as in awe when it was time to start shooting. "The first day I walked in, I was 67 years old and Rob pointed to the chandelier and said, 'Now, you up these steps, then jump off, then you'll twirl around on that,'" she says. Jokingly, Streep adds, "I almost got out my return ticket."
Jay Maidment/Disney Enterprises, Inc.
Working with the living legend was a dream come true for Lin-Manuel Miranda, who plays a lamplighter named Jack. "One of the greatest moments I experienced on set was Meryl. She was sort of in weird Mary Poppins aunt mode the whole time, and at one point she goes, 'Hey, kids, wanna see a perfect pratfall?' And just boom, face down, went from 90 degrees to flat. You haven't seen Buster Keaton do a pratfall like this. Everyone rushed over like, 'Meryl Streep has died!'" he recalls. "And then she just got up and was like, [wiping hands] 'I learned that at Yale.'"
Classic Streep.