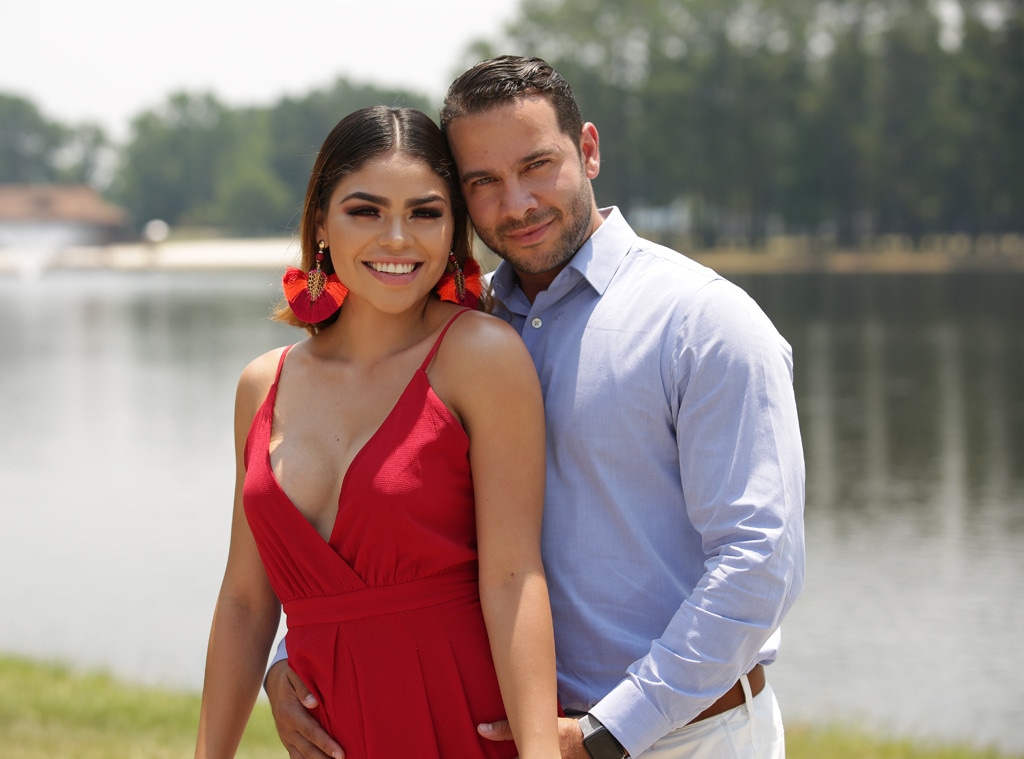 TLC
When you have 90 days to wed, things can get pretty tense. Just ask the couples on TLC's hit reality show 90 Day Fiancé. The Sunday, Nov. 11 episode "I Know What You Did," the six couples taking part in season six navigated different challenges in their respective relationships. These are the biggest moments from the episode.
Jonathan and Fernanda
The biggest happening of the night came between these two lovebirds. Because of the visa, Fernanda can't work, so she's been bored. Jonathan took her to Myrtle Beach for a mini vacation and the two went out dancing. Fernanda, 19, wasn't allowed to drink, but Jonathan seemed to more than make up for that fact with his shot intake. Everything was going well for the two, they were dancing and having a great time…until Fernanda went to the bathroom and a woman moved in on Jonathan. He told her he couldn't dance with her, but Fernanda saw the two close and lost it, threw a drink and demanded the car keys so she could leave. Naturally, it's to be continued there…
Jonathan also revealed his mother found out about his engagement via social media and was not happy, which is why he is delaying formerly introducing Fernanda to his family.
Colt and Larissa
While shopping for a couch, which Larissa wanted to do to surprise Colt, Colt's mom, Debbie, revealed she and her son share a joint credit card and bank account. She would not make the purchase without Colt's knowledge. Larissa said it's time for Colt to cut the umbilical cord.
Ashley and Jay
Fresh from Jamaica, Ashley threw a surprise party for her fiancé. There, her best friend Natalie and Jay had a heated confrontation about his past in Jamaica and whether Jay cheated on Ashley. Jay said he wants Ashley to cut Natalie from her life—permanently—and she obliged, sort of. Ashley said she no longer wanted her BFF to be part of her wedding.
Steven and Olga
While in Russia, Olga finally went into labor. Steven, unfamiliar with, well, everything, had to get permission to be in the delivery room. "I don't understand the reality of like everything," he said. The young couple were delivered a twist they didn't see coming: Olga would need a C-section rather than natural birth.
Eric and Leida
Leida's entire family made the road trip to Wisconsin, to Eric's hometown, and everything just got awkward. Yes, even more awkward than it was before. Leida's family and Eric's family met, including Eric's ex-wife, and the tension was palpable. Things went from awkward to way worse when Leida visited her new home, Eric's apartment, and discovered the living conditions did not meet her standards. She broke down, crying, and said she wanted to return to Indonesia.
Kalani and Asuelu
Kalani revealed plans to move to Utah into a home with her brother, but before she did she wanted to make peace between her sister, Kolini, and her fiancé, Asuelu. The two were able to mend fences and clarify any past cheating woes.
90 Day Fiancé airs Sundays, 8 p.m. on TLC.