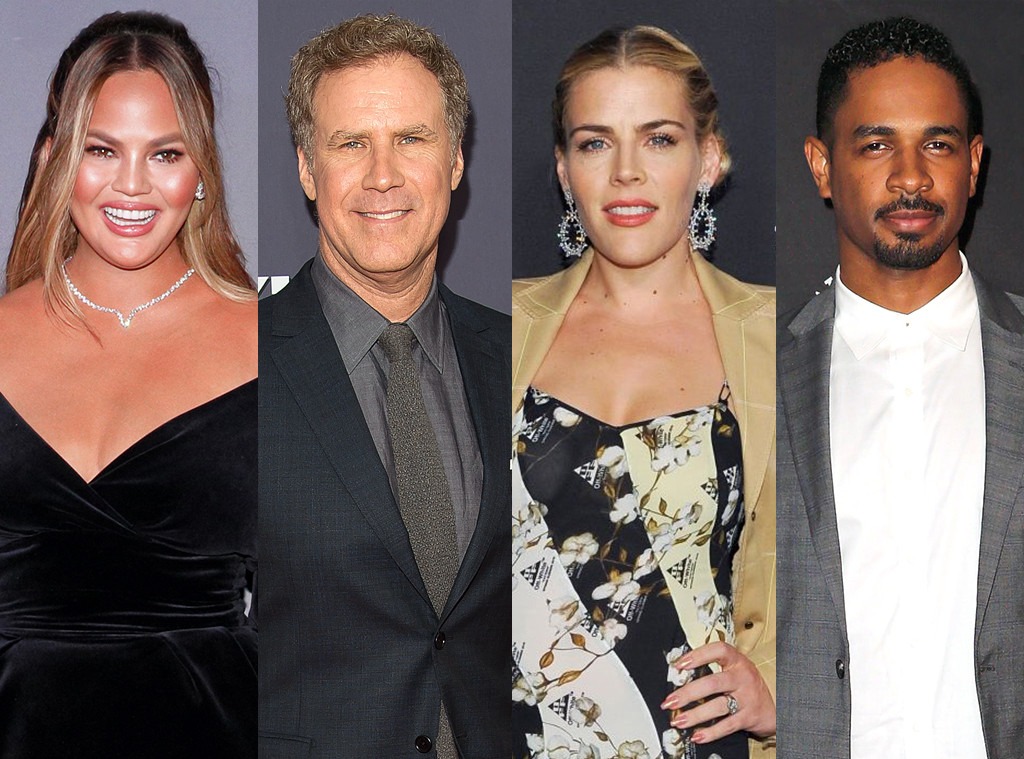 BFA/Getty Images/Shutterstock
The 2018 E! People's Choice Awards are coming!
Stars will be arriving at the first-ever E! People's Choice Awards show in Santa Monica, California on Sunday and today, E! is revealing its long list of stars that will be there to present the awards...thank goodness!
On Friday, E! announced that there are a lot of big names that are going to be taking the stage during the network's inaugural show as presenters and now we are even more pumped to tune in when the show goes live on Nov. 11. 
Stars like Busy Tonight host Busy Philipps, the hilarious Will Ferrell, and everyone's favorite Twitter guru, Chrissy Teigen will all be announcing awards during the broadcast and you know with this many funny stars it's sure to be a hoot.
E! previously announced John Legend as the presenter of the People's Champion Award, which means it'll be a family affair for power couple Teigen and Legend on Sunday night and we cannot wait to see who else will be joining them and handing out the sleek trophies.
Oh, did you actually to know who is presenting this year? Sorry, we are just so excited that we got a little sidetracked, but we're back and have all the details!
The night will be full of superstars, including a few PCAs finalists like, Aly Raisman, Camila Mendes and Darren Criss.
There will also be a lot of celebrity favorites who are not PCAs finalists gracing the stage and showing their fellow famous friends some love when the show kicks off this weekend.
Betty Gilipin, Damon Wayans Jr., Amber Stevens West, Jack McBrayer, John C. Reilly and Kat Graham will be presenting throughout the night and that's really only the beginning.
The cast of Good Girls AKA Christina Hendricks, Mae Whitman and Retta will take the stage together and we are already laughing at all the possible things they could do on stage. The Big Bang Theory's Johnny Galecki is a presenter as is Single Parents star Leighton Meester, Rel's Lil Rel Howery and New Amsterdam's Ryan Eggold.
Sara Gilbert, Taran Killam, Susan Kelchi Watson, and Sarah Silverman will also have presenter duties to carry out and we are fangirling hard right now. To round out the night's list of impressive stars as presenters, you will also see Sabrina Carpenter, Amber Valletta, Shay Mitchell and Terry Crews!
If that's not enough of a reason to watch the 2018 People's Choice Awards, E! previously announced that Bryan Stevenson, the founder and executive director of the Equal Justice Initiative, will be honored by Legend, and both Victoria Beckham and Melissa McCarthy will be receiving top honors.
Beckham is the Fashion Icon Award recipient while McCarthy will be honored with the People's Icon of 2018 Award come Sunday night.
Don't miss any of the action when the show begins this Sunday. Tune in to E! for exclusive red carpet coverage beginning at 7 p.m. and watch the actual award show starting at 9 p.m. on E!, Bravo, SYFY, Universo or USA Network.